How to #EmbraceAmbition
Eight Pieces of Advice From Female Leaders
On March 5th, I had the opportunity to attend the Tory Burch #EmbraceAmbition Summit in New York City. Throughout the day, I learned from female trailblazers about how they committed to change, challenged stereotypes, and "embraced their ambition."
The vast array of women, who ranged from designers to athletes to entrepreneurs, spoke about how they were considered by many as "too tough" and "attention-seeking" for chasing their dreams. This Summit proved to me that these types of women, the ones who are not afraid to seize opportunities, have the power to change our world, and female ambition is necessary for our future.
Below are eight words of advice that I took away from this conference:
1.) Stand up. When listening to author and actress, Ashley Judd, and journalist Gretchen Carlson, I couldn't help but feel motivated to stand up. Stand up for women. Stand up for change. Stand up for a better future. Carlson spoke about the "power in numbers."
When women come together, big things can happen. The two spoke about their past experiences dealing with harassment in the workplace and how every single person has the power to evoke change, but "together we can rock the world." Judd introduced the idea of "raising our sons like we do our daughters," instilling the idea of right and wrong at a young age.
2.) Commit. Designer and philanthropist Diane von Furstenberg told the audience to commit to yourself and own your differences. Growing up, Furstenberg didn't know what she wanted to do, but she knew what she wanted to be: "a woman in charge." That is exactly what she became.
The steps to becoming in charge, she remarked, included knowing what it really means to be in charge; "It is first a commitment to ourselves." Relationships can even prohibit growth, as she encouraged that "the most important relationship is with yourself, and every other relationship is a plus… Not a must."
3.) Challenge Yourself. In a male-dominated industry, women in sports rely on support from each other to challenge this massive stereotype. A.J. Andrews, professional softball player; Bianca Valenti, professional big-wave surfer; and Cathy Engelbert, Commissioner of the WNBA, spoke about the challenges in forging their own path and creating a legacy for women involved in sports.
Andrews spoke about her journey in getting equal-pay as she encouraged, "see impossible as nothing more than a challenge." Valenti added on to the struggle of equality in sports and how she progressed in her field: "Wake up tomorrow and ride a better wave."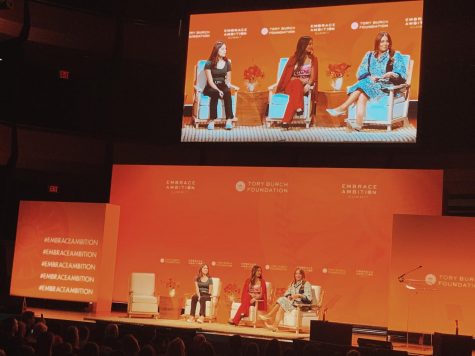 4.) Be Open To Opportunity. Dambisa Moyo, a global economist and NY Times best-selling author, gave the audience three tips for success. First, "'No' does not mean never, it just means not now." Second, Moyo remarked, "We are not entitled to feedback, but critical feedback… It is the foundation and driver for future successes." In school, I think back to the "two stars and wish" method and how it called for constructive criticism.
Welcome the critiques and find value in having a different point of view. Lastly, Moyo imparted, "Make sure you are ready for any opportunity that comes, develop your skills, and continue to learn both sides and perspectives." I have found that it is so limiting to focus on one thing and have tunnel vision. Open your eyes to the opportunities that surround you.
5.) Be the first. Tiera Fletcher, an Aerospace Engineer, realized that she was different from those around her. She was the only one in every classroom; the only African American, the only female, the only woman of color. Instead of seeing this as a deterrent and a negative, Fletcher embraced being the first.
"There were no people in the history books that looked like me or did what I did," she told the audience, "I was breaking down a barrier for the future[…] so that the young girls of today and tomorrow can see themselves in the history books."
6.) Consider The Next Generation. One of my favorite panels was with two young, female entrepreneurs. Deja Foxx, activist and founder of @GenZGirlGang, and Jordan Reeves, activist and author, stressed the importance of social media and how young people have the power to be change-makers.
Foxx remarked, "young people are radical changemakers, willing to take risks. We have an amazing superpower called social media, to redefine the way to make a change."
Many people might look at social media as a time-consuming, useless tool, but in business, social media can expose a brand to an entire generation. "We see issues and we have the platform to take action on those issues. No matter how viral it gets, it is still a change," Reeves added. Both Foxx and Reeves were asked to impart a piece of advice on the audience: "Make sure to find people that have different points of view. You need it all because your view is not going to be perfect for everyone" Reeves concluded. As for Foxx, she encouraged the audience, "Ask yourself: How am I showing up for young people?"
7.) Find Your Purpose. It is the foundation for the companies of today and tomorrow. Listening to leaders from Bank of America, Goldman Sachs, AOL, Revolution, and Tory Burch, I found it heartening to know that there are billion-dollar companies who care about having an impact on small businesses and who feel obligated to have those conversations about the urgency to enact change.
Tom Montag of Bank of America (BOA) shed light on the positive impact that BOA is having on small businesses around the country: "We fund 3.2 million small businesses." The audience roared at this statement. Why? Because supporting small businesses, founded by diverse people with diverse backgrounds, is so essential in building up our economy as a whole. Montag adds, "People want to be proud of where they work and want to make things happen." Steve Case of AOL and Revolution contributes, "the most interesting companies aren't just coming from Silicon Valley, but all over the country.
Some of the best companies are founded by women or people of color – leveling the playing field in terms of opportunities." Dina McCormick, of Goldman Sachs, shared an initiative that she is proud to be a part of, "[Goldman Sachs] will not take a company public if it does not have a diverse board member." McCormick relayed a sense of importance to the audience, expressing, "there is so much more work and urgency."
Tory Burch addressed the underlying theme of helping and empowering women with a different perspective; "It is not a charity; it is just giving women the help that they need and deserve."
8.) Don't Be Afraid Of Diversity. Kirsten Green, the founder of Forerunner Ventures, a Silicon Valley venture capital firm, addressed the importance of diversity in business. She described the importance in "building businesses for the future that have positive impacts on everyone… And the companies that have more diversity are outperforming." Green was asked about common threads that unite entrepreneurs of different backgrounds: "there is no common background for successful founders, but there are common traits. A common thread is to have a vision and a desire," Green expresses, "one they can't get out of their head."
What do these stories mean to you? Take these eight tokens of advice and integrate them in your daily life. Stand up for causes that are pertinent to you. Commit to being your true self. Challenge stereotypes you face. Be open to new opportunities. Be the first. Build a better future for the next generation. Live each day with purpose. Welcome diversity. Embrace ambition.