Celebrating Our Past. Building Our Future. 
A Reflection on Women's History Month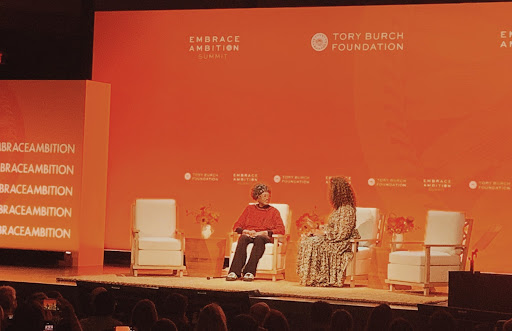 Rosa Parks. Claudette Colvin. One is a household name with an impact to trigger memories from the Civil Rights Movement. Another is a name that maybe resonates with a few people but might just be an everyday name to others.
However, both of these women played integral roles in the Civil Rights Movement and built momentum for the rights to change in favor of African Americans, yet only one of those women was recognized while the other was overlooked. 
On March 5th, I had the honor to hear Claudette Colvin speak on how she was one of the first to resist moving to the back of the bus for a white person, nine months before Rosa Park did the same thing. As she walked on the stage, there was a standing ovation and the audience roared.
She played a major role in getting African Americans the equality that they deserve and have today. One outtake from her conversation / interview was that many people don't know her name, and we, as a community, need to raise awareness as to the bravery she showed and the change she evoked. On March 6th, a street was named after Colvin in Parkchester, Bronx, honoring her courage on that very day, March 2nd, 1995. 
Why is this coming to light now? The month of March has been coined "Women's History" month, but truly, we should be celebrating this every time of the year. Women are banding together — from across the cultural, geographical, economical, educational, gender, political and racial spectrum —  to share their stories.
Storytelling is a powerful method of understanding each other and what makes us all uniquely different. I experienced that firsthand, listening to Colvin speak and share her personal story, one that many people need to hear. 
Not only was it Women's History month, but also on March 8th we celebrated International Women's Day. Throughout the entire month women were encouraged to vote to help empower the voice of women everywhere. 
The mission for Women's History Month is to celebrate the overlooked achievements that powerful women, who might not be in your textbooks, have made in history. Companies like Amazon and Google are aiming to support these efforts through promotions and campaigns.
Google is highlighting 12 women, trailblazers through their Google Home, simply by asking Google to "tell me about an inspiring woman." Amazon is echoing off of this trend, by asking, "Alexa, who inspires you?"
As for voting, this year is particularly special as it marks the 100th anniversary for the passing of the 19th amendment, giving women the right to vote. As Alice Paul said, "There will never be a new world order until women are a part of it."
Women like Susan B. Anthony and Elizabeth Cady Stanton, who were leaders and activists in the Women's Suffrage Movement, fought for these rights.
And as these women in history have paved the way for our generation, it is important that we also continue to not only tell more stories about women but to create stories of our own, paving the way for future girls. We must play an active role in setting the agenda to achieve equality. And the only way to do that is by creating a united front. During this month, it is the ideal time to start enacting positive change, in your own lives. 
Throughout March, there were many events in our area to celebrate women. Drexel University's Vision 2020 is a coalition of people across the country that have come together to level the playing field in politics, work environments, and simple everyday interactions. 
On March 1, the Kimmel Center opened an interactive exhibition called "Seat at the Table." This exhibit shows the persistent struggle that women in history had to face when challenging voting rights. Not only does this exhibit feature the past accomplishments of women, but it fast forwards until today and how there is still a lot more work to be done.
Another event at the Kimmel Center is challenging the stereotypes for women in the film industry. From March 20-29, the Center hosted "The Women's Film Festival", produced by women, starring women, for women. The organizers urge, "There's a need for a festival that affords women of any background the chance to be showcased in a truly empowering light."
Ask yourself, how can I get involved this month? How can I find the voice within myself to empower other women and join a united force to celebrate our many accomplishments? Our time is now, so start by telling your story and listening to other women's stories. We can learn from history and we can also plan an active part in writing the next chapter.