Parasite's Oscar Victory
What the Film's Win Says for the Future of Hollywood
When Jane Fonda announced the most coveted award of the night at the 92nd Academy Awards, Hollywood's elite erupted at the sound of a single word: "Parasite."
The South Korean film, directed by Bong Joon-Ho, made waves during the 2019 and 2020 awards season, gaining support for its anomalous plot layered over hyper-realistic issues of social division. For months, praise poured in from all corners of the world, yet entering the 92nd Academy Awards, a Best Picture win still seemed like a longshot. Compared to films like Sam Mendes' war epic, 1917, the simplicity and slow-burn storytelling of Bong's Parasite was an unlikely bet when looking at the Academy's track record.
On February 9th, though, it seemed like the Academy had finally taken a step to remedy years of criticism. With stumbling TV ratings and public outcry over a lack of diversity within winners and nominees, Parasite's monumental win wasn't important; it was a necessity. As the first non-English language film to win the Academy Award for Best Picture, the doors are finally open to a colossal catalog of more diverse and foreign works. Now it's time for Hollywood to act.
While American films and television series have loved sparingly placing token Asian characters in supporting roles, a new wave of creators and actors have emphasized the importance of placing these characters in the forefront.
In 2018, Netflix released its colossal young adult film To All the Boys I've Loved Before featuring Vietnamese actress Lana Condor as the film's protagonist (a sequel To All The Boys: P.S. I Still Love You was released February of this year). Also in 2018, Crazy Rich Asians, directed by Jon M. Chu, made a tremendous splash at the box office, receiving a whopping $238 million (a feat which hadn't been accomplished for over a decade).
While Parasite is easily one of the most intriguing and unique stories to emerge in recent years, it's hard to believe that the film would've had the same success if released just a few years earlier. In UCLA's 2019 Hollywood Diversity Report, the university showed that only 3.4% of Asian actors occupy film roles, compared to the 77% of roles given to white people.
Of course, this major discrepancy won't be remedied by a singular win, but it proves that Hollywood and America are willing to try. Like Bong so eloquently stated in his Golden Globes speech for Best Motion Picture, Foreign Language: "Once you overcome the one-inch tall barrier of subtitles, you will be introduced to so many more amazing films."
About the Writer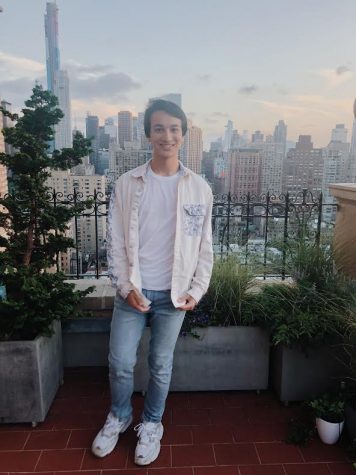 Ty Nagvajara, Executive Editor
Harriton senior Ty Nagvajara is very excited to become the Co-Executive Editor for The Harriton Banner this year. Last year he worked as the Arts &...