The Legacy of Ruth Bader Ginsburg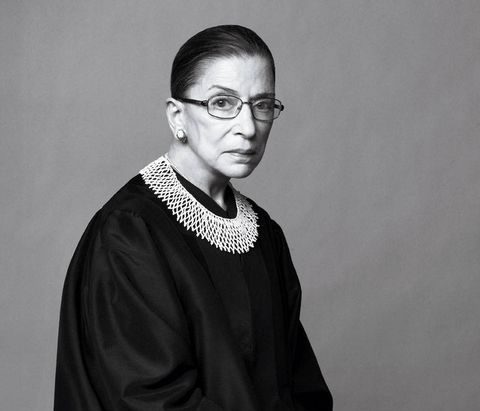 One of America's most iconic Supreme Court Justices, Ruth Bader Ginsberg, was born on March 15, 1933.  RBG, as she became known, would go on to live a life dedicated to the people and the art of law. 
Ruth Bader Ginsburg grew up in a low-income neighborhood in Brooklyn, New York, and through the selflessness of her mother's work and her own dedication, she was able to attend Cornell University, where she majored in government and met her future husband, Martin D. Ginsburg, with whom she had a daughter, and later a son.
Ms. Ginsberg attended Harvard Law School, where she balanced the work of motherhood and law school. While at Harvard, she encountered prejudice from her male classmates but persevered to become the first female member of the prestigious Harvard Law Review. 
Ms. Ginsburg faced yet another challenge when her husband, Martin, fell ill with cancer. She attended his classes and took notes for him, while maintaining her own school work and caring for her husband and daughter. Martin recovered and graduated, moving the family to New York for his work, where Ms. Ginsberg finished her degree at Columbia Law School.
Although Ms. Ginsberg graduated first in her class, no firm wanted to hire a woman. She ended up teaching at Rutgers University Law School and then at Columbia, where she was the first tenured female professor. 
Ms. Ginsberg co-founded the American Civil Liberties Union's Women's Rights Project and argued six landmark cases in front of the Supreme Court. She fought for gender equality in over 300 cases, and her arguments often cinched on the Fourteenth Amendment's Equal Protection Clause, dictating "equal protection of the laws."
In 1980, President Carter appointed Ms. Ginsberg to the U.S. Court of Appeals for the District of Columbia, where she served until 1993 when President Clinton nominated her to the Supreme Court, making her the second female Justice, confirmed by the Senate, 94-3. She became a moderate liberal staple on the court and gained particular fame for her dissent to the Bush V. Gore (2000) decision.
Even when Martin Ginsburg passed away in 2010, Ms. Ginsberg returned to the court the next day. Her historic rulings included King V. Burwell, which upheld essential components to the Affordable Care Act, and Obergefell V. Hodges, which legalized same-sex marriage. Over the years, she grew into a pop-culture icon, earning the fond nickname, "Notorious R.B.G," a play on the name of rapper Notorious B.I.G. 
Standing at 5'1″, she became the most adored person in Washington, with millions of Americans idolizing her. She championed women's rights in the legal field during the 1970s and fought every day for what she believed was just. She had a unique skill of delivering galvanizing dissents on the decisions she viewed as unconstitutional. 
Ruth Bader Ginsburg died on September 18, 2020, from metastatic pancreatic cancer at the age of 87. She was the definition of intelligence and dignity, and her legacy of fighting for women's rights will stand as one of her great legacies. She will always be remembered as a feminist icon of the twentieth and twenty-first centuries and American hero.