The Biden-Harris Victory Speech
After five excruciating days, we finally have a decision: Joe Biden is the 2020 president-elect.
On Saturday, November 7th, 2020, Pennsylvania finalized votes and turned blue, which gave the Democratic Party 20 more electoral votes, leading Biden over the required 270 electoral votes. That night at around 8 pm EST, Biden, along with his selected Vice President, Kamala Harris, delivered their victory speeches in Wilmington, Delaware.
Harris, the first female and POC Vice President-elect, spoke first, where she paid tribute to civil rights icon and well-known congressman, John Lewis.
Harris said, "Congressman John Lewis before his passing wrote 'Democracy is not a state, it is an act.' And what he meant was that America's democracy is not guaranteed. It is only as strong as our willingness to fight for it […] And when our very democracy was on the ballot in this election—with the very soul of America at stake and the world watching—you ushered in a new day for America."
Harris then thanked poll workers along with voters for helping the duo achieve this presidency. She declared that the nation chose the right candidate because Joe Biden is "a person whose own experience of loss gives him a sense of purpose that will help us as a nation reclaim our sense of purpose."
Harris thanked her mother, who migrated from India to America, along with the generations of women before her. Kamala spoke of her mother, "When she came here from India at the age of 19, she maybe didn't quite imagine this moment. But she believed so deeply in an America where a moment like this is possible, and so I am thinking about her and about the generations of women, Black women, Asian, white, Latina, Native American women, who throughout our nation's history, who paved the way to tonight, women who fought and sacrificed so much for equality and liberty and justice for all."
To end her speech, Harris expressed the significance of serving as the first woman VP: "While I may be the first woman in this office, I will not be the last. Because every little girl watching tonight sees that this is a country of possibilities."
After roughly fifty years in the public and three failed attempts for the White House, Biden took the stage. He first honored the voters and their voices, thanking the over 74 million people who voted for him—more votes than any other presidential candidate has ever received. Biden then outlined his plan to unite the nation and requested patience, given the current division in the United States.
"I pledge to be a president who seeks not to divide but unify. Who doesn't see red states and blue states, only sees the United States," Biden began. "I sought this office to restore the soul of America, to rebuild the backbone of this nation, the middle class, to make America respected around the world again, and to unite us here at home."
After thanking his campaign team, Biden acknowledged his opponent: "For all those of you who voted President Trump, I understand the disappointment tonight. I've lost a couple of times myself, but now let's give each other a chance," Biden explained. "It's time to put away the harsh rhetoric, lower the temperature, see each other again, listen to each other again. And to make progress, we have to stop treating our opponents as our enemies. They are not our enemies. They are Americans."
Next, Biden discussed the raging COVID-19 pandemic. Biden pledged to subdue the virus, claiming on Monday, November 9th, that he would announce a task force filled with scientists and experts, who will aid and oversee him and his administrations to prevent the spread.
Biden concluded his speech by saying, "let us be the nation that we know we can be. A nation united, a nation strengthened, a nation healed. Spread the faith. God loves you all. May God bless America and may God protect our troops. Thank you."
Biden and Harris then joined their families as they celebrated on stage, with Tina Turner's "The Best" playing in the background. Illuminated drones filled the sky and spelled out, "46," against a backdrop of fireworks, representing Biden as the 46th president of the United States.
About the Writer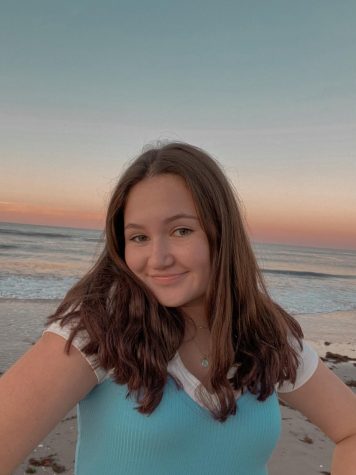 Sami Isenberg, Podcast Host
As Sami enters her second year attending Harriton, she is looking forward to writing once again for The Banner and starting a podcast with her best friend!...