The 30 Best Albums of 2020
In a year dominated by a deadly pandemic and a socio-political uprising, music still played throughout it all. Whether it was an escape or a reflection of the times, musicians still delivered some resounding works. Here are the 30 best of the year. 
30. JAGUAR, VICTORIA MONÉT 
Jaguar, while only 25 minutes long, packs a major punch. The respected producer and writer steps in the spotlight on this glistening album, with tracks that explore neo-soul, disco, and R&B. ESSENTIAL TRACKS: "Moment," "We Might Even Be Falling in Love (Interlude)," & "Touch Me"
29. KiCk i, ARCA
Fusing elements of electro-pop, reggaetón, and pop balladry, Arca creates her most explosive and risky venture yet. With the help of guests like Rosalía and Shygirl, KiCk i professes its vulnerability underneath a sea of synths, trills, and crushing instrumentation. ESSENTIAL TRACKS: "Mequetrefe," "Watch," & "KLK"  
28. SAINT CLOUD, WAXAHATCHEE
Serene songwriting and Katie Crutchfield's effervescent voice saunter along Saint Cloud, painting an entrancing picture as each track explores a new place and memory. ESSENTIAL TRACKS: "Can't Do Much," "Lilacs," & "War" 
27. HOW I'M FEELING NOW, CHARLI XCX
While Charli XCX's lyricism is lonesome and introspective, the synth and bass-heavy production widen the album's scope by magnitudes. Furthering her push into experimental pop, this record will remain a testament to the 2020 quarantine era. ESSENTIAL TRACKS: "Forever," "7 Years," & "Anthems"
26. AFTER HOURS, THE WEEKND
Capturing the entire scope of After Hours in writing is a near-impossible feat, as the album often feels like its own cinematic universe. From the bloody and bruised character he portrays to the heavy 80s influence, The Weeknd guides listeners through a bittersweet throwback. ESSENTIAL TRACKS: "Snowchild," "In Your Eyes," & "Save Your Tears"
25. MISS COLOMBIA, LIDO PIMIENTA
While there is a lot to enjoy in Miss Colombia, it is its mysticism that is so entrancing. Fusing an excess of culture into each track, she jumps from upbeat grooves to reclusive production, all of which highlight her idiosyncratic vocals. ESSENTIAL TRACKS: "Eso Que Tu Haces," "Nada," & "Te Quiera"
24. SET MY HEART ON FIRE IMMEDIATELY, PERFUME GENIUS
Michael Hadreas expands his musical library on Set My Heart. Combining art-rock with more left-field genres like disco, psychedelic, and chamber, he builds an impressive foundation that supports his emotional delivery.  ESSENTIAL TRACKS: "Describe," "Without You," & "On The Floor"
23. MAGIC ONEOHTRIX POINT NEVER, ONEOHTRIX POINT NEVER
Daniel Lopatin's ninth studio album finds the producer reveling in experimentation and fluidity. With help from collaborators like Caroline Polachek and The Weeknd, Magic Oneohtrix Point Never appears like a beacon, engrossing its listeners with its romantic ambiance. ESSENTIAL TRACKS: "Long Road Home," "The Whether Channel," & "No Nightmares"
22. EVERY BAD, PORRIDGE RADIO
Raucous and restless, the Brighton four-piece's fifth album is a fiery venture. With stinging lyricism and consistent vocals from Dana Margolin, Every Bad is a full-bodied indie rock record. ESSENTIAL TRACKS: "Sweet," "Give/Take," & "Homecoming Song"
21. SAWAYAMA, RINA SAWAYAMA
Loaded with ear-catching melodies, British-Japanese singer Rina Sawayama delivers one of the most delectable debuts of the year. Combining styles like nü-metal and dance-pop, Sawayama blurs what constitutes a pop record through an "XS" of experimentation. ESSENTIAL TRACKS: "XS," "Love Me 4 Me," & "Bad Friend"
20. SOURCE, NUBYA GARCIA
While tenor saxophonist Nubya Garcia has been bubbling in the jazz community for years, it is on Source where she emerges with vibrant energy. With each song, her intention becomes clearer and her playing, rooted in spirituality, perfectly melds with the lingering percussion, pianos, and vocal lines. ESSENTIAL TRACKS: "The Message Continues," "Source," & "La Cumbia Me Está Llamando"
19. THE NEW ABNORMAL, THE STROKES
Nineteen years after their gutsy debut, The New Abnormal provided a revitalization to Julian Casablancas and The Strokes. With a collection of songs that play like instant classics, the fivesome's glitzing guitar riffs make for a nostalgic listen.  ESSENTIAL TRACKS: "The Adults Are Talking," "Selfless," & "Ode to the Mets"
18. ALFREDO, FREDDIE GIBBS & THE ALCHEMIST
Hard-hitting bars and top-tier lyricism drive the second collaboration between rapper Freddie Gibbs and renowned producer The Alchemist. As referenced by The Godfather-esque cover art, Alfredo is a sprawling gangster rap album with multiple jazz references. ESSENTIAL TRACKS: "God Is Perfect," "Scottie Beam," & "Something to Rap About"
17. SONGS, ADRIANNE LENKER
If there is one thing that Big Thief singer Adrianne Lenker does best, it is melding her distinctive voice with innate storytelling. Constructed in a desolate cabin in Western Massachusetts, Songs reflects that rugged and homey feel, elevated by her folksy, whimsical style.  ESSENTIAL TRACKS: "Anything," "Forwards Beckon Rebound," & "Heavy Focus"
16. OMEGA, IMMANUEL WILKINS
While void of lyrics, Omega, is one of the most profound reflections on black life and racial tension from this year. Jumping from pulsating tracks that spotlight his alto saxophonist skills, to smoother, more pensive works, Immanuel Wilkins' debut is a resonating time capsule. ESSENTIAL TRACKS: "The Dreamer," "Part 2: Saudade," & "Omega"
15. LIANNE LA HAVAS, LIANNE LA HAVAS
Lianne La Havas hits her sweet spot on her self-titled effort, crafting a masterclass in soothing R&B. Sparkling with sensuality, La Havas allows her husky voice to collide with her awing, jazz-influenced guitar work, creating an immersive and engaging listening experience. ESSENTIAL TRACKS: "Bittersweet," "Paper Thin," & "Please Don't Make Me Cry"
14. RTJ4, RUN THE JEWELS 
By far RTJ's most thematically focused album, RTJ4 arrived at the peak of national calls for racial justice. Presenting itself as a musical riot, each song is bombastic and reinforces the duo's ultimate thesis on America's systemic racism. ESSENTIAL TRACKS: "Out of Sight," "Walking in the Snow," & "A Few Words for the Firing Squad (Radiation)" 
13. STARTING OVER, CHRIS STAPLETON
On his fourth album, Stapleton wrestles with his past, reconciles in the present, and plans for the future. Singing on topics such as the death of his dog and the 2017 Las Vegas shooting, he uses his gravelly and soulful voice, along with shimmering harmonies to create an honest effort. ESSENTIAL TRACKS: "Whiskey Sunrise," "Maggie's Song," & "Watch You Burn"
12. UN CANTO POR MÉXICO, NATALIA LAFOURCADE
¡Órale! Overflowing with cultural flair, Lafourcade's seventh album is a flourishing tribute to her Veracruz heritage. From mariachi numbers with bursting guitars, strings, and horns to lush and intimate recordings with traditional guitar riffs, the music on Un Canto pulses with liveliness. ESSENTIAL TRACKS: "El Balajú/Serenata Huasteca," "Nunca es Suficiente," & "Mi Tierra Veracruzana"
11. GRÆ, MOSES SUMNEY
There is nothing like Moses Sumney's voice—eternally flowing yet grounded by a deep soulfulness. On Græ, it is this voice, combined with his reflective lyricism, that steers his sonic opus, as he tackles complex themes of duality and ambiguity with sheer transcendence. ESSENTIAL TRACKS: "Cut Me," "Me in 20 Years," & "Bless Me" 
10. YHLQMDLG, BAD BUNNY
For Bad Bunny, 2020 was a prolific year—releasing three albums in less than 9 months. It is YHLQMDLG, though, that remains his most ambitious work. Merging traditional reggateón and bossa nova elements with trap and hip-hop, Bunny leads the way into the genre's future. ESSENTIAL TRACKS: "Yo Perreo Sola," "A Tu Merced," & "Safaera" 
9. CIRCLES, MAC MILLER
While it is hard to get past the initial sorrow that comes with a posthumous effort such as Circles, Miller's sound and pensiveness have never been more cohesive. For 49 minutes, listeners are treated to a bittersweet testament to the aspirational life the rapper lived. ESSENTIAL TRACKS: "Blue World," "Good News," & "Everybody" 
8. UNTITLED (BLACK IS), SAULT
Emotionally triumphant, the third album from anonymous British collective Sault is a rousing accompaniment to 2020's civil unrest. Exceptional production and lyricism, with inspirational interludes, help cement each song in their own distinct, but thematically paralleled, universe. ESSENTIAL TRACKS: "Wildfires," "Why We Cry Why We Die," & "Black" 
7. SONG FOR OUR DAUGHTER, LAURA MARLING
Marling's sixth album is a soaring reflection of life, love, and womanhood. Folksy vocals and engaging lyricism honor the likes of Joni Mitchell, as the album's impact impresses itself deeper and deeper with each song. ESSENTIAL TRACKS: "Held Down," "Strange Girl," & "A Song For Our Daughter"
6. WOMEN IN MUSIC PT. III, HAIM
Women in Music Pt. III presents the sister trio in their fullest and most mature form. Allowing each member to exemplify their talents, WIMPIII is a collection of retrospective lyrics and sweet melodies. Plus, the saxophone licks that whirl throughout the album—simply unbeatable. ESSENTIAL TRACKS: "The Steps," "3AM," & "Another Try"
5. UNGODLY HOUR, CHLOE X HALLE
On their sophomore effort, sisters Chloe and Halle Bailey amplify their talents with effortless harmonies and dynamic production. From traditional R&B to dance-pop, Ungodly Hour is an uncanny representation of the duo's star power.  ESSENTIAL TRACKS: "Ungodly Hour," "Tipsy," & "Don't Make It Harder On Me"
4. HEAVEN TO A TORTURED MIND, YVES TUMOR
Slick guitar riffs and bass-lines run rampant throughout this chameleonic album from Miami-born, Turin-based Yves Tumor. On their fourth album, Tumor takes listeners on an anarchic ride through glam-rock, shoegaze, and an amalgamation of almost every other genre. ESSENTIAL TRACKS: "Gossip For a New Century," "Kerosene!," & "Romanticist" 
3. WHAT'S YOUR PLEASURE, JESSIE WARE
On What's Your Pleasure, Jessie Ware prolifically reinvents herself inside a disco dreamscape. With lush, haute production that features a myriad of grooving synths, orchestral backings, and solid piano lines, Ware creates a stunning homage to the late 70s and early 80s. ESSENTIAL TRACKS: "Spotlight," "Ooh La La," & "Mirage (Don't Stop)"
2. FETCH THE BOLT CUTTERS, FIONA APPLE
Bold and jarring, Fiona Apple's fifth album is a resurgence. Fiery lyricism intertwined with clanging pianos, raw percussion, and even the occasional dolphin noises help blaze a path to unbounded release—from relationships, the critics, and the expectations of those around her. ESSENTIAL TRACKS: "Shameika," "Under the Table," & "Ladies"
1. PUNISHER, PHOEBE BRIDGERS
Swarming with honest lyricism, and shimmering vocals, Bridgers' sophomore album, is a momentous feat. No project this year has touched Punisher's expansive, yet insular aura, with the tracklist jumping from dreamy, desolate production to triumphant instrumentation. ESSENTIAL TRACKS: "Kyoto," "Savior Complex," "Graceland Too," & "I Know the End" 
About the Writer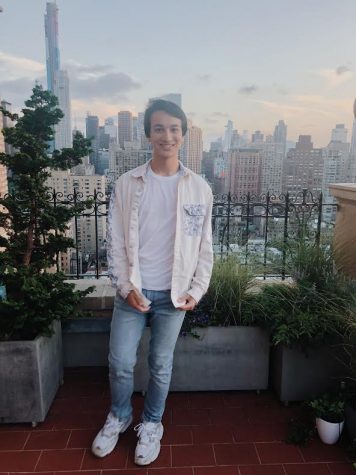 Ty Nagvajara, Executive Editor
Harriton senior Ty Nagvajara is very excited to become the Co-Executive Editor for The Harriton Banner this year. Last year he worked as the Arts &...