Apple's Rise to Two Trillion
This August, Apple became the most valuable publically traded company in the world, overtaking Aramco ,as its market cap soared past $2 trillion for the first time. But the company's road to this whopping total hasn't been a straight climb.
After founder Steve Jobs passed away in 2011, many investors doubted that his successor, Tim Cook, could fill his shoes and propel the company forward. Amidst lawsuits, regulatory investigations, and an ongoing trade war, Apple's shares have surged.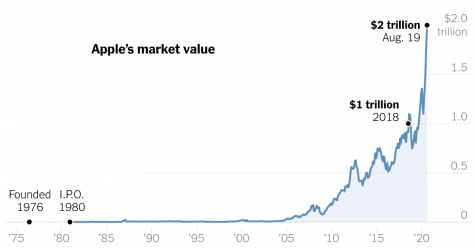 Apple first launched its Apple 2 home computer in 1977, revolutionizing the industry and the world, but to follow its rise to the very top, a good place to start is August 2018. When Apple reached its $1 Trillion market cap for the first time, surpassing other tech giants by billions of dollars.
The company had been coming off of one of its strongest years since the loss of Steve Jobs. In July of 2018, the company reported its best third-quarter earnings ever. Its flagship iPhones remained widely popular and sales from the App Store and other services had hit all-time highs, but this wasn't going to last.
About a month later, Apple released a new suite of iPhones, which included its most expensive model yet: iPhone X. But things didn't go as expected. In January 2019, Apple announced it had missed its expectation for iPhone sales. This had lots to do with the ongoing trade war between the U.S. and China.
Since the Chinese economy had dropped, so had the purchases of iPhones. With the higher priced phone, people felt underwhelmed by the new features and questioned whether it was worth spending that much. In response, the company slashed its quarterly revenue forecast for the first time in over 15 years. 
Since its peak, the company has lost more than $400 billion in market value. The year 2018 turned out to be Apple's worst yearly stock performance since the financial crisis. And for some skeptics, this fall from grace seemed to confirm their doubts that Tim Cook could not successfully lead the company.
Then in March 2019, Cook moved to dramatically expand the strategy that the company started in 2017. Apple announced its credit card, Apple TV+, and a number of new services. After the announcement, the stock began to steadily rise; the company's bet on services was starting to pay off.
In the spring of 2019, the U.S.-China trade war was gaining momentum. Donald Trump was threatening and imposing new tariffs and there was a great concern for Apple that its iPhones and other gadgets could get more expensive for American consumers as a consequence. 
For years, Trump has pressed Apple to move its production to the U.S. And that was something that wasn't feasible on a mass scale for Apple. In fact, around this time, they were planning to shift the American manufacturing of the highest-end Mac desktop computer over to China. Cook was able to largely navigate around the tariffs and avoid having much damage to Apple as a consequence. 
With key products, such as iPhones exempted from sanctions, Apple stock continues to gain momentum. But amid a surge of growth, Apple's new focus on services brought scrutiny from federal regulators. In the U.S., the company faced antitrust probes related to its App Store where many of the services are based.
But this didn't seem to faze investors. Over the year, Apple had bought back around $80 billion worth of its shares, further juicing the stock price. And by January 3rd, the company's share price had more than doubled from the year before. 
Apple's future looked promising and then COVID hit. As it spread across the world, Apple's manufacturing hubs in China were affected especially hard. It scared investors, as Apple's contract manufacturers in China had to close their factories as they dealt with the coronavirus impact. 
Apple stock would quickly bounce back, though. The U.S. reserve enacted a colossal stimulus plan to pump cash into the economy, lifting the markets, including stocks like Apple, and as lives changed, technology became even more essential.
During the pandemic, many have been forced to shift their work and schooling to their homes, which has caused more to use their electronics and engage in various entertainment sources. On July 30th, Apple released an earnings report that highlighted an 11% increase in revenue. Apple, for the first time, had become the most valuable trading company at a 2 trillion dollar market cap.