The 30 Best Songs of 2020
From raging electro-pop to folk balladry, if one thing wasn't defined by 2020's seething path, it was music. Here were the top 30 songs that provided the sweetest relief to a sour year.  
"QUIERO SENTIRME BIEN," KALI UCHIS
With tranquil instrumentation that mirrors some of her earlier work, Uchis sweetly sings about wanting to feel good. Subconsciously she creates a song that fulfills that want for all of her listeners. 
"DRAGONBALL DURAG (FEAT. SMINO & GUAPDAD 4000) [REMIX]," THUNDERCAT
Quite possibly the grooviest song of the year, Thundercat's seductive bass lines play out like a firework. Enlisting guest verses from rappers Smino and Guapdad 4000 help elevate the song's funky aura. 
"HURT," ARLO PARKS
On this single from British-newcomer Arlo Parks, her distinct voice is juxtaposed with quirky songwriting and a soulful arrangement.  
"INTRUDERS," JESSIE REYEZ
Sonically soothing with spirited drums, Jessie Reyez tackles themes of possessive love and colonialism with her idiosyncratic vocals on the apt-titled "Intruders." 
"BAD KARMA (FEAT. JOAN JETT)," MILEY CYRUS
The chameleonic Miley Cyrus' 2020 rock venture wouldn't have been complete without a Joan Jett feature. On "Bad Karma," the two trade provocative and creepy vocal lines over instrumentation that echoes Jett's early work with The Runaways.  
"WAP (FEAT. MEGAN THEE STALLION)," CARDI B 
No song in the past five years has spurred such a cultural paradigm shift. While the reclamation of feminine sexuality has lingered through music waves, it is "WAP," with its unapologetic and raunchy flair, that opens the floodgates. Don't forget a mop.  
"KLK (FEAT. ROSALÍA)," ARCA
Arca and Rosalía fuse their talents to create the most forward thinking and outlandish reggaetón track of the year, which draws inspiration from the furruco—a Venezuelan friction drum. 
"THE DIVINE CHORD (FEAT. MGMT & JOHNNY MARR)," THE AVALANCHES
In this immersive and shimmering track, The Avalanches transport listeners into an effervescent and floating landscape, and recruit MGMT's Andrew VanWyngarden as the navigator to this other-worldly creation. 
"DO TO ME," H.E.R.
Stepping out of her R&B comfort zone to tackle reggae ends up doing H.E.R. wonders. Incorporating a Sister Nancy sample and Jamaican patois, H.E.R. fruitfully sings upon infectious and bouncing instrumentals with confidence. 
 "WILDFIRES," SAULT
While the production by British-producer Inflo may be subtle, Cleo Sol's searing voice and the duo's robust lyricism boost the song, as she sings about burning down the systems of oppression and rising from the ashes.
"MY HIGH," DISCLOSURE, SLOWTHAI, & AMINE 
The pounding house beats perfectly constructed by Disclosure, coupled with Aminé and Slowthai's undeniable chemistry, levitates its listeners to the dance floor.
"LOCKDOWN," ANDERSON .PAAK
Drifting in with a California breeze, .Paak's "Lockdown" is a necessary reaction to the nationwide riots in the face of COVID-19, delivering punching lines like, "Said it's 'civil unrest,' but you sleep so sound."
"WHISKEY SUNRISE," CHRIS STAPLETON
The thrashing guitar on the chorus, combined with Stapleton's signature grit, make "Whiskey Sunrise" one of the most powerful and enjoyable country/blues tracks of the year.
"PIG FEET (FEAT. KAMASI WASHINGTON, G PERICO, & DAYLYT)," TERRACE MARTIN & DENZEL CURRY
Opening with gunshots and a screaming female voice, Martin's jazz-rap production, Washington's wailing saxophone, and an emphatic verse by Curry cement "Pig Feet" as the year's most quintessential piece of protest music. 
"SPOTLIGHT," JESSIE WARE 
In a year ruled by homages to the 70s and 80s, no one mastered it quite like Jessie Ware. Her album's opener, "Spotlight," begins with alluring melodramatic instrumentation before flowing into a synth-heavy dance track that pulses with sensuality.
 "A SONG FOR OUR DAUGHTER," LAURA MARLING
Gathering inspiration from Maya Angelou, Marling dedicates this stunning folk song to her imaginary daughter, which revels in its intimacy and an ascendant vocal performance. 
"BITTERSWEET," LIANNE LA HAVAS
Simplistic jazz pianos and crisp drums leave Lianne La Havas and her voice to carry the weight. "Bittersweet" is a thralling epic that builds and builds to a moving crescendo, as she sings, "I'm born again."
"THE ADULTS ARE TALKING," THE STROKES
Julian Casablancas' voice blends into lush and extremely catchy bass and guitar lines as The Strokes craft a work that rivals some of their earliest projects. 
"

XS," RINA SAWAYAMA
 If anyone could create a sophisticated, and somewhat satirical, social commentary on capitalist society, disguised as a pop confection, it's Rina Sawayama. Elevated by its quirky synths and pounding metal guitar riffs, "XS" is the future of pop music.  
"SAFAERA," BAD BUNNY, JOWELL & RANDY, & NÑENGO FLOW
 This pulsating ode to 90s reggaetón and perreo culture feels as new as it does old. With each beat switch, Bad Bunny builds upon the intoxicating energy of "Safaera." 
"GOOD NEWS," MAC MILLER
The lead single off of Miller's first posthumous album laments on life, success, and his inner demons over a hypnotic, yet simplistic, guitar melody. With his optimism and aspirational lyricism, "Good News" is a beautiful, but heartbreaking track. 
"PEOPLE, I'VE BEEN SAD," CHRISTINE AND THE QUEENS
There's an unexplainable energy conjured by the melodramatic "People, I've Been Sad," as the song continuously pulls its listeners further in, even though Héloïse Letissier seems to be drifting with every word. 
"UNGODLY HOUR," CHLOE X HALLE
With production from Disclosure, the title track of Chloe x Halle's sophomore album is a glitzing affair. The duo's angelic harmonies, throbbing bass, and nostalgic feel make for their most melodious and catchy venture yet.  
"CUT ME," MOSES SUMNEY
A dynamic arrangement of horns, snapping drums, and floating piano lines set the scene for Sumney's aerobatic vocals and reflective lyricism to take center stage. 
"LADIES," FIONA APPLE
On "Ladies," Apple creeps with mesmerizing style and uncanny wit. Oozing with confidence, she crafts a heartfelt letter to all "the woman to whom [she] won't get through."
"ON THE FLOOR," PERFUME GENIUS
In a year that limited the experience of being with others, "On The Floor" allows listeners to vicariously travel into a dreamscape of dance floors and human interaction.
"KYOTO," PHOEBE BRIDGERS
Bridgers' matter-of-fact lyricism about imposter syndrome and her relationship with her father, accompanied by bouncy drum and guitar lines, drive this biting indie-rock ballad. "Woo!"  
"THE STEPS," HAIM
From the first pounding drums, followed by the hypnotic guitar riffs, HAIM immediately set the stage for a stunning rock song. Singing about a stagnant relationship, Danielle Haim's anthemic vocals gleam over the gritty and bouncing production. 
"KEROSENE!," YVES TUMOR
The connection that Yves Tumor and Diana Gordon create on "Kerosene!" is hypnotic, trading robust lines over one of the most exuberant and pulsating guitar riffs of the year. 
"SAVAGE REMIX (FEAT. BEYONCÉ)," MEGAN THEE STALLION
A global dance craze, a powerful SNL performance, and a Billboard #1:  there was no escaping the phenomenon that was "Savage Remix." As Megan and Bey trade braggadocious lines on success and black womanhood, while sprinkling in eccentric ad-libs and riffs, they create the year's catchiest and most shimmering track. 
About the Writer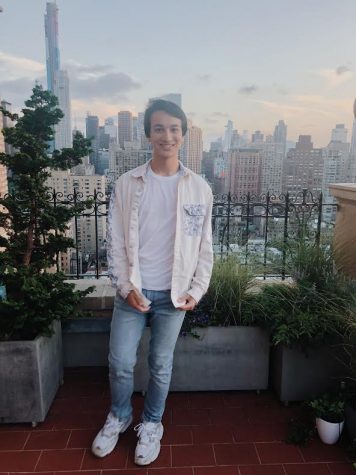 Ty Nagvajara, Executive Editor
Harriton senior Ty Nagvajara is very excited to become the Co-Executive Editor for The Harriton Banner this year. Last year he worked as the Arts &...