Inside Pixar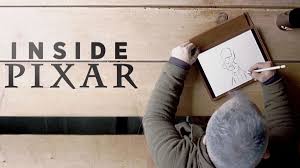 Wall-E, The Incredibles, Nemo, Brave, Cars, Coco, Toy Story, Soul. What do these movies all have in common? They were all created by Pixar Animation Studios. Who hasn't heard of Pixar, the company that is world-renowned for creating beautiful films? Their movies and characters are iconic, and the company itself is a staple of animated movies. 
Pixar's movie process takes years, as well as a huge team of dedicated, creative artists. Many people don't know, though, who these artists are, what they do, or even what jobs there are when it comes to animating a film. 
Inside Pixar is a documentary series on Disney+ about the jobs at Pixar, and how they deliver such remarkable films. I am interested in the behind the scenes of movies and animations, so when I saw this new series I immediately watched the entire thing.
It is a very well made and thought out series that focuses on many crucial jobs, like writing the script, creating the look of characters, directing a short film, and being a script supervisor. As well as the jobs, the series spotlights what inspires the Pixar team to write a film, script, or design a character. 
Many of the artists use personal stories to influence their movies. In one episode, Steven Hunter, director of Pixar short "Out," used his coming out story and life experiences to create a short story about a man named Greg who was moving but was afraid to come out of the closet.
The director of "Onward," Dan Scanlon, used a similar method to inspire his movie. His dad died when he was young, so it was just him, his mother, and his brother. He used this life experience to create the theme for his movie. Many of the Pixar projects are personal, and Scanlon made the movie "Onward" for his brother, to thank him for helping him through life.
One episode highlighted the job of script supervisor, Jessica Heidt, at Pixar. Heidt is responsible for tracing the ever-changing script throughout the entire production of the film. Even though you wouldn't think that there would be changes by the time people are animating the film, the script changes all the time, whether it doesn't look right when the character is talking, or if the dialogue just doesn't fit. 
Looking over the scripts, Heidt noticed that the gender roles and lines in the films were unequal. She met Josh Minor, who works in the tool department, to develop a tool to track the number of lines that both men and women have in movies, as well as their roles. She mentioned how the movies don't have to be fifty-fifty, and how they weren't going to change the roles of some of the most iconic characters, but they were making some smaller characters in the movies' females, like in "Cars 3" with Cruz, Louise Nash, and Miss Fritter. 
With this tool, developers can see how the roles and lines are split throughout the film to remain aware of the gender roles and representation. Heidt was awarded the Sully Award, which is Pixar's version of an Unsung Heroes Award.
Each film consumes an abundance of time, effort, and dedication. The team considers every detail of their project, even if audiences don't notice it. The people who come up with these ideas and characters have to have a special mindset, and they need to think differently in order to come up with truly original movies. 
The Pixar team's work is admirable. Next time when watching an animated movie, think about the roles, how much detail is in every scene, and how every character was individually designed, (except for the background characters, but that's a whole other story). I recommended glimpsing into the world of animation in this new documentary series.