Meet The New Disney CEO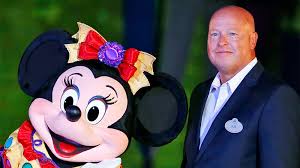 Everyone knows Disney and its work, but not as many people know the people that make Disney what it is today. The previous CEO of Disney, Bob Iger, stepped down on February 26, 2020, but who was he, and what did he do? He made some of the biggest and profound changes to the company. He created Shanghai Disney, partnered with Pixar in 2006, as well as Marvel, Lucasfilms, and 21 Century Fox. 
While he was CEO, Disney created the highest-grossing movie of all time, Avengers: Endgame, as well as the highest-grossing animated film of all time, Frozen. He also launched the Disney company into new technological advancements, using the best technology they had to offer to make the different parks and attractions as immersive and fun as possible. He was one of the most successful and innovative CEOs of Disney. Iger is still working in Disney, as he is now executive chairman of Disney. 
The new CEO, Bob Chapek, is not new to Disney, as he has worked there for 30 years. Chapek was formerly the Chairman of Disney Parks. While he was in this position, Disney saw the largest expansion and investment in Disney Parks. Chapek specialized in making the parks more guest-oriented and immersive, which was extremely successful.
He also served as President of Distribution for Disney, where he managed their film content distribution and was again extremely successful. He did many different things to help his employees with healthcare, childcare, and diversity inclusion. As well as this, Chepak has made close relations with the Make-A-Wish Foundation, where he is currently one of the board members. 
Before he joined Disney, he worked in brand management for H.J Heinz, as well as advertising for J. Walter Thompsan. He was actually not supposed to become CEO — a different man named Kevin Mayer, who was the head of Disney's Direct-to-Consumer & International Division, was next in line. However, Mayer did not have experience in the parks, home media, or handling IP, so the position went to Chapek.
So what does this mean, and will there be any changes? With Chapek as CEO, there are going to be some changes, as there is with every new CEO of a company, but Star Wars, Marvel, and Pixar are not going anywhere. Actually, you might be seeing more and more of them. He was responsible for the increase in ticket prices, which leads to his "wall garden" approach. He wants to keep everything inside the parks. 
For example, there was a special celebration for the Haunted Mansion's 50th anniversary, but the event cost three hundred dollars to attend. Some parts of the park that were open to the public are now only open to the high-paying customers like the members of Club 33 (an exclusive club you can join with special places to eat and special deals), or you could pay to tour those areas. 
On busy days such as the holidays, in Hollywood Studios's new section, Galaxy's Edge, a ticket can cost up to two hundred dollars, due to the extremely high cost that it took for Disney to build it. Chapek is more focused on the business side of the company, so it is lucky that Iger is going to still help him for his first 22 months to look at the company from a more creative aspect.
Bob Chapek became CEO mid-pandemic, so the re-opening of the parks was all up to him. They started with opening up Disney Springs and Shanghai Disney and used those experiences to further develop a plan for the rest of the parks. Disney parks opened a month after the Universal parks, and have fewer people. This is because Disney feels that there is a trust between the park and its guests, and Disney must make sure that the guests feel safe when they are there.
Chapek mentioned that Disney especially needed to be extra cautious about reopening the parks because of their high trust rate; people trust the Disney Company to deliver. Chapek has been handling the role quite well, but the real question is how Disney is going to play out over the next several years.