January Book Edit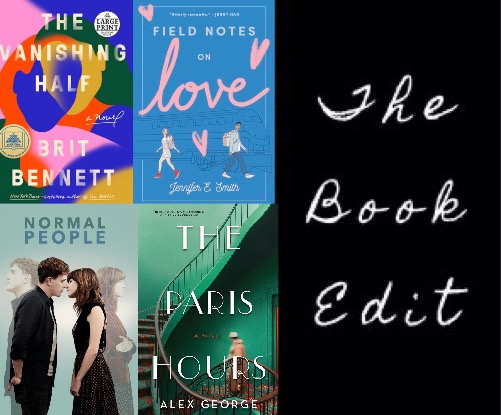 New Year's resolutions are a chance to learn from the past year and work on establishing healthy habits and a healthy you. Especially this past year, with Zoom screens and technology becoming the norm, there is no better feeling than taking a reprieve and reading a good book.
Many of you have probably added 'read more books' or 'take a break from technology' to your list of resolutions – you are in the right place.
Right within this very article is a hand-crafted, specially curated list of the top four must-read books from this year. Featuring relevant stories of racial identity as well as a rich, mysterious historical fiction read, these books are ones that you do not want to miss.
The Vanishing Half

– Brit Bennett
A book that should be mandatory reading, The Vanishing Half, tells a tale of two light-skinned, African-American girls who grow up in Mallard, LA, a small town that doesn't even show up on a map. One day, Stella and Desiree escape their cramped town and insufferable cleaning job to explore New Orleans, live independently and make sufficient money to provide for their mother.
Years later, Desiree returns to Mallard with scars and a child while Stella creates a new life, far away, where not a single person knows of her past or her true race. A chronology of their vastly different and separate lives, Stella and Desiree soon learn that the past catches up to you – and continues to haunt years later.
Secrets, scandal, lies, and betrayal, Brit Bennett truly crafts a generational and striking narrative. Sharing stories of gender and racial identity as well as family separations and homecomings, this tale is one that you don't want to miss.
2. Field Notes on Love –  Jennifer E. Smith
Hugo has always felt trapped: by his family, his home, his fame, and the future that has already been built for him. But when Hugo's girlfriend Margaret breaks up with him, he finds himself truly trapped in a tough situation.
He has two nonrefundable and unchangeable train tickets across America, and to use them, he needs someone with the name Margaret Campbell. Hugo has never been one to take risks, and he's never gone off alone before, but something tells him he needs to take this trip, and he needs someone named Margaret Campbell to do that.
Margaret Campbell (Mae)'s hopes have been crushed. She was sure that she would get into the college of her dreams where she could learn to be an amazing filmmaker. But when she doesn't, Mae knows she needs the one thing she is missing: experience, and maybe a little bit of adventure.
So when an unusual wanted ad in the newspaper catches her eye, she might just be willing to go off on a train across America with a random stranger. But in the end, this unlikely journey will show Hugo and Mae that they are both searching for the same things: love, new experiences, a chance to find themselves, and a heck of an adventure to teach them to never give up on their dreams.
3. Normal People – Sally Rooney
A not-so-classic love story, Normal People is a tale of a young girl and boy who realize that their lives are more similar than they want to let on. Starting in high school and spanning until after adulthood, Marianne and Connell establish a beautiful friendship and relationship, even as college, life, and growing up itself gets in the way.
With Marianne taking on the stereotype of the "quiet, smart girl" and Connell living up to his "athletic, popular boy" persona, the two meet in private and share stories and secrets until their bond is too strong to break, even despite their efforts to do so.
Heart-wrenching, comical, tear-jerking, and witty, Sally Rooney finds a way to perfectly encapsulate one's teenage years and prove that everything might not be what it seems. Normal People is a story that strings you along until the very end, evoking new emotions in each page and showing that two unlikely friends can foster a bond stronger than anyone.
4. The Paris Hours – Alex George
In the bustling streets of Paris, four very different people walk the same roads, visit the same shops, and interact with the same people; however, they are all complete strangers to one another. Each has been touched by tragedy in their lives, each has kept a secret for far too long, and all of them are about to discover heart-wrenching truths.
Camille has a secret, or maybe two, and is desperately searching to find something she has lost, but also protect something she has found.
Souren is a refugee trying to come to terms with the past, and trying to find a place for himself in a foreign world.
Guillaume is down on his luck, heartsick, and in a world of trouble which he is afraid he may not escape.
Jean-Paul is still reeling from a tragedy that brought his entire world crumbling down, and even many years later, he can't decide if he is ready to start rebuilding.
They are each searching for something, or someone, but little do they know that their stories are about to collide in ways they could only imagine. The Paris Hours tells the story of four strangers, one city, and in the end, one night, with many different twists, turns, and reveals to keep the reader begging for more. 
As the winter stretches on and the days grow longer and darker, consider picking up one of these four excellent reads. Whether you read them as part of your New Year's Resolution or not, we promise they won't disappoint. There are beautifully written worlds just waiting for you to step into them, worlds free of COVID, confusing school schedule changes, political turmoil, and more. Whatever the case, these four books will definitely brighten up one of those long quarantine afternoons, and we hope you enjoy them!