John Mulaney Enters Rehab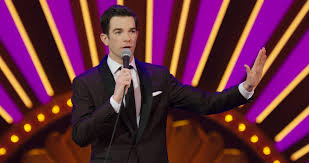 John Mulaney: most people know the name. John Mulaney is a successful comedian who has done stand up at the Radio center, interned at comedy central, and wrote/hosted for SNL. He has hosted SNL four times and is friends with cast member, Pete Davidson. John Mulaney has also voice acted on the show Big Mouth, which is written by Nick Krol, Mulaney's Georgetown college roommate, about Kroll's childhood experiences. 
On December 21st, 2020, Mulaney was checked into a 60-day rehab center in Pennsylvania for cocaine and alcohol abuse. Mulaney, who is very open about his struggles with abuse, started drinking at age 13. He then tried cocaine and continuously used the drug.
After 10 years, at age 23, John quit using drugs and alcohol without a recovery program, stating "I was like, 'You're (expletive) out of control.' And I thought to myself, 'I don't like this guy anymore. I'm not rooting for him.' "  
The SNL writer was also featured on the Seth Meyers show wearing a trench coat and sunglasses and performed an offbeat comedy act, which many speculated was because he was under the influence of cocaine. Although none of this was proven, even SNL employees stated that he was on drugs at that time.
Many celebrities have come out in support of Mulaney deciding to get help such as The Simpsons writer Tim Long who stated, "@mulaney is insanely talented, and was way nicer to me than he needed to be when he did @TheSimpsons. I hope he & everyone who's struggling these days get the help they need."
SNL cast members also have reached out in support. Additionally, Mulaney's fans are rooting for him and providing inspirational messages. 
At The Banner, we wish Mulaney a safe and healthy recovery and remind readers that it is important to be open about your issues and ask for help when you need it.