A Recap On FBLA's Interview With Todd Carmichael
On Thursday, January 22nd, Harriton's Future Business Leaders of America (FBLA) club had the opportunity to meet with La Colombe co-founder and CEO, Todd Carmichael.
Born in Spokane, Washington, Carmichael grew up as a small-town farm kid. He joked to Harriton students that although he still couldn't add fractions when he graduated high school, his early-life job at Starbucks was what set him up for success later on.
He earned this position at Starbucks because someone who was supposed to get the job didn't show up that day! Carmichael told Harriton students that his only skills were welding and agriculture, so this job was very new for him.
While working at Starbucks, Carmichael took a fascination with the idea that the coffee he was brewing in Washington came from Uganda, Rwanda, and other African countries. He decided that he would try to marry business and coffee together himself.
With the help of his best friend, Jean Philip Iberti, La Colombe was born in 1994 when Carmichael turned 30. Meaning "the dove," La Colombe is now valued at 1.5 billion dollars, with cafes from New York City to Beverly Hills. Starting with just $400.00 and a dream, Carmichael worked hard and continues to emphasize the importance of endurance and storytelling.
All entrepreneurs will have to tell their story over and over, so you must be good at it, Carmichael advised Harriton students. He also pointed out that "your biggest challenge in life is yourself," so "you must keep evolving with your company and the obstacles you face." Entrepreneurs should also aim to keep improving and staying ahead of their company's growth.
Carmichael recalled that he used to have to roast coffee from 2-5 am in the early days of his company. He sometimes even slept in the shop, and then the cafe would open from 7 am to 7 pm. But Carmichael's hard work over the years certainly paid off. He said he went from a scrappy entrepreneur all the way to chief executive officer.
His grit, determination, and will power was what shaped him into an incredible, strong-willed executive. One example of this can be seen as he started his search for the perfect coffee bean. Carmichael pleaded with different organizations to work with him before stumbling upon miles and miles of abandoned coffee farms in Haiti.
He immediately knew it would be the perfect fit for the company. Since then, Carmichael has partnered with the Clinton Global Initiative to found the Haiti Coffee Academy, which "supports farmers and producers through a teaching farm, nursery, and hands-on training in the village of Tè Lonj."
Carmichael took this same self-willed attitude with him as he became the first American to solo trek across Antarctica to the south pole with no aid and entirely on foot. It took 39 days, 7 hours, and 49 minutes, a tattoo he later got on his arm.
Four months later, he became the father of his first child whom he adopted from Ethiopia. During the Q&A of the FBLA meeting, Carmichael described that the first 5-10 days were the hardest as he adapted to his surroundings. Sometimes he could hardly see his own hands and had nothing to keep him going but the howling wind and the voice in his head. He called his alternate persona 'the beast,' and the beast is what kept him alive during the trek.
Back at work, Carmichael used data and intuition to judge which opportunities and partnerships were worth participating in. In Sweden, Carmichael convinced a few entrepreneurs to bring Oatly to the US to work with La Colombe.
He realized that oat milk products weren't the only things he wasn't used to. In 1997, his first customer requested an iced coffee. He was shocked but soon became accustomed to the cold brew field and became known for the draft latte.
Carmichael values giving his employees and community the same prosperity and success that he can earn for himself. "If you haven't helped someone else's career, you're doing it wrong," Carmichael described.
He concluded the speaker series by discussing the importance of realizing how temporary life is, and he makes it his goal to seize every day and live life with both hands. He values family, friendship, travel, and giving others opportunities to succeed the same way he has.
Click here to watch the full interview.
About the Writer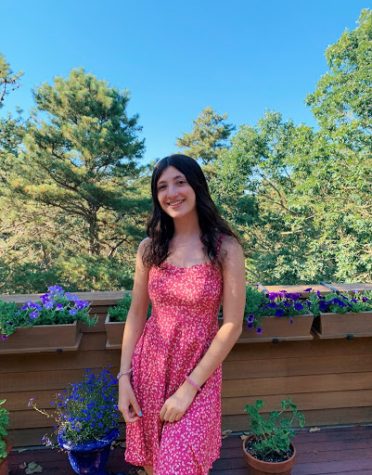 Leah Kallen, Staff Writer and Photographer
Leah is a sophomore and is excited for her first year on the Banner. She enjoys writing for fun, especially about the things she is passionate about like...