DECA's Virtual State Competition
During the week of January 25th, Harriton DECA students who qualified competed in the virtual state competition, hoping to move on to internationals. Harriton made up 18 of the 1400 students competing, with 8 teams and 2 individuals. Students were able to log into DECA's online platform from 8:00 AM to 8:00 PM throughout the week to compete.
Because of COVID-19, DECA made the decision to hold the state competition online, instead of in person at Hershey, Pennsylvania as they have in past years. Students were given a week to complete a roleplay and test and submit it online to Pennsylvania DECA.
Similar to the district competition, students completed an exam. This exam was specific to each competition category and each student had an hour to take this test. Roleplays were also a crucial part of the competition. Students are given an in-depth business scenario that is specific to their competition category and asked to respond to it through an uploaded video.
Individuals had 10 minutes to view the prompt and teams had 30 minutes. Although, there was a change from the district competition. Instead of being given an hour to upload their roleplay, students had 2 hours to film and upload their video. Similar to districts, students were expected to be dressed in business attire, speak in a formal tone and apply their business knowledge to the best of their ability to the given scenario.
Partners Jordan Lewis and Vince Agostini encountered a problem during their roleplay but said they "were lucky to have the amazing leadership of Mrs. Keefer. She immediately took care of it and contacted the head of PA DECA to come up with a new way to submit [their] roleplay. Shout out to her."
The duo was still able to "focus on connecting with the judge and standing out from the rest of the competitors by using compelling vocabulary and strong visuals to express our ideas and solutions."
Similarly, freshmen Hailey Newman and Leila Henry also ran into issues saying, "sometimes the Zoom would lag and we would both glitch a little bit, but we had to submit it anyway since we had a time limit."
Harriton students look forward to (hopefully) moving on. Club sponsor Mrs. Keefer feels "so proud" and wishes them "lots of success" for the competition and in future endeavors. Several freshmen who qualified for the DECA States spoke about their first DECA States experience.
"For it only being my second competition, I thought that overall it went pretty well, and was a lot less stressful than I had previously anticipated it would be," Hailey Newman told us.
Her partner, fellow freshman Leila Henry, is "looking forward to competing in DECA in the future," specifying "hopefully not online."
Senior Vince Agostini who competed last year in person at States said, "although the circumstances were completely different than last year's competition, my partner Jordan and I still felt extremely confident about our performance."
"This year, we were proud to bring about 50% more members with us to the virtual states competition. It was definitely a challenge to compete against some of the greatest business students in the state, but our teams handled it really well and I'm excited to see our results when they come out in February," said Harriton's DECA Chapter President Alex Yung.
DECA plans to hold the award ceremony on February 18th and 19th through Zoom to present mini awards (awarded to those with the highest scores in either their tests or role plays) and to see who will be moving forward to compete at Internationals.
The International Competition is set to take place in late April and as of now, virtually. More information will be available on February 1.
About the Writer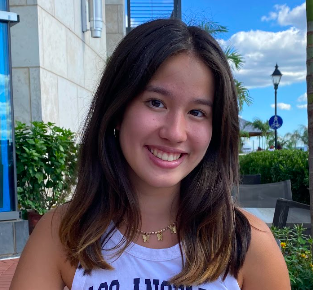 Camille Furer, News Editor
This is Camille's fourth year as a writer and second year as HNews Editor at the Banner. Camille loves writing about events happening in the LMSD community...