Bluemercury Founder & CEO Marla Beck Chats With Harriton FBLA
Harriton's FBLA is proud to have hosted its second speaker series on March 4th, 2021 with the CEO and co-founder of Bluemercury, Marla Beck.
Beck grew up in California and got her first business experience working for her dad, the owner of an insurance company and real estate firm. Her job included doing meticulous math calculations down to the penny, all without the help of Excel, which taught her a lot about accounting.
Due to the success this experience brought her, Beck suggested that Harriton's future entrepreneurs develop general math, banking, and accounting skills to be better managers.
Beck attended Berkley, where she studied economics and participated in a business club known as ISEC. In graduate school, Beck was inspired by a speaker who came to campus to discuss the internet and the future of e-commerce.
Because it was 1997, these were new concepts to society, and the speaker's company was only two and a half years old. That speaker was none other than Jeff Bezos.
Though starting an e-commerce company when the ideas were completely new to society was challenging and risky, Beck and her husband were determined to change and progress the beauty industry—and they did just that. The name of their company comes from her favorite color, blue, paired with the God of communication, Mercury. For Beck, communication with clients is essential to bring them what they deserve and desire.
Starting a beauty company that was initially based online made it fun and exciting, as Beck described that they could make their own rules. However, they also learned that building storefronts would be very essential in reaching more customers who weren't shopping online yet. 
Beck advised Harriton students to spend money carefully during the construction of a company. Rather than pitching ideas and testing prototypes, Beck wanted to raise as much money as possible to bring her vision to life. There are currently over 200 Bluemercury stores nationwide, deliberately planted in locations that attract shoppers.
Beck described shopping in a Bluemercury as a soothing, no-pressure experience. The employees are friendly and are experts in cosmetology, as well as customer service.
Beck also had aspirations to create sustainable, cruelty-free, clean makeup products. In 2012, she launched M-61 Skincare, and in 2015, she launched Lune+Aster cosmetics. Beck noticed that while her clients had been satisfied with products from Bluemercury that were environmentally friendly, they weren't as effective as those with poor-quality ingredients.
Beck wanted to create lines of skincare and makeup that could be both clean and do their job. She especially wanted a vegan, paraben, and cruelty-free mascara when launching Lune+Aster.
Beck works with chemists and takes inspiration from a variety of resources to develop the best quality formulas for her products. Her top and favorite product is the Power-glow peel from M-61. It exfoliates with vitamin K, glycolic acid, and chamomile to reduce fine lines and improve skin appearance.
Beck also created a system for individual storefronts to consult with district managers and regional leaders so she can have a hand in what's going on and which products will be sold where. The first year of creating a company is always the most difficult, but it becomes worth it in the end, and Beck always reminds kids that nothing comes easy.
Beck shared that the most important skills for an entrepreneur are accounting, public speaking, developing expertise, and being able to embrace and expect failure. She raises her kids with these values and as they've grown up; so has Bluemercury. 
The integration of health and wellness into the beauty industry is something Beck wants to see in the near future. She took her love of makeup and skincare to a whole new level from college to adulthood and gave Harriton's FBLA members wonderful advice to possibly inspire their own business careers.
The discussion was recorded and can be watched here.
About the Writer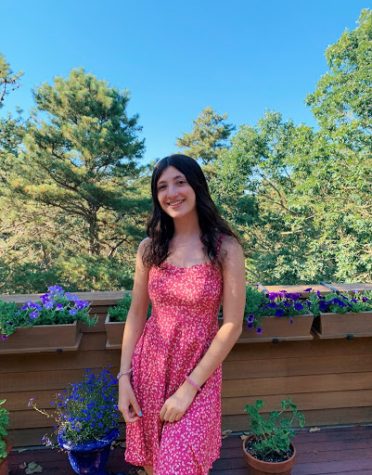 Leah Kallen, Staff Writer and Photographer
Leah is a sophomore and is excited for her first year on the Banner. She enjoys writing for fun, especially about the things she is passionate about like...