The 63rd Grammys Struggle To Escape The Pandemic
Once again, COVID-19 has forced another award show to adapt to its socially distanced, mask-wearing restrictions; this time it was the 63rd Grammys. On Sunday, March 14th, the celebration of music attempted to provide some escapism for many tired audiences. Unfortunately, this year's Grammys was just an average attempt at remedying these feelings of exhaustion. 
The ceremony's sluggish start set the tone for the overall low-energy, disjunct show that would go on for the next three and a half hours. Opting for a performance style that was reminiscent of the British show Later…with Jools Holland, artists were all positioned in different sections of the stage.
The first to perform was Harry Styles, who struggled to provide any of the usual extravagance that is expected of openers; instead, the "Watermelon Sugar" singer ambled around a sparsely lit stage and attempted to convince audiences that a simple green boa is something that should interest us.
Following him was Billie Eilish, whose melodramatic "Everything I Wanted"  brought the energy down even further. While the next two performers, HAIM and Black Pumas, gave more energetic, rock and blues-influenced performances, they were not able to cancel out the show's early listlessness. 
Nonetheless, some of the ceremony's initial highlights came in the form of two awards: "Best New Artist" and "Song of the Year." Megan Thee Stallion went home with the "New Artist" title after cementing her place as one of rap's most boisterous figures last year. Additionally, R&B singer H.E.R. snagged "Song of the Year" for her impactful song "I Can't Breathe," which was released during the peak of 2020's racial justice movement. 
The ceremony's most enjoyable stride came in the median with a slew of performances that began with Dua Lipa's mesmerizing, inter-galactic medley of songs from her album Future Nostalgia. Following her was a slick and 70s inspired performance of "Leave the Door Open" from the new duo Silk Sonic, comprised of Anderson .Paak and Bruno Mars. 
Soon after, Taylor Swift would unveil her more stripped-down style, accompanied by one of the most elaborate sets of the night which included a moss-covered cabin and forest background. She later took home the award for "Album of the Year" for Folklore, making her the only female artist with three wins in this category. 
And although not having an "Album of the Year" award to her name, Beyoncé was inarguably the night's biggest winner. Not only did she win four out of the nine awards she was nominated for, but she also set the record for most wins of all time by a female with 28 total awards. 
On the other hand, two notably snubbed artists included "Best New Artist" nominees Doja Cat and Phoebe Bridgers, who received three and four nominations, respectively. Doja, whose music was inescapable for social media users, was hoping the Academy would recognize her song "Say So," but went home empty-handed.
Bridgers, whose sophomore album Punisher received widespread acclaim, also failed to win in the "Best Rock Song," "Best Rock Performance," and "Best Alternative Album" categories. 
Although these snubs sent Twitter users into a flurry, the ceremony's most controversial moment would be Megan Thee Stallion and Cardi B's performance of "WAP." While their collaboration was one of the defining moments of 2020, their Grammys display could not replicate the song's original impact and had many criticizing the sexual and provocative nature. Still, others argued that such a  display of femininity and embrace of sexuality was important on such a large platform. 
Along with sexual liberation, the Academy attempted to reflect the BLM movement and fight for racial equality from the past year. Mickey Guyton, who became the first black female nominated in the country category, sang an inspired version of her song "Black Like Me." Rapper Lil Baby, alongside Killer Mike and Tamika Mallory, delivered the night's most impactful piece of protest art by highlighting the horrors of police brutality and racism throughout America. 
While the Recording Academy provided a platform for these statements, their intentions are questionable, considering that they continue to contribute to racism in the music industry. This includes perpetuating the idea that Black artists are confined to categories like "progressive R&B" (which was formerly known as "Urban Contemporary" before 2019).
Additionally, before the show even began, artists like The Weeknd and Nicki Minaj called out the ceremony for its history of snubbing black musicians, while using their creativity to have a larger appeal. 
It is clear that these boycotts, as well as the pandemic, have advanced the steady decline of awards show viewership. Similar to the Golden Globes that occurred just two weeks earlier, the 2021 Grammys saw ratings plummet by 53 percent for a total of 8.8 million viewers. These sharp declines are extremely concerning for ceremony showrunners, who were already struggling to revive their shows before COVID-19. Now, one must wonder if the pandemic has hammered the last nail in the awards show coffin?  
About the Writer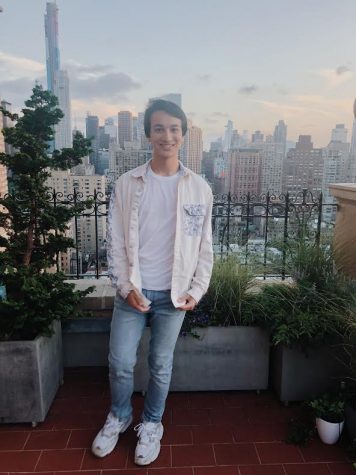 Ty Nagvajara, Executive Editor
Harriton senior Ty Nagvajara is very excited to become the Co-Executive Editor for The Harriton Banner this year. Last year he worked as the Arts &...