The Restaurants of Suburban Square: A Series (Part 1)
Welcome to Harriton High School's very own food column, where we taste test, critically analyze, and review the many food options of the Main Line! When thinking about how to kick off this year's food column, we thought there was no better way than to stay close-to-home with Harriton students' most beloved hang-out spot: Suburban Square. For those of you who haven't yet recovered from the devastating loss of everyone's favorite – Ruby's Diner – it may be time to stop despairing. We've visited, eaten, and judged our way through the many restaurants and food shops of Suburban Square, and we've got all of the advice you'll need. Whether you're looking for a family crowd-pleaser, your new favorite quick lunch, or the perfect place to stop in and grab some food to-go, we have tried them all, and we encourage you to come along! Here are our reviews of the many restaurants of Suburban Square:
Dan Dan: A Smashing Success and Suburban Square's New Star
Walking into Dan Dan for the first time was like a breath of fresh air. With beautiful decor ranging from hanging glass lights and blooming plants to an entire room created from three glass walls and skylights, the restaurant has an open and airy ambiance, while also homey and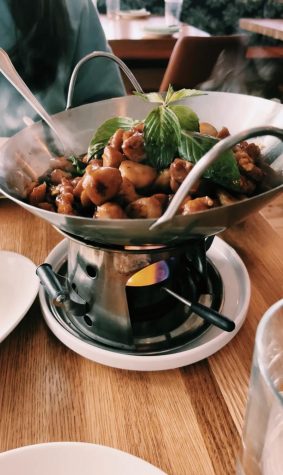 comfortable. The staff was incredibly friendly and sweet, and the atmosphere created was very different from Suburban Square's usual grab-and-go style eateries. And of course, the main event, the food, did not disappoint. Any concern going in (we were slightly worried about spice and lack of vegetarian options), quickly disappeared wit
h one glance at the packed menu. Starting off with an appetizer of the wonton soup set the mood for a delicious meal filled with warm and cozy dishes perfect for the wintery weather. Chicken potstickers were an instant favorite, and the main attraction, the famous Dan Dan noodles, were absolutely delicious with an incredible texture and flavor. Our other entree, a chicken dish which arrived with a beautiful presentation in a bowl over a little flame, combined with the noodles to make one of the most amazing meals either of us had ever had. With the only unsatisfactory part of the entire experience being the expensive price of the meal, eating at Dan Dan was an exceptional experience that left us in awe and already eager to return again! 
Shake Shack: Fan Favorite or Far Too Familiar?
For all of those picky eaters out there, Shake Shack is often a fan favorite. With delicious fries, burgers, and more, it's easy to play it safe and familiar and to find something for everyone in the family or friend group.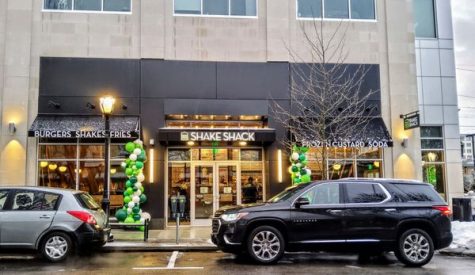 However, with the closest Shake Shack beside the one in Suburban Square located all the way out in King of Prussia, the new addition to our local restaura
nts tends to be extremely busy, leading to highly overextended staff. Because of this, a slight mishap occurred on one of our visits when one of our food editors was given a very dry burger (blech) and the other was given a chicken sandwich drenched in ridiculously spicy Korean barbecue sauce, instead of the desired plain. Besides this disaster, Shake Shack is a reliable restaurant. The food is standard and the same almost every time, and the consistency is something that many count and depend on. But maybe it's time to change things up. With new restaurants like Dan Dan and Cava joining the ranks of Suburban Square options, there are so many new foods to try and discover. And while some details about Shake Shack are too amazing to turn down: low prices, yummy food, and the perfect options for either a quick meal or snack, it's important to branch out from time to time. Our advice: try new things while also continuing to enjoy Shake Shack. P.S.: always check that you got the right order before you dig in! 
Cava: Crave-worthy Cava's Credit-Card Chaos
Cava, a casual Mediterranean grab-and-go restaurant, certainly did not disappoint. As a relatively new addition to Suburban Square, the obsession with their fresh, unique combinations is still running wild. For those who have not yet caught up with the mania and are looking for a healthier option in the sea of not-so-healthy locations in Suburban Square, Cava is the place to go. The setup is simple: you start with a base, add a dip,
 a protein, some toppings, and a flavorful sauce. A few favorites include their grilled chicken, which is perfectly seasoned, and the tomato-cucumber salad, a nice pop o
f flavor (and color) to any pita or bowl. Not to mention, their pita is warm and fluffy, a perfect holder for any one of Cava's almost unlimited toppings. Sadly, their payment policy did not match their wonderful flavors. Suburban Square is a known attraction for one specific age demographic: teenagers. While some do have a credit card, many are left unable to pay for the meals at Cava, as their policy does not allow customers to pay in cash. This policy caught our food editors by surprise; why would a restaurant in Suburban not accept cash when many of their customers are young? This unfortunate incident is definitely not an immediate turn-away, but more of a warning. The absolutely delicious combination of protein with fresh spreads and vegetables, drizzled with a tasty sauce is worth the hype, just not the credit-card debacle.
Stay tuned for Part 2 of this series where we review four more Suburban Square eateries!