Kilwin's: Delectable Desserts and Delightful Decor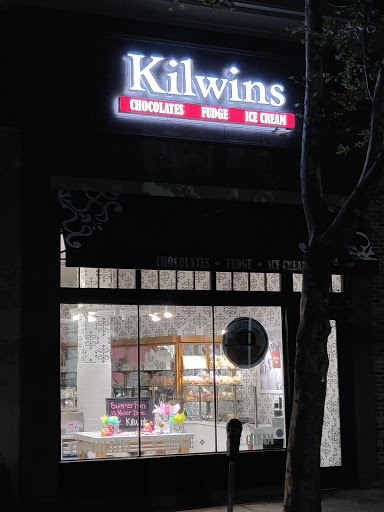 While savory dishes can be found in every corner of Suburban Square, there is only one location purely dedicated to mouthwatering desserts: Kilwins. The bright lights of this store spill out over the street, beckoning shoppers inside. The glass windows reveal confectioners hard at work creating beautiful delicacies for window shoppers to enjoy: coating caramel apples, cutting fudge, and more. These displays can draw almost anyone into the charming store. 
The moment one walks through the door, the smell of decadent fudge and pure chocolate is impossible to miss. The nostalgic aroma and atmosphere immediately makes every customer feel like a kid in a candy shop. 
Judging by taste, every single item that our food editors have tried has been absolutely exceptional. From their colorful chocolate-covered marshmallows and scrumptious coconut chocolates, to original ice-cream and truly special fudge, the shop has something for everyone. Some of our recommendations include the mint chocolate chip ice cream (not too reminiscent of toothpaste, with nicely sized chocolate chunks) and the chocolate covered Rice Krispie treats. 
Another strength of this delightful shop is the vast number of gift options. Its shelves are filled with packaged goods ranging from salted caramels to chocolate bars, all of which are perfect for gifts at the holidays. The price, on the other hand, is a slight let down. Because of this and the addictive aspect to all of their delicious treats, it's best to enjoy Kilwin's treats sparingly. 
Moving on to more well-loved aspects of Kilwins, their clear love for community is truly special. The shop has hosted a few events and workshops over the years where customers are able to decorate their very own treats. Around the holidays, specifically, Kilwins is undeniably a popular spot with their holiday-themed treats and holiday workshops for all.
Kilwin's incredible desserts and welcoming experience make it an undeniably special shop in Suburban Square. Although the price of some items is steep, the remarkable quality and community that Kilwins created has definitely set it apart as a must-try!