The Met Gala: Taken Up a Couple Steps
Gilded Glamour: both an eloquent recollection of New York's Gilded Era and this year's 2022 Met Gala theme. While its true meaning falls prey to countless discussions between the Versace and Gucci houses of the world, the rest of the world–almost immediately–became experts on the topic when evaluating the looks of May 2nd. Before I partake in such a deliciously addicting activity–would I be a fashion editor if I did not–it is only right that I analyze the theme and its potential fashion interpretations.
In the words of Mark Twain, 1870 to 1890 was a period of "external glitter of wealth." It was a time in which moguls and businessmen alike saw their investments skyrocket, along with the rapidly growing cities and infrastructure of the time. And while such infrastructure was put in place by the Astors,Vanderbilts, and Rockefellers of the world, such families did not hold back when it came to reaping the benefits of their gilded era. For years Alva Vanderbilt and Caroline Astor proved their surnames proud, controlling New York City from the streets to the thumping nightlife. For those like Alva, urban-elite fashion became somewhat of a delicacy. As so, it was a time rife with gold jewels, opera gloves, corsets, various bird feathers, and the most extreme provisions of opulence. Some celebrities at the Met Gala followed in Alva and Caroline's footsteps, while others took a broader interpretation of historical fashion; regardless, the event saw highs and lows, both missed opportunities and exceeded expectations.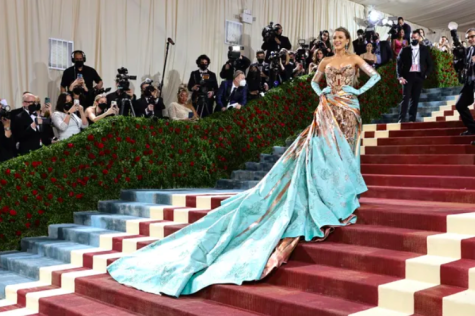 While many are adamant in saying "save the best for last," I disagree. And while I usually like to find the least known stars, whose outfits missed the spotlight that more well-known celebrities share, in this case, myself and the 400 hundred other fashion enthusiasts and editors have reached a consensus on the evening's best dressed: Blake Lively. In this Versace ensemble, Blake paid homage to the city that birthed the Gilded Age, both in architecture and class. Upon arrival, Blake was gorgeous as ever, adorned in a beaded Versace dress that draped into a satin rust bow. However, the true reveal of the night came halfway up the steps to the Metropolitan Museum of Art. Within seconds, a satin bow fell away and revealed yards of sweeping aqua fabric, emulating the evolution in patina of New York's icon: the Statue of Liberty. Without a doubt, this co-host did Lady Liberty proud and is surely this year's fashion icon. 
From one icon to the next, Evan Mock's cream menswear look begot few negative critiques from the fashion world–perhaps the only look aside from Blake's that managed such a feat. Instead of the classic tuxes which typically make their way up the Met steps–as classy as they are–it is refreshing to see such a nuanced interpretation of the theme lending its hand to creative menswear looks as well. Not only did this ensemble incorporate a cream corset into its foundation, it was accentuated by a tulip collar and Mock's signature pink hair. 
While staying true to her "Boyfriend" era, Dove Cameron managed to pull off a look that brought slim silhouettes to the Gilded Age. Not only did this Iris Van Herpen creation take over 600 hours to bring to life, but its plethora of structural components imitates the dress frames that were vital to the late 1800s. 
I make this next critique–perhaps with less accordance to the fashion industry–in a Tommy Hilfilger-clad Shawn Mendes. Much like a modern day Prince Charming, Mendes showed viewers how to stay clean, tailored, and classy on the carpet. The notion that the older, more seasoned, celebrities do better on the carpet was also disproved by a Ms. Emma Chamberlain. Not only was Chamberlain an on-camera interviewer, but she also successfully secured her role as Cartier's new spokesperson. The rest of the outfit–unfortunately not a complete diamond dress–still did not leave us disappointed. This custom Versace look took a cropped spin on the bodices that dominated the late 19th century.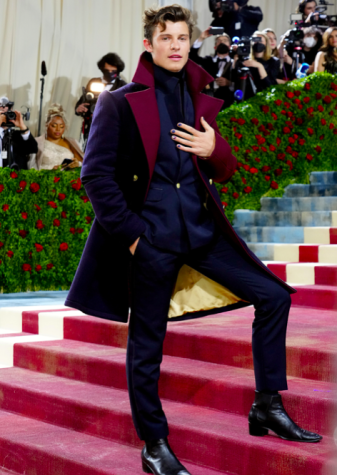 While she may not have been the one to watch before the event, Genesis Suero is surely the one to look at for weeks after. Stepping onto the stage as a broadcaster for Spanish Channels, Suero, former Miss New York 2018, stunned in a gold angelic gown topped off with soft puff sleeves, which proved to be a dazzling sight at the Met Gala.
Beyond historical preservation and celebration, this night was truly meant to showcase how fashion, culture, identity, and society could culminate in just a three hour event. Until next year's Met review, stay tuned and stay you.