Blazing Their Own Paths: The Fashion of Europe's Young Royals
Unlike the popular Netflix television show, Young Royals, this article series will dive into the interesting lives of the real young royals of Europe – in this case, the princesses – exploring how they are forging their own fashionable paths. Fashion has always been discussed historically in connection with female royals, which, admittedly, highlights a larger problem. In the past, female royals have only been seen as a pretty face, or the partner of their ruling husbands. However, the world is watching as this generation of young female royals take the stereotypes they often face and turn those exact stereotypes into ways to express themselves. These princesses have been recently, and consistently, highlighted in the media for developing their own unique fashion styles, from casual and formal looks, outfits which take older inspiration and those which have never been seen before. Whatever the case, these young royals are certainly blazing their own paths in royal fashion, and by doing so, breaking down barriers as they stride towards a female-dominated royal future.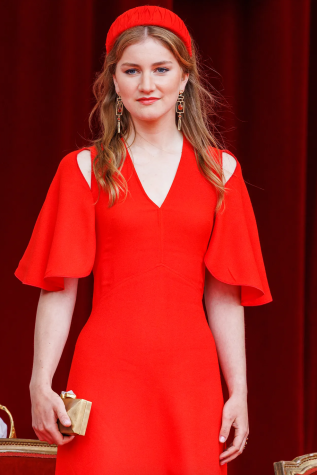 This article specifically will cover the first of who I like to call the Princesses of the International Baccalaureate Program: Crown Princess Elisabeth. 
Crown Princess Elisabeth, Duchess of Brabant, is the heir apparent to the throne of Belgium. Princess Elisabeth recently turned 21 and is currently attending Oxford University, after receiving her International Baccalaureate Diploma from the United World College of the Atlantic in 2020, and spending a year at the Royal Military Academy. When Her Royal Highness ascends to the throne, she will be Belgium's first ever female monarch, due to changes in Belgium's rules of succession which introduced absolute primogeniture (when sex does not matter in the order of inheritance) in 1991.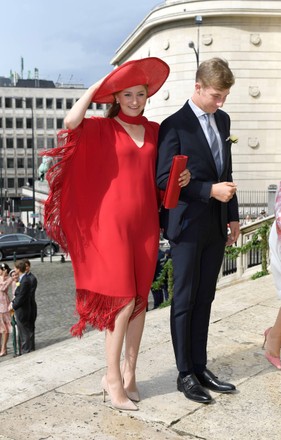 It has been especially interesting, for avid royal fashion observers such as myself, to note the similarities between the fashions of young royals and their elegant mothers. The most notable in my book is Princess Elisabeth, who, along with often borrowing her mother's pre-loved clothing, tends to dress in similar styles. Her mother, Queen Mathilde of Belgium, is best known for her bright colors, and is often seen in the most eye-popping array of oranges, pinks, or reds – colors which we frequently see on her daughter as well. Most recently, Princess Elisabeth stunned in a bright red gown with a deep v-neck and fluttery sleeves, along with a matching red headband at Belgium's National Day. To her cousin's wedding in September, the princess donned another bright red dress – complete with tassels –  with a matching red scarf, handbag, and giant, wide-brimmed hat. It was certainly a look – the princess was definitely visible in the wedding photographs. Honestly, the dress slightly resembled a shaggy carpet. Flattering or not, these red dresses – probably chosen due to the red stripe on Belgium's flag – are not a new look for Elisabeth. Indeed they are reminiscent of one of the dresses she wore in her 18th birthday portraits, while standing beside her father.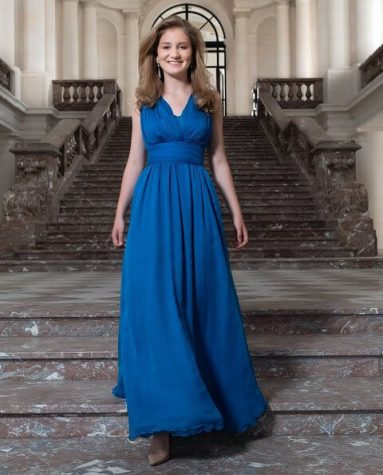 These 18th birthday portraits were some of my favorite Princess Elisabeth shots, given that they were the first to show her maturing into an adult with a strong – as well as ever-changing – fashion sense. In the pictures, the young princess starred in a floor-length, flowing blue gown with a cinched waist, and then looked just as effortlessly beautiful in casual jeans and a maroon turtleneck sweater.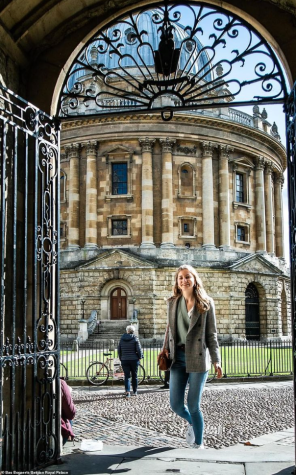 My favorite of Princess Elisabeth's fashion moments however, have been of late, after turning 18. In pictures released to mark the beginning of her time at Oxford, the princess was dressed following popular social trends, looking simultaneously casual and elegant. In one photo she was reading in the library, dressed simply but popularly in jeans, a green sweater vest, a ballon-sleeved white blouse, and plain white sneakers. This outfit was seen again in a photo of her sipping coffee at a local cafe. In another photo, she was laughing while punting along the river with friends, outfitted in jeans with a pink turtleneck underneath a beige peacoat. This outfit was revisited in the next photo, where the princess strolled casually down a quaint Oxford street. In another, she was standing in front of a perfectly manicured quad, outfitted in a token British tweed blazer and a chic brown leather cross-body bag, along with an armful of folders of course. Next she was captured strolling through a doorway with the Radcliffe Camera behind her, in this same outfit. Later on, for Matriculation Day (the official welcome to all new students), she was pictured in candid shots wearing a traditional and timeless look: a white button down with a black tie, skirt, tights, and heeled boots.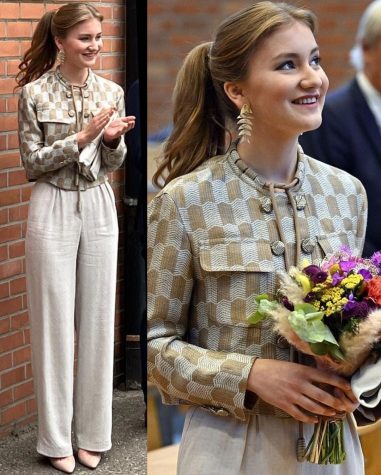 These new college styles were actually reminiscent of Princess Elisabeth's other recent outfits, which have all featured more business-like pieces. These sharp looks have made the princess look mature and serious, showing that she both understands the importance and responsibility of her position, and continues to retain a chic and feminine style. For her first ever solo event, Her Royal Highness looked smart in a white, sleeveless tuxedo dress with a pink fascinator and matching clutch. For her second solo visit, Princess Elisabeth went totally outside of the usual. Dressed in a cropped gold-and-cream Armani jacket and trousers paired with pointed heels, a high ponytail, and gold chandler earrings, the princess deviated from her mother while remaining effortlessly stylish. To note, the princess did pay her usual tribute to her mother with a borrowed Furla clutch, but overall the outfit was a youthful and unique look. In the recently released official portraits for her 21st birthday, the glamorous princess again wore a unique outfit while including gifts from her mother: a white, off-the-shoulder shirt of her mother's tucked into pale pants with a ruched waist, paired with chunky gold earrings which had also previously been spotted on Queen Mathilde. It is important to note that Princess Elisabeth was discovering this type of style in years past as well; she wore a white tuxedo-style, long-sleeve dress to her 18th birthday party.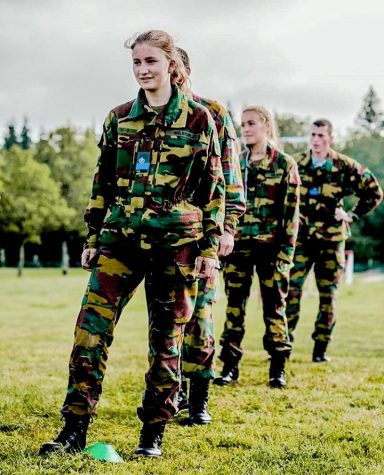 But Princess Elisabeth is unique for more than simply her bright colors and bold fashion, she has also been photographed numerous times in full-army uniform, from camo pants, shirts, vests, and cap, to black combat boots, with her accessories ranging from army-issued goggles, supply packs, to even a gun. These photos come from her time at the Royal Military Academy, as well as subsequent summer programs and visits. In some of the photographs, the princess was nearly unrecognizable, given that her face was painted a dark green. 
Whether she is wearing camo or a ballgown, Princess Elisabeth's fashion style is unafraid and unapologetic. She does not lack the confidence to stun in bright colors, youthful styles, and flattering dresses, while carrying herself just as regally in a studious outfit, jeans, or full army attire. Where her fashion will go next is both a mystery and an experience that I anxiously await.
Stay tuned for the next article in this series, which will cover our other Princess of IB: Crown Princess Leonor of Spain.