Blazing Their Own Paths: the Fashion of Europe's Young Royals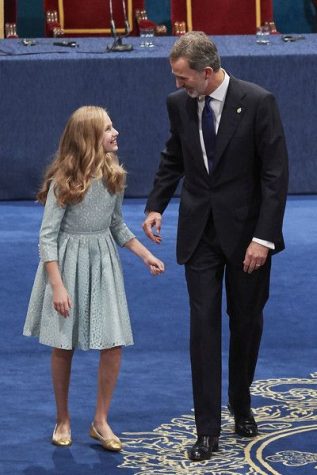 From eye-popping colors to college casual, recycled looks to full army camo, article one's focus: Princess Elisabeth, is a perfect example of the new paths that Europe's young princesses are blazing in the world of fashion. Using the attention they receive for their fashion as young royal women, this new generation is showing that they are not simply pretty faces- but strong-willed, unique, and powerful future queens. However, Princess Elisabeth is not the only one in the midst of writing her own fashion narrative, and she is also not the only princess to take part in the International Baccalaureate Program. She is joined (among others) by another young and fashionable Princess: Crown Princess Leonor of Asturias.
Crown Princess Leonor of Asturias is first in line to the throne of Spain, after her father King Felipe VI. Though currently only 17 (which makes her the youngest female European heir), when the princess ascends to the throne, she will be Spain's first queen regnant (ruling queen- not simply the consort to a king) since Isabel II, who reigned from 1833 to1868. Unlike her other royal counterparts, Leonor is heir presumptive to the throne instead of heir apparent, meaning that should her father have a legitimate son (incredibly unlikely to occur at this point), she would be displaced. Unlike Belgium and other European countries, the Spanish constitution has retained the male-preference cognitive primogeniture system instead of a system of absolute primogeniture, giving males absolute preference in the order of succession. Princess Leonor is currently studying outside of Spain, at the United World College of the Atlantic in Wales, where she is part of the IB Diploma Programme (the same program at the same school that Princess Elisabeth attended a few years prior).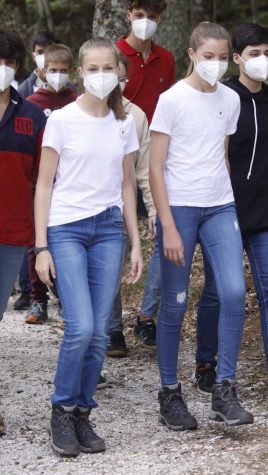 At 17, Princess Leonor is at the pivotal age of finding her own style and experimenting with new looks just as other princesses have done before her. Like Princess Elisabeth, she is beginning to dress more confidently, exploring bright colors and patterns, while also experimenting with more mature pieces: blazers, straight-leg pants, and more. At the same time, I find Leonor's style to be more youthful than some of the other princesses. She dresses appropriately for her age and always looks young and fun. She has also recently been pushing historical boundaries in royal fashion, toeing the line in dresses with short skirts, off-the-shoulder looks, and more. I also enjoy that Princess Leonor's style reflects her country- her summery wardrobe, full of bright colors and floral designs, very much in tune with Spain's warm and Mediterranean climate.
However, I do think Princess Leonor has struggled to create her own fashion style. Throughout her life, Leonor has almost always been in public with her younger sister, Infanta Sofia, by her side. Not to mention, since they were kids, the two were dressed in matching garments. From matching dresses and cardigans in their youth, to recently matching trench coats, school uniforms, and even entire matching outfits for their first royal duty without their parents, Leonor seems to be struggling to break away from this childhood 'matching' tradition. To our pleasure, however, Princess Leonor's recent fashion has clearly showed the period of transition that she is currently in- moving away from childish styles and towards more adult and individual fashion preferences. Half of the time her outfits are typical for her and fall safely into her comfort zone, however, we are starting to see more and more outfits that truly reflect who she is.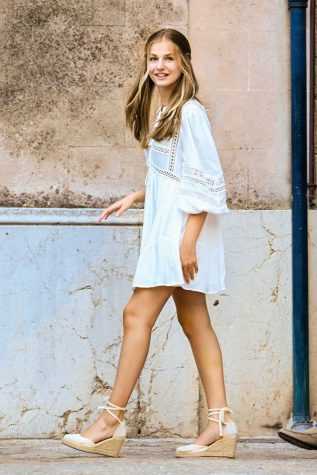 Despite some changing and maturing styles, consistency seems to be an unalterable part of Princess Leonor's looks. Besides her clear love of floral patterns, flowy dresses, and matching with little sis, she also almost always wears the same shoes. This is rare for princesses, whose fashion rarely, if ever, repeats itself. But Princess Leonor, no matter what else she is wearing, almost always wears espadrilles- a simple but stylish shoe made of fabric with a braided bottom and tie which wraps around the legs. While Leonor will change it up with wedge-heeled espadrilles or different colors, there is quite a high probability when guessing at a future outfit that it will include her favorite shoes. This love was probably inherited from stylish mother Queen Letizia, as, like Princess Elisabeth, much of Princess Leonor's style seems to be influenced by her mother's fashion, or, in fact, vice versa. A rare case in royal fashion occurred when, in July, the Queen wore a dress which was first seen on her daughter!
As aforementioned, Princess Leonor is nothing if not consistent. However, as someone who enjoys Leonor's typical fashion, I will never complain about the recent instances of her sticking to her usual. Most of these classic Princess Leonor looks were seen during the summer, when the royal family vacationed in Palma de Mallorca. For example, when Leonor and her family visited the Cartuja de Valldemossa, an ancient royal residence, the princess looked adorable and summery in a white tunic dress with a tassel tie, and her hair pulled back with the front strands loose. This outfit was my favorite of the summer, and was, of course, complimented by her white espadrilles. In August, Princess Leonor was photographed after leaving a restaurant with her family in a bright blue button-down dress, a Zara number adorned with white paisley designs, a V-neck, and tie waist. This short dress was an example of Leonor pushing historical boundaries, yet it looked cute and youthful with a white bag and (surprise surprise) white espadrilles. Later on, as the family strolled through Mallorca to conclude their summer vacation, Princess Leonor looked lovely in a flowy pink dress with a tie waist and fit-and-flare skirt, along with her white espadrilles, which were beginning to look quite worn and loved.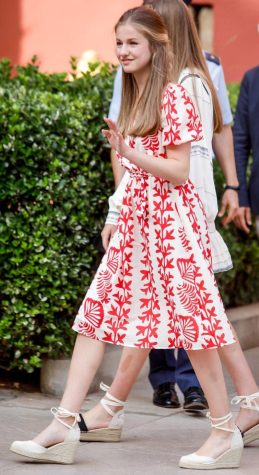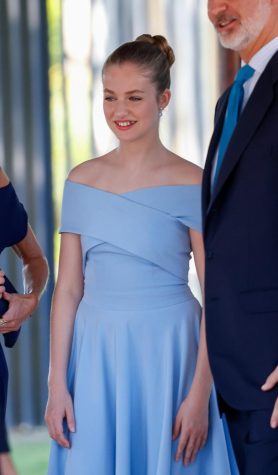 Despite her summer of usual Leonor casual, July of 2022 marked a clear turning point in the fashion of the youngprincess. As well as the Princess of Asturias, Leonor's title also includes the Princess of Girona, so, in July, Princess Leonor and the rest of the royal family visited Girona for the Princess of Girona Foundation Awards. To begin the visit, Princess Leonor and Infanta Sofia went on a solo event, to which Princess Leonor wore an outfit that was very much in line with her usual style, as well as my favorite of the visit- a flattering white dress with coral-like red designs, a V neck, puff sleeves, and a tie waist. Her hair was in a half ponytail and braid, and she was wearing her usual cream, pointed-toe espadrilles. Next, the sisters attended a coding workshop buzzing with other young learners. Princess Leonor wore a different style outfit for her- a black and white printed, button-down dress, with her hair in a high ponytail, and of course, black espadrilles. The biggest event of the weekend however, was presiding over the Princess of Girona Foundation Awards, which recognize talented youth. Princess Leonor was the star of the show, in what many are calling a "true princess dress," an off-the-shoulder blue gown with a wrap top and flowing skirt. Although I was not a huge fan of the dress, I do have to admit that wearing such a dress with her hair in a high braided bun, Leonor greatly exuded future queen energy. During the event, Princess Leonor gave an impressive speech in Spanish, English, and Catalan, and presented this year's winners with their awards. This dress undeniably marked a pivotal moment in Her Royal Highness leaving her usual comfort zone and trying something new.

After this event, and after the royals concluded their summer holiday, Princess Leonor slowly began to step outside of her comfort zone more and more. On her first no-parent international trip with Infanta Sofia, to attend the UEFA Women's Euro soccer match in London, Leonor looked smart in a black sleeveless top tucked into pink dress pants, paired with a black handbag, and, peeping out from the bottom: black espadrilles. Despite her usual shoes, the pants and outfit as a whole was very new for Princess Leonor, and the look was a roaring success. Leonor looked serious and professional- while also retaining her bright, colorful, and youthful signature styles. In July, when presiding over the Offering to the Apostle Santiago with her family, Leonor stunned us all when wearing a long, color-block dress. The dress itself was gorgeous, with sleeves and sides in red and the center stripe in pink, but the princess also looked incredibly calm, collected, and confident in the brightly-colored piece. Princess Leonor finished off her outfit with a pair of tan heels (not espadrilles!) and a pin with the insignia of the Order of the Golden Fleece, an honor which was given to her at age 12. At this event especially, I found it hard to miss Leonor's clear growth in confidence. Perhaps this comes from her previous dress success, but whatever the case, it is clear that Princess Leonor is becoming more sure of herself even when wearing clothes that might not fit exactly into her usual. 
But perhaps the most prevalent of Princess Leonor's 'branching out' outfits was during her most recent return from school in Wales, for the annual Princess of Asturias Awards. Arguably Leonor's most important royal outing of the year, as she, as the Princess of Asturias, officiates this event.  I am sure I was not the only fan who was shocked when photos and videos of the event started rolling in. This event, much like the Princess of Girona Foundation Awards, includes multiple public outings, along with another big speech from Princess Leonor. And while the past  years have seen the princess slowly beginning to test the waters of new fashion, from a safe two-piece beige outfit in 2020, to a bright pink dress and then a very interesting black-and-white plaid dress with a flair bottom in 2021, this year truly marked Princess Leonor's dive into the new. The young princess did not hold back at all when trying out more unique and mature looks. 


Definitely the most eye-catching of these new looks was a two-piece brightest-of-hot-pink suits, which Princess Leonor matched with pink high heels at the Princess of Asturias Awards concert. While I admire Her Royal Highness's bold choices, and the confidence she found to stand out so much, I was not a huge fan of the suit. The outfit was so blindingly bright that I found it hard to look at for too long in the pictures and videos, and the color seemed perhaps a little too young and carefree for such an important event. I was, however, more of a fan of the suit than of Princess Leonor's first dress, which was very similar to one of the dresses she wore to the event the past year. Called a "palm sequined tulle mini dress," many are calling the exotic look a mature and stylish twist for the princess, but I found the black-and-white patterned dress distracting, and, in my opinion, less sophisticated than Princess Leonor's usual styles. 
Princess Leonor's Princess of Asturias Awards looks were saved for me by her last outfit of the event: an adorable, smart, and chic two-piece set. Compared to her other styles, this look was definitely an example of Princess Leonor playing it safe, however, I thoroughly enjoyed the fashion choice. The black blazer and skirt with white polka dot print looked very cute, as well as mature and perfectly formal. Again, I found it easy to spot a difference in Princess Leonor's demeanor between photographs from the concert and photographs of the awards ceremony. In the former she looked slightly strained- perhaps due to stress over her out-of-the-box outfit, while in the later she looked much more sure of herself, and much older as well.
While I may be biased as a large fan of Princess Leonor's usual style, I have admittedly been incredibly intrigued- and impressed- by Princess Leonor's recent fashion change and growth. It is undeniable that the past few years, and especially the past few months, have marked a stark change from the outfits of her youth. We are all currently witnessing Princess Leonor stepping out of her fashion box, emerging into a world of new and exciting styles- looks which may well last her throughout the rest of her life. Paralleling her growth in fashion fearlessness, has been a clear growth in confidence as well, and I for one, cannot wait to see where Princess Leonor will go next. 
Stay tuned for the next article in this series, which will cover the sensational surfer, second-in-line-for-the-throne princess: Princess Ingrid Alexandra of Norway.