Blazing Their Own Paths: the Fashion of Europe's Young Royals
The second article within this fashion series focused on Princess Leonor of Spain, a perfect example of a young royal who is currently leaving her childhood fashion and comfort zone behind, and by doing so, emerging into a world of more individual and mature fashion. But Princess Leonor is not the only young royal who is defining her own path – both in fashion and the royal world – and taking step across the threshold to adulthood and adult fashion. Only a year older than Leonor is another young and fashionable Princess: Princess Ingrid Alexandra of Norway.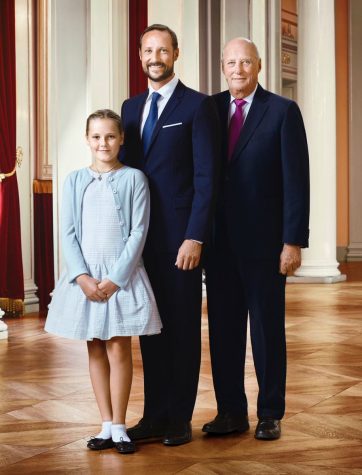 While this article will focus on Princess Ingrid Alexandra of Norway, it will also be slightly different from the past two articles. Today we will focus not only on Ingrid's style choices, but also on the details – and the drama – behind her life and fashion.
Princess Ingrid Alexandra of Norway, unlike the other royal teens aforementioned, is second in line to the throne, after her father, Crown Prince Haakon, who is heir apparent. Her grandfather, King Harald V, still remains on the throne at age 85. Ingrid, currently 18 years old, is expected to become Norway's second female monarch, following Queen Margaret, who ruled from the late 1380s until 1412. Norway only officially shifted to absolute primogeniture in 1990. 
Overall, the Norwegian royal family is slightly… unorthodox. Most young royals are rarely seen in public and only appear for carefully planned official outings. They follow strict protocols and rules which extend to almost every detail of their lives, from the activities they participate in to the people they marry. However, this is much less the case with Princess Ingrid and her family.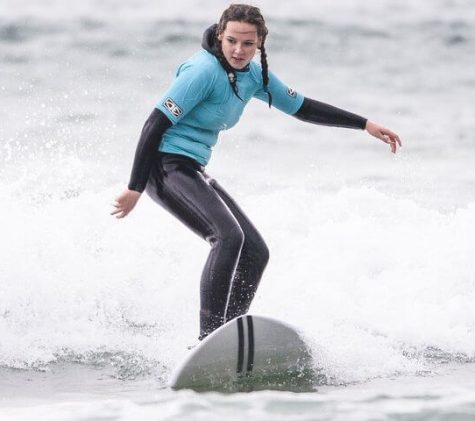 Princess Ingrid proves to be an interesting young royal as her status has not stopped her from following her dreams outside of becoming queen. An avid, as well as highly skilled, surfer, she won the Norwegian National Junior Surfing Championships in 2020 and has competed in many other athletic events as well. The young royal often goes skiing or hiking while vacationing with her family, and casual photos of such outings are then released by the royal house, which starkly differ from the posed and professional shots we see from other royal families. Recently, the family even shared a candid video from a ski trip, in which Princess Ingrid teased her father for his online shopping and completed an impressive ski jump.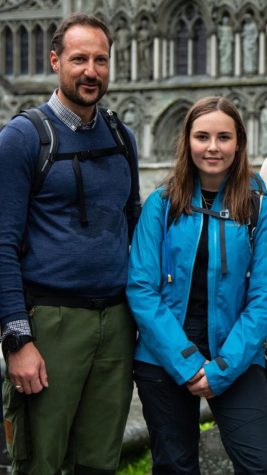 This rare royal freedom has carried over from Ingrid's life to her fashion as well. Her clothing choices seem to be free from the social pressures other royals face; Princess Ingrid's recent outfits have been chic and stylish while unusually simple and classic. As a child, Ingrid often attended royal events dressed casually in snow pants and a jacket. Overall, Ingrid does not dress like a royal who is trying to awe the world or break down boundaries – instead her style radiates a calm confidence. Often, Princess Ingrid will simply borrow clothes from her mother's closet, even wearing an old dress of Crown Princess Mette-Marit's to her highly-televised birthday gala, showing that she is simply not interested in making waves, outside of surfing competitions that is. 
The question the world asks is, why? Why does Princess Ingrid, and the Norwegian royal family as a whole, seem so much calmer than other royal houses – in terms of everything from rules to extracurriculars to fashion? The answer comes from the complicated – and eye-raising – story of Ingrid's parents. The Norwegian royal family has, like most royal families, been plagued by scandals. However, the Norwegians may have claim to perhaps the largest scandal of all recent royal scandals.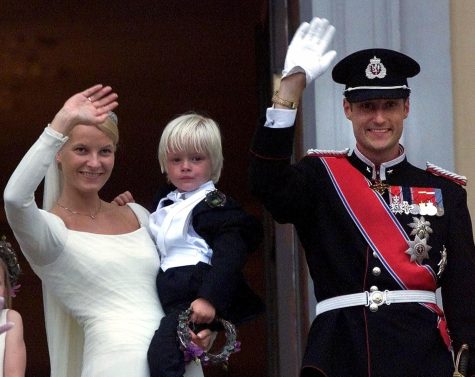 It begins with Princess Ingrid's mother, Crown Princess Mette-Marit, who was born in Norway to a middle class family, and had a rather raucous past. Her parents divorced when she was young, and her father then remarried a much younger stripper. In Mette-Marit's youth she spent time at raves, worked as a waitress, did recreational drugs, never attended college, and was married to a man convicted of violence, drunk driving, and cocaine possession. It was with this man that she had her first son, Marius, in 1997 – who she later took care of as a single mother. Norwegians were understandably horrified when it was announced that she was engaged to their beloved Crown Prince Haakon. Not only was Mette-Marit a commoner and divorcee, but their relationship also marked the first time a future King had a live-in girlfriend, nevertheless one with a three-year-old son from a previous relationship. Additionally, the pair began dating in 1999 and were engaged only 6 months later. However, Mette-Marit actually found her biggest supporters in the King and Queen, who did not object to their marriage. Sympathetic King Harold V had been forced to wait nine years for his father and Parliament to approve his marriage to Queen Sonja, who was also a commoner. Mette-Marit and Haakon even managed to win the public's approval by holding a "highly emotional press conference" before their wedding, in which Mette-Marit publicly and tearfully apologized for her past actions.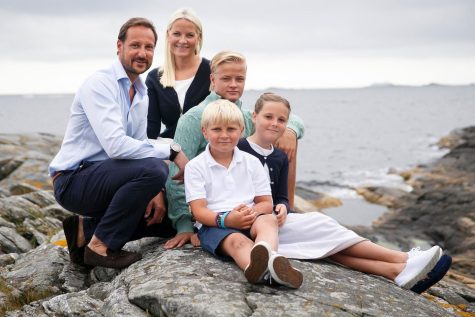 But despite the public's eventual acceptance of Mette-Marit – which improved with the birth of two heirs to the throne, Princess Ingrid and her younger brother Prince Sverre Magnus – the Norwegian scandal was far from over. In 2012, the palace's resident non-prince, then 15-year-old Magnus, was involved in a royal security scandal. The media was shocked to discover that Mette-Marit's son had his own public Instagram account, on which he was posting photos of his family which included GPS locations, as well as sharing the family's future travel plans – a potentially dangerous activity for his famous loved ones. Despite the scandal ending promptly, drama continually follows the Norwegian royals. In 2019, there was international uproar when Crown Princess Mette-Marit admitted to being friends with Jeffrey Epstein – after the sex offender had served time in jail. Only recently, Crown Prince Haakon's sister, Princess Martha Louise, stepped down as a senior royal of the family to marry a shaman who claimed children get cancer from, "being unhappy." King Harald, sympathetic as ever, said he is a, "really great guy, and really fun to be with… We agree to disagree, so to speak." 
Perhaps the Norwegian royals have found it freeing to know there is – hopefully – nowhere to go from here but upwards. This could explain why they act rather relaxed when it comes to, well, everything. It is hard to imagine they could win any more disapproval than they already have. 
In my opinion, there is great promise in the young Norwegians. Perhaps Ingrid, and Sverre too, can be the breath of fresh air that Norway has been waiting for. For instance, after Spain's Juan Carlos scandal, Princess Leonor's father King Felipe stepped in to save the monarchy. And Prince William of Wales is bringing hope to a Britain largely disillusioned by their current king.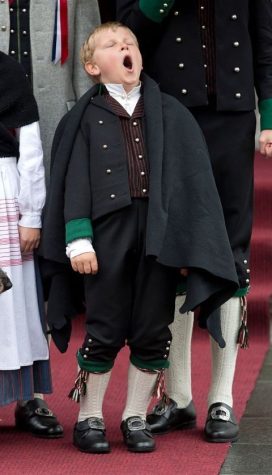 So, for Ingrid Alexandra, I see the swirl of drama surrounding her life as perhaps having an unexpectedly positive effect. Her demeanor in public is very different from other young royals – perhaps her characteristic ease and calm can be accredited to her family's far-from-traditional royal values. While I am in no way condoning Mette-Marit's past actions, I can see how her upbringing and experiences in the real world have shaped how she is raising her royal children. She does not keep Ingrid or Sverre from having fun, going out into the world, or engaging in normal past times; a choice which I believe has led to their largely ordinary personas. Of course, this has at times been problematic. After all, before British Prince Louis caused international uproar with his Jubilee antics, there was the young Prince Sverre Magnus. Sverre has entertained the world on a multitude of occasions with his hilarious actions, which include dabbing, looking decidedly bored, and picking his nose during royal events, acting, as it must be noted, like a very typical 11-year-old.
Overall, the young Norwegians seem to have learned, from their parents and unique situation, to value true personalities over fake fronts for the media, step outside of royal boundaries, experience real life, and form their own opinions, relationships, and personalities. In many ways, despite the sometimes unbelievable stories of scandal, the Norwegian royal family seems much more real than others. Ingrid's fashion is perhaps the best reflection of this upbringing: not incredibly fancy or eye-popping, just simple, effortlessly graceful, and very Scandinavian.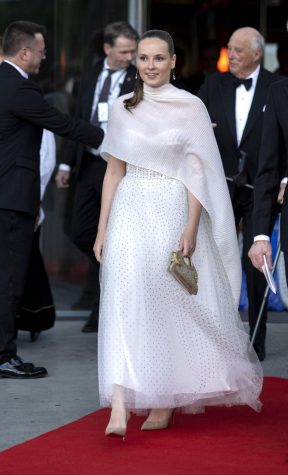 For the best examples of Princess Ingrid's fashion, one needs only to look at the recent events held on the occasion of her 18th birthday, a truly royal affair. At these events, Princess Ingrid stunned in outfits that both followed her usual style and undeniably marked her best fashion moments to date. 
For the government dinner held in her honor – which she entered accompanied by the Prime Minister of Norway – Princess Ingrid stunned in a beautiful neutral outfit. Her dress was gorgeous: strapless, polka dotted, a gauzy, ivory fit and flare for the books, with a skirt composed of layers of flowing tulle. Somehow the sparkly dress was not at all too much and was instead chic and beautiful. Overtop of this dress was a matching ivory shawl, elegantly draped across her shoulders and back. Paired with a gold handbag and heels, along with a sleek high ponytail, the Princess looked professional, formal, and somehow casual as well, while striding down the red carpet.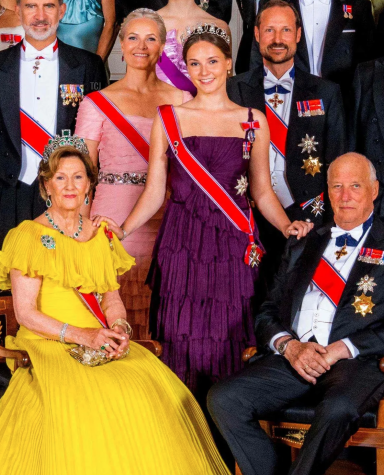 Along with the government dinner, King Harald and Queen Sonja hosted a gala dinner at the Royal Palace in honor of the princess's 18th birthday – which will be discussed in detail in a later article – to which Ingrid looked young and adorable in a sleeveless dress of deep purple with a layered, ruffled skirt. As aforementioned, this dress was actually pulled from her mother's previously worn outfits. Ingrid accessorized with the Order of St. Olav, the Royal Family Order of King Harald V, and medals from the Order of St. Olav, the Royal House Centennial Medal, and King Harald's Jubilee Medal. Undisputedly, however, the most attention-drawing piece of her outfit was the beautiful diamond and pearl tiara which was passed down to her from Princess Ingeborg of Sweden. 
But of course, young royals are so much more than simply their fashion. My favorite moment of the gala dinner was from Princess Ingrid Alexandra's speech, in which she stated that she is, "lucky to live in a country that is constantly evolving…In Norway, we are concerned about climate. We are concerned with diversity. We are concerned with freedom of expression…"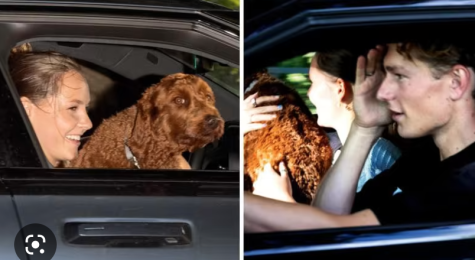 Another of the most interesting moments of the gala was one which marked a clear break from royal tradition – though no one noticed. Along with a long list of politicians and royals, a few anonymous friends and relatives attended the highly publicized gala. Despite the attention the event garnered, it was only afterwards that the media realized one of the anonymous guests was none other than the princess's boyfriend, which confirmed their alleged relationship. I personally cannot envision many other royal families allowing the teenage heir to bring their boyfriend to a dinner at the palace filled with arguably some of the most important people in Europe, let alone allow him to drive her, highly conspicuously, through the busy streets of Oslo only a few weeks later.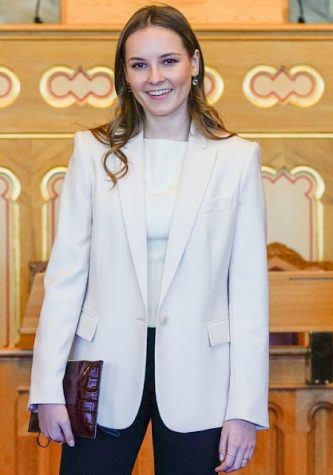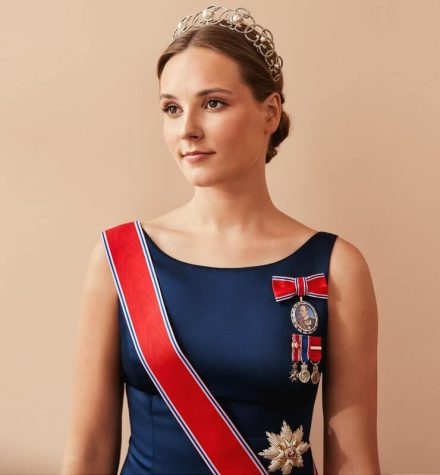 In addition to the dinners, and excursions afterwards, Princess Ingrid celebrated her birthday with official visits to different branches of the Norwegian government. These visits included a trip to Norway's parliament where she met the president of parliament. She then stopped at the Supreme Court in Oslo, followed by a  visit to the office of the Prime Minister who talked to her about government and ministry work. At these visits, Princess Ingrid looked smart and professional in black boot-cut pants with a white shirt and a cream blazer.
Royal fans were quick to point out the similarities between Princess Ingrid's regal and grown-up bearing at the government events, as well as in the official portraits released on the occasion of her birthday. In the photographs, Ingrid stunned in a simple navy sleeveless dress, which was accessorized with a red cross-body sash and the same orders which decorated her outfit at the gala dinner. It is clear, both from Ingrid's fashion and her composure, that she is ready to step into the royal role waiting for her and embrace her position as the future queen.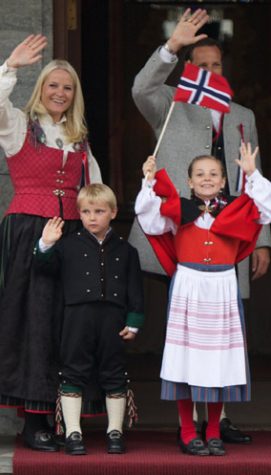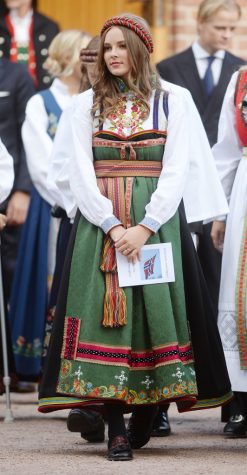 This is one of my favorite things about Princess Ingrid: she is very proud of her heritage and position. Ingrid commonly wears traditional Norwegian clothing, usually to celebrate Norwegian Constitution Day, the national day of Norway and a public holiday. This day commemorates the signing of the constitution which declared Norway an independent kingdom, and is celebrated each year with parades across the country. The largest of these parades occurs in Oslo, and the highly televised event passes the royal palace, where the royal family greet the people from the palace's balcony. 
My favorite of Princess Ingrid's traditional outfits over the years was in 2021, when she wore a traditional Norwegian Bunad, a colorful wool folk dress for National Day. The dress was absolutely beautiful with a white long-sleeved top, long black skirt, and a green apron-like overpiece. The green skirt was covered in intricate embroidery; at the hem of the skirt were bright leaf and floral designs and a train of red ribbon, and around the waist was a colorful woven tie. The collar of the dress was blue and green and the bodice was decorated with floral embroidery and bejeweled broaches.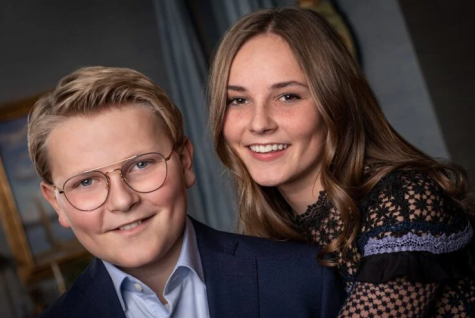 Princess Ingrid Alexandra is an incredibly unique young royal. Her life has been characterized by a swirl of drama and scandal, which has indubitably influenced the person, and the style, she exudes today. Her simple and elegant fashion style shows her laid back personality, her love of Norway and Norway's history, and her focus on being real rather than creating a fake front for the media. In the end, it is up to her and Sverre to decide Norway's future, and create an image of the monarchy which they wish to bring into the future. 
Stay tuned for the next article in this series, which will cover an intellectual and regal young princess: Crown Princess Catharina-Amalia of the Netherlands.