Paris Fashion Week Forecast: Haute
In six days, Parisian fashion was turned on its head, and some of the dresses that stomped down the runway were turned upside down as well. From February 27th to March 7th, millions flocked to the city of love: Paris, France. Why? Well, of course, it was to sit for an hour, take a photo, and move to another chair. While that explanation may satisfy some realistic readers, for those of us that live in a world of color and creativity, it was six days of the past, present, and future, all enrobed in cloth. Of course, what I am discussing is the 2023 RTW Paris Fashion Week. 
Before I provide my opinions and reflections on the most recent Paris Fashion Week, it would be wrong of me to neglect the influential history behind the event. Paris has been the epicenter of high fashion for as long as artists have spun cloth and aristocrats have found themselves seeking the richest of garments in ateliers. In the 1920s and 30s, names such as Chanel and Schiaparelli first took to the main stage. At this time, fashion houses began holding intimate shows for their clients–moments that lacked the flashbulb of photography and only captured the sweet exchange of garment-purchasing. Following the end of World War II, New York City began blazing its own fashion path, a trend which highly concerned the high-end buyers and dealers across the Atlantic. Luckily, the French had their own personal arsenal: the up and coming Christian Dior, Givenchy, and Bal   main, and later on, France's most popular brand of the 1960s: Yves Saint Laurent. Soon after, the first fashion week took place in 1973, fittingly named the "Battles of Versailles" show, where five French designers were pitted against globally-unrecognized American designers: Oscar de la Renta and Halston, to name a few. Though America and France did not continue to hold their shows together, their fashion weeks have continued to rival each other in the press. Over the decades, fashion weeks in both New York and Paris have only gained in size and magnitude, but the most recent 2023 Paris Fashion Week was perhaps the most dazzling of all.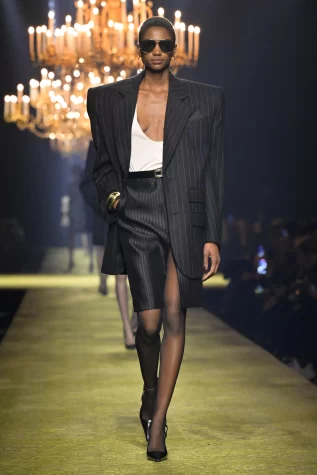 Held throughout the city, Paris Fashion Week shows great range, from intimate gatherings to magnificent productions, as seen by both the Dior and YSL shows. Dior, specifically, was held in the Tuileries: a dark, cavernous space lit only by the phosphorescent hanging tentacles and dazzling garments. Modern designer for Dior, Maria Chiuri, designed her collection in solely black and white colors, a dutiful nod to the post-war 1950s' style. Chiuri provided us with the one component that is often overlooked during fashion week: ease. Above all, the Dior 2023 show gave us elevated ease, both in terms of its wearability and simplicity. Considering a show that took a simple staple and elevated it, we must now turn our attention to Yves Saint Laurent, currently designed by Anthony Vaccarello. While Chiuri found inspiration in the 1950s, Vaccarello took the silhouette of the 1980s: big and boxy. After all, a garment only goes as far as its shape, and for this show, Vaccarello made bold moves. Nearly every blouse or blazer found its shoulder drawn up and pushed out, creating the ultimate femme fatale garment.
Oh, how the decades live on; if you find yourself gravitating towards the 1990s, you may likely find refuge in the Thierry Mugler show of 2023. Held at Parc de la Vivette by creative director Casey Cadwallader, the first Mugler show since the pandemic hit paid homage to the legacy left by the '90s supermodels – something few fashion critics and designers can forget. In remembrance of the brand's beloved founder, Thierry Mugler, Cadwallader delivered a show that would make his predecessor proud. Cadwallader's purpose lay in the desire to incorporate his audience and blend the line between onlookers and customers. At this particular show, lace, black, and corseted garments found themselves sported by those imitating '90s supermodels, and as previously mentioned, a finale that encouraged patrons of the show to walk on the runway.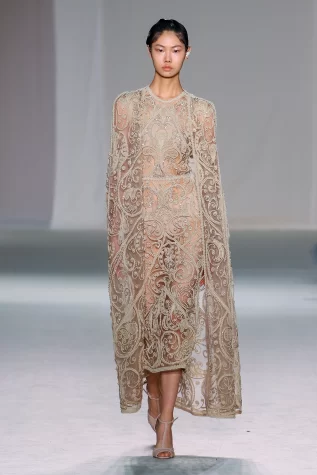 Considering shows that captured present ideas and events, Elie Saab designed a collection fit for any red carpet show: Oscars, Grammys, and film festivals.  The collection, designed by Lebanese Elie Saab, features opulent and royal garments, all of which are unified by a certain golden thread. As indicated on the left, Saab's gowns are soon to reach the "Best Dressed" celebrity lists. 
Courrèges captured perhaps the most modern phenomenon of the time: the affixation with technology. Currently designed by Nicolas Di Felice, the first model to walk the Courrèges runway was sporting, in addition to an oversized leather jacket symbolizing a shield to the external world, a smartphone. The collection held a series of column gowns, bulky hoodies, and sweaters, all of which walked down the runway in tune to a voice repeating: "Is the sky blue?" There are few better ways to capture modern disenchantment and questioning of life, highly facilitated by technology, than the most recent Coourrèges line.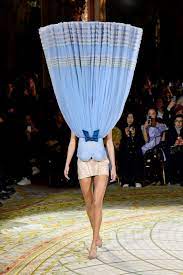 While we have now discussed the shows that gave nods to the past: 1950s, 1980s, and 1990s, as well as those that shone light on current fashion trends, it is only justified that we finish our tale with the show that turned futurism on its head (or side): Viktor & Rolf. Without question, this particular show has gained both the most public attention and upheaval. Watched by the likes of Doja Cat and Coco Rocha, Viktor and Rolf gave new meaning to fashion during their Spring-Summer 2023 show. Nearly every person, those who divulge in fashion or not, are familiar with the ubiquitous princess dress; of course, it has appeared in nearly every fairytale. However, imagine those princess dresses spun, not merely upside down, but in every topsy-turvy way that one can imagine. Throughout their event, Viktor & Rolf put cloth behind their wild imagination, presenting their models – some faces completely hidden – as walking pieces of art, barely hidden with nude undergarments. This newly spun narrative gives light to what the future of fashion will hold, whether it will promise classic garments reinvented or the introduction of new articles of clothing, that has yet to be determined. As for the present, I urge you to stay aware, stay tuned, and stay you.