Blazing Their Own Paths: the Fashion of Europe's Young Royals
The last article in this series focused on Princess Ingrid Alexandra, an adventurous and down-to-earth young royal characterized by her simplistic and effortlessly elegant fashion style. South of Norway there lives another young royal who is similarly breaking down barriers and fashion standards, while also staying true to the culture of her homeland: the Netherlands. Today's article will focus on Crown Princess Catharina-Amalia of Orange.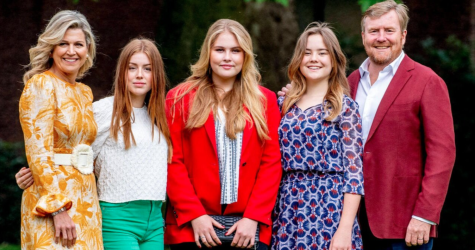 Crown Princess Catharina-Amalia (often called simply "Amalia") is the heir apparent to the throne of the Kingdom of the Netherlands, due to the country's shift to absolute primogeniture in 1983. While there have been Queen Regents of the Netherlands, Amalia is the first female to hold the title of Princess of Orange in her own right. The eldest daughter of King Willem-Alexander and Queen Máxima, Princess Amalia leads the line of succession followed by her two younger sisters, Princess Alexia and Princess Ariane.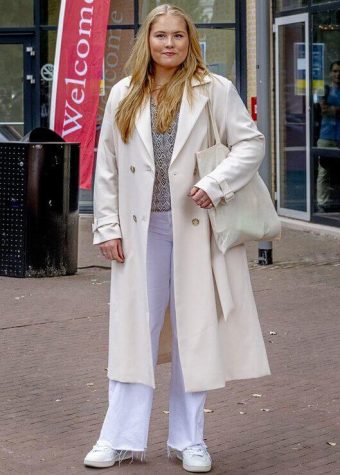 Unlike the royals previously discussed, Amalia has lived a sheltered life largely out of the public eye. Unlike Princesses Elisabeth, Leonor, and Ingrid, who have been consistently featured in the media attending royal events since childhood, Amalia has rarely been photographed. This was a purposeful choice by her parents, who deliberately  decided that the family would pose for an official royal family photoshoot twice a year – in return for privacy the rest of the time. It was only after the princess's 18th birthday on December 7, 2021, and the transition into her official role, that she was truly introduced to the public eye. This makes analyzing her fashion choices slightly difficult, but by no means impossible, for even Amalia's few appearances have given us plenty to discuss. 
To begin, Princess Amalia's fashion is largely reflective of two elements: her culture and her parents. The Dutch are famous for blending style and comfort with their clothing, and much like their Scandinavian neighbors in the North, value practicality and simplicity. Amalia's fashion pays homage to these values and traditions, which can be seen in looks including the outfit that she wore to attend her first day at the University of Amsterdam. Dozens of photographers awaited the young princess as she strolled down the street, wearing a neutral outfit of a long off-white coat over white pants and a patterned blouse. She accessorized with blue Veja sneakers and a cream tote, looking both casual and prepared to learn.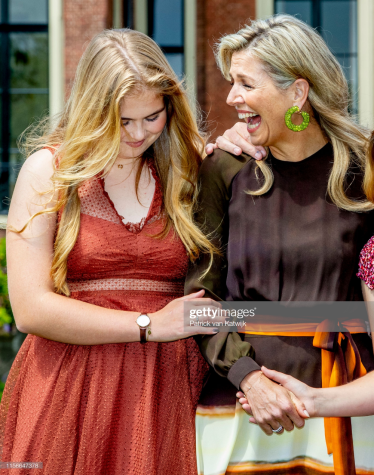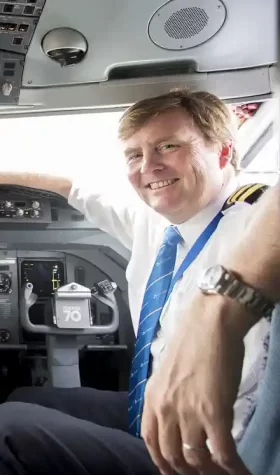 Amalia's fashion also reflects the influence of her parents, primarily her mother, Queen Máxima, who hails not from the Netherlands, but from Argentina. It has been said that Máxima brought a "dash of Latin American flair to what was previously perceived as a rather bland royal household." And indeed, no one could call the fashion of the Dutch royal family bland. Despite Amalia's common odes to simplistic Dutch styles, during the family's twice-annual photoshoots, color, florals, and bright patterns surround the royals, complimented by chic accessories and wide smiles, of course. 
Princess Amalia's father, King Willem-Alexander, is a fascinating royal, as he actually holds two jobs. His more prominent role is the king of the Netherlands, but his second and less well-known job is a commercial pilot – Willem-Alexander has spent two decades working for KLM Royal Dutch Airlines, co-piloting commercial flights twice a month. The king said he is rarely recognized in his pilot uniform, and enjoys the "hobby" as a break from his day job.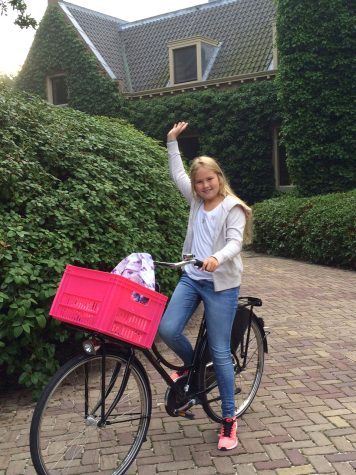 As seen from King Willem-Alexander, and due to their carefully controlled privacy and the culture of the Netherlands itself, the Dutch royal family has been able to lead relatively normal lives, something which has been reflected in Amalia's fashion. Though many royals have only been seen in formal attire, Amalia has been pictured – such as in pictures shared by the family on the occasion of her birthdays or first days of school –  dressed in very normal clothing. For example, included here is a picture of then 11-year-old Princess Amalia biking to her first day of public school in the Hague, wearing a white t-shirt, cream zip-up sweatshirt, jeans, and pink sneakers. The King posted this picture to his Facebook page, along with a message asking citizens to respect his daughter's privacy as she went off to school. Of course, much has changed since Amalia was 11, but the Princess's style has largely remained true to her upbringing – practical, relatively simple, colorful, and youthful.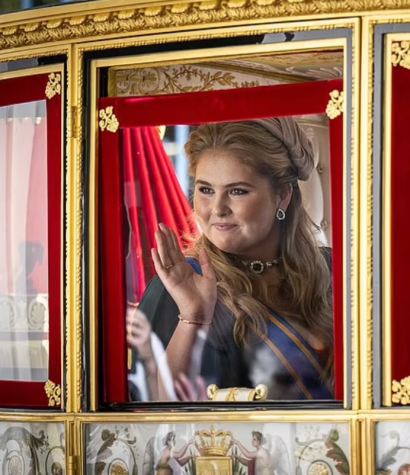 For the annual summer photo shoot of the family in June of 2022, the now 19-year-old princess wore a long black dress – adorned with bright flowers – and black heels, an effortlessly flattering look. In September of 2022, when Amalia joined her parents for a gala dinner at the palace – her first gala look – she looked gorgeous in a metallic blue v-neck dress with her hair swept up into a bun. When the royal family visited an exhibition at a museum in Amsterdam in November, Amalia wore a dark green suit from Zara in addition to a patterned blouse and gray heels. But the biggest event of 2022 was indubitably Princess Catharina-Amalia's first Opening of Parliament in September. This event not only included the 18-year-old princess attending Parliament, but also riding in the traditional carriage ride in the Glass Coach with her parents, as well as appearing for her balcony debut. Amalia wore a deep emerald green maxi gown with 3 quarter sleeves, a cinched waist and a deep v-neck, which she paired with matching emerald jewelry, a blue-and-gold sash, and a pale pink fascinator – a show-stopping look which hinted at the fashion to come from the future queen.
While the princess's fashion has not been particularly groundbreaking – as aforementioned, she stays true to both her culture and her family – Amalia's actions have proved her to be a royal who will bring change to the Netherlands. She has made a reputation as someone accepting and open: speaking candidly about her mental health, sharing that she has visited a therapist, and expressing support for LGBTQIA+ issues. In October of 2021, parliament changed the rules of royal marriage, allowing Amalia, and all subsequent heirs to the throne, to marry whoever they chose, regardless of gender. This new legislation is starkly different from the past, when many royals gave up their place in the line of succession in efforts to marry who they pleased. Amalia was also featured in the news for refusing to accept the annual $2 million allowance given for her official royal duties, writing to Dutch Prime Minister Mark Rutte in 2021, that she found it "uncomfortable" to accept the allowance when she does not, "do anything for it in return, and while other students have a much tougher time of it, particularly in this period of coronavirus." The down-to-earth young royal has consistently proved herself to be a relatively normal young adult, continuing to ride her bicycle to school over the years, participating in student council and Model UN in high school, and attempting to live alone near campus while attending the University of Amsterdam. 

As seen from her actions, Amalia does not lack confidence. Her words are honest and bold – unafraid of the thoughts of others, and determined to stay true to herself. This was seen clearly in Amalia's fashion during the biggest milestone to date in her fashion journey: her recent visit to the Dutch Caribbean Islands. Amalia's first official visit, as well as the most she has ever been photographed in a short time frame, showed the princess's fashion in exquisite detail. Her looks were perfectly chosen for the occasion, detailed with flowers, bold colors, and tropical styles.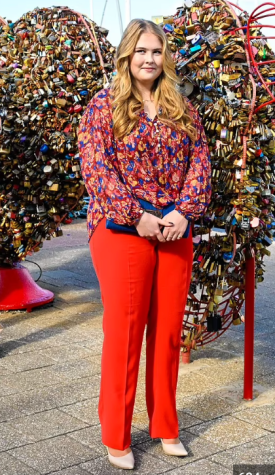 Some of Amalia's looks on the trip were in line with her usual Dutch fashion, remaining formal and neutral. On day 4 in Aruba, she wore a smart and chic white striped blazer set, and another day an ochre suit with a blouse patterned with pink flowers and a woven clutch – which admittedly was a little too '70s for my own taste. 
Many of her outfits held pieces of simple Dutch style and the formality expected of a princess, while also experimenting with details to reflect her location. In St. Eustatius, Amalia looked formal in a blue shirt with a polo-style collar and crisp white pants, but accessorized with a floral patterned clutch and dangling earrings in the shape of dragonflies. She wore a similar outfit, trading the blue shirt for green, on another day, but chose a beautiful embroidered clutch inspired by Moroccan culture. In Saba, her white blouse had flowers embroidered on the sleeves and her fitted pants were a bright red color. This was no match for the brightest of her outfits on day 6, when Amalia appeared wearing bright red pants, holding a bright blue clutch, and catching eyes with a shirt patterned with flowers in an array of bright red, yellow, and blue.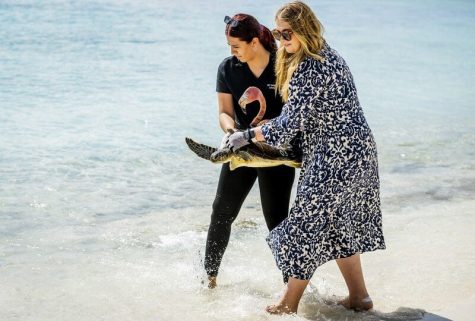 Many of the princess's looks included her favorite flowing dresses –  a trademark of her style since she was a child –  though the styles and colors inclined her to step out of her comfort zone. Amalia began the trip in a safe, blue-patterned dress, which she accessorized with a white blazer. She moved on to a bright yellow maxi dress with a long, tiered skirt with a white blazer slung over her shoulders. On to one of my favorite looks – a gorgeous gauzy white dress with long sleeves and blue patterns, along with a little bag and her blue Vejas which she wore to her first day of school. On day 7 on her travels, Amalia wore a long maxi dress patterned with a blue paisley design, which was paired with a wide-brimmed straw hat and her ubiquitous blue sneakers. The outfit proved versatile – it looked beautiful for photographs, and allowed the princess to wade into the ocean to help release a rescued sea turtle. In St. Martin, the princess continued her maxi dress trend, this time in a gown patterned with red and yellow flowers and tied with a chic woven brown belt. A bright green clutch complimented the green leaves of the details in the dress. The most avant-garde of these outfits was an effortlessly cool garment which she wore to a Tumba concert in Curacao; the green dress was long, flowing, almost shawl-like, and patterned with leafy paisley designs.

These vacation-style outfits came to a climax in Aruba, where Amalia appeared in a stunning, and definitely eye-popping outfit: a brightly colored shirt with a zig-zagging pattern, purple frills, and shawl-like hang, along with a green clutch. I actually loved this look because it was so different – definitely the most groundbreaking of Amalia's fashion to date. 
Overall, the princess's looks on her trip have been my favorite representations of her fashion. They showed Amalia both staying true to her culture, family, and herself, while also branching out – exploring the formal, informal, themed, and fun fashion which we are sure to see more of in the future. This unique young royal is breaking down social barriers and setting her own path, while also relying upon her style to maintain her own identity. 
Stay tuned for the next article in this series, which will cover a rebellious and uniquely fashionable young princess: Princess Isabella of Denmark.