Blazing Their Own Paths: the Fashion of Europe's Young Royals
At long last, we have reached the final article of this fashion series! We began with Princess Elisabeth of Belgium, who stunned us with her bright colors and designs; continued with Princess Leonor of Spain who shared her beautiful flowing dresses and espadrilles; were awed by the effortless grace and national pride of Norwegian Princess Ingrid; met Princess Amalia who wowed us with her range from typical Dutch styles to vacation looks, and left off with Princess Isabella of Denmark, who boldly showed us the fashion of a young royal rebel. The articles have all helped us find what we set out to discover: how the young princesses of Europe are creating their own paths, in areas such as hobbies – Princess Ingrid's award-winning surfing – and decisions – Princess Amalia's statements about her LGBTQ+ support and therapy – and, most of all, fashion. This generation of young women are moving past barriers, battling stigmas, and expressing their unique personalities; truly, their efforts can be seen in what they wear out into the world. However, today this journey must come to an end, as we meet the youngest and cutest princess in our series: eleven-year-old Princess Estelle of Sweden.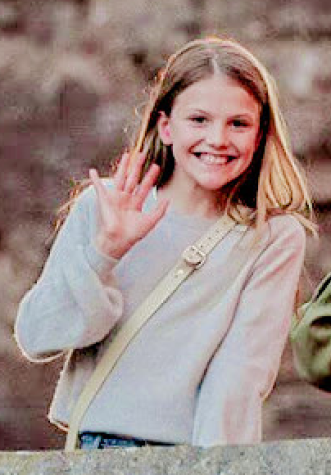 Princess Estelle, Duchess of Östergötland, is similar to Princess Ingrid, as she is also second in line to the throne. Estelle follows her mother, Crown Princess Victoria of Sweden, in the Swedish line of succession. Her grandfather, King Carl XVI Gustaf, holds the throne at 76. Estelle is the first female in Swedish history to be born with a right to inherit the crown that cannot be superseded by the birth of a male heir, due to Sweden's switch to absolute primogeniture in 1980 (they were the first European nation to make the switch). Estelle is also the first in Swedish history to be born a female heir apparent, as well as the youngest discussed in this article, at only 11 years old. Despite her young age, Estelle is already charting her own course in fashion, swaying from the typical looks and mannerisms of young princesses. 
How is Estelle straying from the paths of those before her? Well, she seems to be learning from the older girls in Europe, such as Princess Ingrid and Princess Isabella, by choosing outfits that are comfortable, casual, and incredibly youthful. Often appearing to formal outings in jeans with a jacket, or sporting a jumper, Princess Estelle is clearly down-to-earth, just a child who happens to descend from a very interesting bloodline.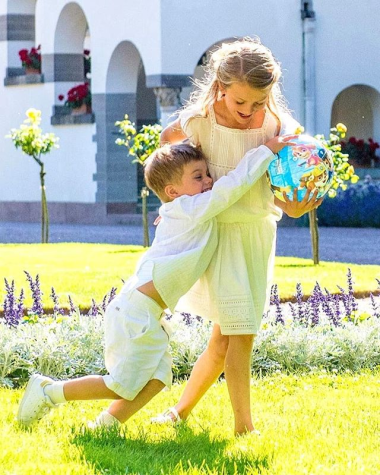 Princess Estelle's background is slightly similar to Princess Ingrid of Norway – her parents' love story certainly raised eyebrows. Her mother, Crown Princess Victoria of Sweden, met her father, Prince Daniel, when he was her personal trainer! True to their meeting, both of Estelle's parents are very into physical fitness and activity; they are the ambassadors of many fitness foundations and organizations and encourage their children to be active and participate in outdoor activities. For instance, at a celebration for her mother's birthday, with royal spectators lined up around the castle gardens, they allowed Estelle and her younger brother Prince Oscar to run around freely, jumping rope and then playing soccer with a ball decorated like a globe. While Estelle may have been dressed the part of a little princess, in a little gauzy white dress, white sandals, and a white bow in her hair, this did not stop her from enjoying a perfectly nice day, like any child her age would.
There are many other examples of these moments with Estelle, such as September 18th, 2022, when Estelle and her family enjoyed Pep Day at the Park. Estelle was wearing a very normal Estelle outfit, which was, in other words, a very normal outfit for a ten-year-old girl. Estelle paired the official blue shirt of the event with blue leggings and white sneakers, and tied her hair back in two braids affixed with little red bows. For some portion of the event, she added an oversized black sweatshirt that said "Tasty" on it. The young princess nearly vanished into the crowd of kids at this event, as she ran in the foot race, practiced CPR, and more, right in the throngs with the other children, wearing her matching shirt.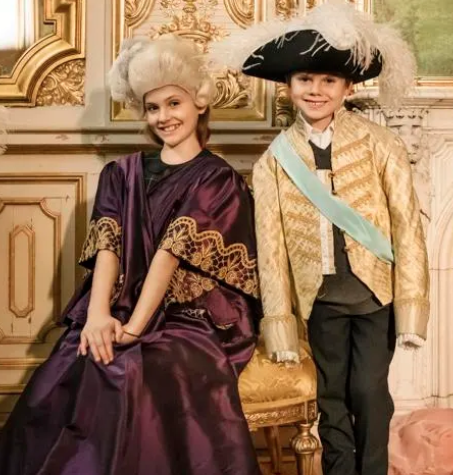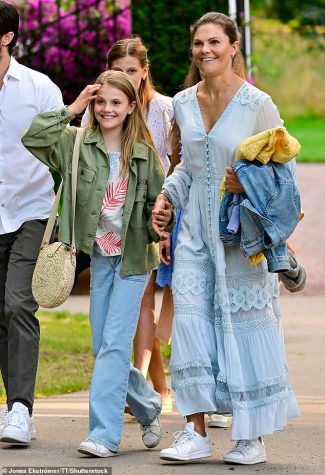 Princess Estelle clearly likes to have fun and cares very little about what she wears while she is involved in activities. For instance, she was photographed with her brother dressed up in costumes before seeing a ballet. This hilarious nod to what a royal such as herself might have worn in days passed, rich plum-colored dress with a billowing skirt and a white wig, looked very silly on young Estelle. In July of 2022, the young princess attended many concerts on the grounds of Borgholm Castle. She was photographed multiple times, waving from her perch in the ruins, seemingly oblivious to the fact that she was standing in the ancient home of some of her royal ancestors, including King Carl X Gustav X (for reference her grandfather, the reigning king, is Carl Gustaf XVI). She was certainly not wearing what her royal ancestors would have worn back then. At one concert, Estelle looked relaxed and adorable in a light olive green cargo jacket, jeans, and a white-and-pink patterned t-shirt. She accessorized with white sneakers, a woven bag slung over her shoulder, and left her hair flowing around her shoulders. It was easy to imagine that Estelle chose this outfit herself only an hour before leaving for the event, and simply wore what she liked. At another concert only a few days later Estelle was spotted wearing a pale gray sweater with a white bag over her shoulder and her hair down. At another, she was seen with her Aunt Sofia, dressed in a purple shirt with a yellow quilted jacket – a look which the young princess somehow managed to pull off. To yet another she wore a white tie-dyed t-shirt, jeans, and glasses.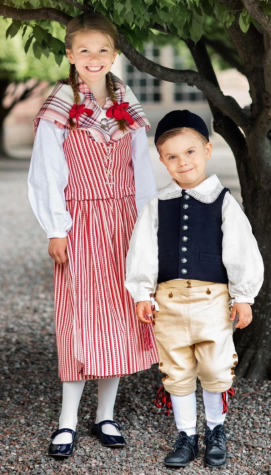 When not seen in casual clothing for outings, Estelle often wears traditional Swedish clothing to events, much like Princess Ingrid of Norway. For Sweden's National Day on June 6, 2022, Estelle matched with her mother in yellow-and-blue folk costumes. Called the "Sverigedräkten" folk dress, it consists of a white blouse, blue skirt, and yellow overskirt – colors worn to match the Swedish flag. Estelle has worn such an outfit to National Days in the past – for instance, on Sweden's National Day in 2020, Estelle was photographed in a traditional outfit from the Skedevi parish, a community in her duchy of Östergötland – but she looked especially grown up this year with the edition of her new glasses.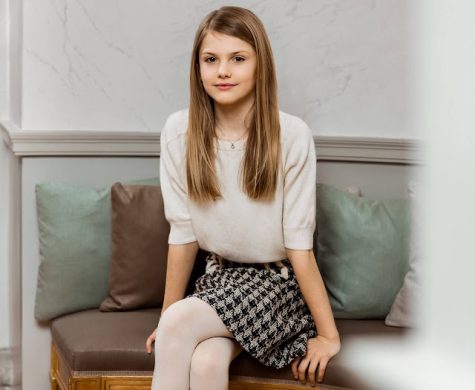 However, despite her love of the casual and traditional, Princess Estelle's fashion does venture – occasionally – into the formal. For instance, she wore a darling white dress with a pink cardigan to her mother's birthday celebrations, and looked sharp in a gray overcoat, gray gloves, and jaunty green army cap to celebrate Princess Victoria's Name Day. For her official 10th birthday portraits, Estelle looked grown-up in a white blouse with a white blazer over top. Her 11th birthday portraits also showed just how quickly she was growing up, as she gazed into the camera with a regal manner, wearing a crisp cream sweater, houndstooth-patterned skirt, and white tights.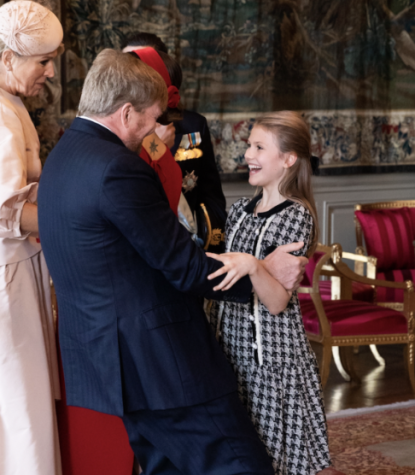 The young princess wore a similar outfit during the moment which won her the hearts of many in October of 2022. In a rare moment, Estelle was allowed to take part in the welcoming ceremony for her godfather, King Willem-Alexander of the Netherlands, when he came for an official visit. Estelle looked adorable in a houndstooth dress with a black collar and buttons down both sides, along with white tights, black flats, and a little black bag. She and King Willem-Alexander were extremely pleased to see each other; they shared a big hug, and the Dutch King congratulated her with a proud "well done" when the photo op was finished. While Estelle has shown herself to have a very wild and fun side, people all over applauded her for her royal countenance at only 10 years old. 
However this was not the only moment where Estelle's princess side emerged to stun the world. Perhaps the best moment in Princess Estelle's formal royal fashion history was when she attended, in June of 2022, her very first gala. This is the perfect fashion moment with which to conclude our fashion saga – as young Estelle was not the only star of the show, but was joined by many familiar faces from over this series.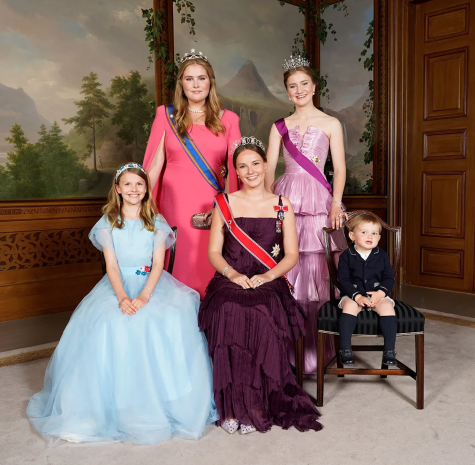 The event was a birthday gala for Princess Ingrid Alexandra of Norway, who turned 18 in January of 2022. The party, which was put on hold due to COVID-19, took place in June, and was one of the largest royal events in recent years. For fans such as myself, there was nothing more exciting than the photograph released of 4 of the future female heirs – Ingrid, Catharina, Elisabeth, and Estelle – sitting together along with the young Prince Charles of Luxembourg. Beyond simply showing the young royals together, the photograph created an international uproar by serving as a tiara debut for not only Princess Ingrid, but also her fellow future heirs, Princess Catharina-Amalia and Princess Elisabeth. 
Princess Estelle is still too young for her own tiara debut, but looked gorgeous and adorably age-appropriate in a pale blue gown with tulle sleeves and a flowing tulle skirt which gently touched the ground. Adorned with little flowers on the dress's waistband, which matched the floral of her headband, Estelle looked sweet and beautiful.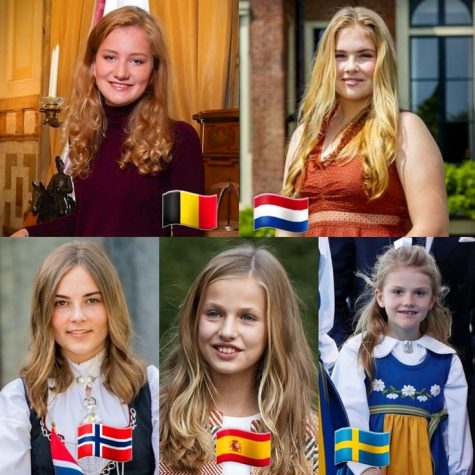 Ingrid, the birthday girl, looked regal in a dark purple, ruffled gown and a tiara which belonged to her great-great-grandmother, Ingeborg, who was actually, like Estelle is today, the princess of Sweden. Princess Catharina-Amalia wore a bubblegum pink cape gown and the Dutch Star Tiara. Princess Elisabeth looked especially eye-catching in a strapless gown in bright pink with a corset-like top and many layers of silk skirt. While I would have loved to see these four joined by Princess Leonor and Princess Isabella, this was certainly quite the event for royal fashion. 
Perhaps, one day, we will see all of the young female royals together, but until then, we will have to satisfy ourselves with viewing how they grow separately in the years to come. Estelle is certainly the princess we should all be watching closely – as she is clearly unafraid to make her own decisions, wear what she likes, and be exactly who she is. The other princesses of Europe have set wonderful examples for our young princess, showing her that this is an era of not only new fashion for Europe's female royals, but also new freedom for these independent young women.