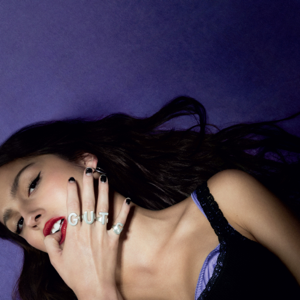 After losing popularity due to a long break between albums, Olivia Rodrigo has made an exciting return, leaving listeners and critics in awe with her new hit album, Guts. 
Rodrigo's debut album, Sour, perfectly blended sweet pop melodies with edgy punk, resonating strongly with teenage girls and quickly becoming a fan-favorite after its release. Olivia was merely 18-years-old when she released Sour, yet the album received impressive acclaim, winning the Grammy for Best Pop Vocal Album and the People's Choice Award for Favorite Album. 
Although Rodrigo's first album was a staple in 2022 American Pop, it eventually fell out of the spotlight and her popularity gradually dwindled. However, Guts has captivated the music industry once again, rising impressively on the charts. Her top songs on the album include "Vampire", "Bad Idea Right?", and "The Grudge", all of which explore the dynamics of toxic relationships at a young age, while still being playful and fun.
Rodrigo released "Vampire" as a single two months prior to her Sophomore album. As her first song since 2021, Vampire drew excitement from her fanbase and brought major attention to the upcoming album's debut. And since Rodrigo's love life has always been in the public eye, it did not take fans long to realize that this song is about an ex-boyfriend, and it isn't exactly positive. 
In an article published by Seventeen, Rodrigo expresses that this song has helped in her healing process following a breakup that left her with feelings of "regret, anger, and heartache." Beyond its captivating melody, the song's lyrics carry a deeper message that many teens feel a deep connection to. One lyric in the chorus captures the essence of the song: "The way you sold me for parts/as you sunk your teeth into me." This lyric illustrates Rodrigo's naivete, which allowed her older partner to take advantage of her, despite the warning signs of mistreatment throughout their relationship. While she now recognizes the relationship as a mistake, it has allowed her to mature as an individual as she has gained respect for herself in the midst of her self-love journey. Teenage listeners are captivated by "Vampire" because of the commonality Rodrigo's experience holds for listeners: staying in a detrimental relationship despite obvious mistreatment.  
As alluded to by its title, "Bad Idea Right?" flawlessly captures the universal idea that despite being conscious of the consequences of poor decisions, teenagers and young adults feel compelled to make impulsive decisions, exhilarated by the thrill of living in the moment. Specifically, Rodrigo describes how she knows leaving a party to rekindle her relationship with her ex-boyfriend is a bad idea, yet she still goes to his house, unwilling to consider the consequences while convincing herself that this is a favorable decision. The punk-pop energy behind the irony and humor of lyrics "Yes, I know that he's my ex, but can't two people reconnect?", "I only see him as a friend; the biggest lie I ever said" and "I know I should stop — but I can't" particularly resonates with Gen Z. The song has become a popular topic of discussion and the focal point of several Tiktok trends. 
In contrast, while "Bad Idea Right" exudes a more joyful and spontaneous vibe, "The Grudge" carries an emotional depth that conveys Rodrigo's sadness. This song brings awareness to the unhealthy habit of individuals bottling up their emotions. One lyric, "And I try to be tough / but I wanna scream," truly describes an emotional struggle many teenagers experience. Supressing anger may seem like the simplest course of action, but this ultimately causes resentment to build up until one finally erupts. Adolescents who hesitate to speak out against their grievances in relationships may find solace in this song. It conveys a similar message–that forgiving someone for the harm they have caused should be done voluntarily and independently, not as a result of external influence. "The Grudge" encourages teens facing similar challenges to recognize their self-worth and their individual strength, rather than succumbing to insincere apologies and the pressure to appear emotionally unaffected. 
Olivia Rodrigo's admirable maturity shines through her music, as her songs showcase her vulnerability, intelligence, and her depth of introspection. The young artist is a positive influence for individuals who are struggling with insecurity and/or navigating a toxic relationship. In the lyrics of "Guts", Rodrigo weaves together humor and relatability while also emphasizing universal truths, which is a difficult art to master. Her ability to tap into universal teenage experiences is critical in understanding why so many are fascinated by her music. Her incredible work provides comfort to others, knowing that they are not alone in toxic relationships, an important message in modern music.