Combining fashion, dance, and music, the mother-daughter duo of Beyoncé and Blue Ivy have taken the Renaissance Tour by storm. The Renaissance Tour started May 10th in Stockholm, Sweden, and was kicked off with an award winning song: "Dangerously In Love". The tour serves as Beyoncé's ninth tour within her music career, but this time she has brought along a special guest. Beyoncé has chosen to bring her daughter, Blue Ivy, on what has become her most lucrative tour, pooling about $461 million. Blue Ivy has been protected from the public eye since she was born the daughter of two popular music artists: Beyoncé and Jay-Z. Ever since Blue Ivy appeared dancing alongside her mother in many of the Renaissance Tour shows, she has made many Beyoncé fans very excited to see what the future holds for her, even wondering whether she will ever take the stage alone. Without question, however, the thing that has most people talking is about the incredible fashion sense sported by the mother-daughter duo.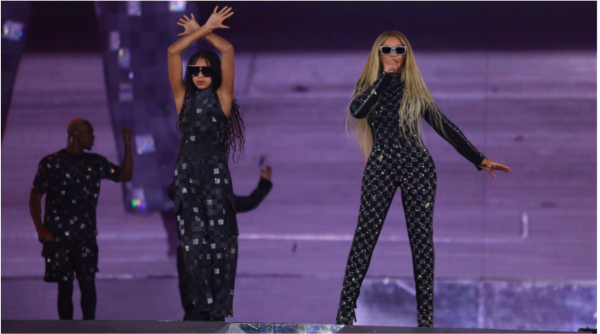 Many of Beyoncé's fans are overjoyed to see Blue Ivy appearing on nearly every social media platform for her remarkable dance skills. The Carter women have been seen throughout the tour in many on-of-a-kind outfits, featuring brands like Louis Vuiton, Ivy x Adidas, and Loewe. However, without their amazing designers – including Pharrell Williams – we would have not seen any of this duo's amazing outfits. The designs that he has created for Beyoncé and Blue Ivy are astonishing. Williams' designs are unique and from the heart; he claims that "Beyoncé is a rare spirit. The fact that I know her as a human being and have known her for all this time and our connection, I feel like I've known this person for many lives." He expands to say "everything was designed with the intention that a true, rare, very powerful spirit is meant to move." The relationship between Williams and Beyoncé is not a typical boss-employee situation; it truly is a loving bond and that sentiment is reflected in the outfits that the two produce.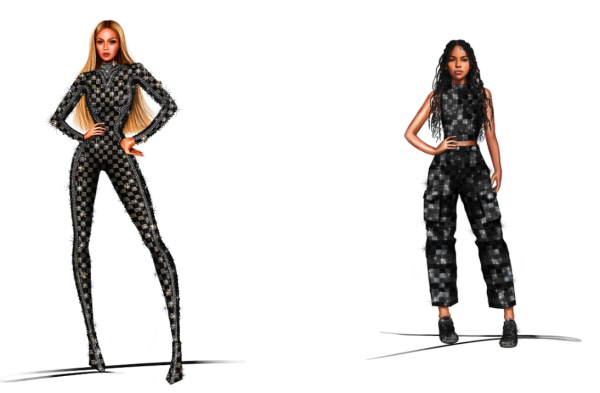 There are not only the two generations proud of the momma and mini-me team. Even Beyoncé's mom, Tina Knowels, praised the work ethic shared between these two. She talks about Beyoncé saying, "she's having the time of her life, and I couldn't be more proud of her because she really worked hard." She also comments on Blue Ivy, telling the media that "she is 11 years old, and she had one week to prepare, and she's just getting better and better." Knowels favorably remarks, "well, this is a heels family. You're trained early to walk in heels." From what you've hopefully seen, Blue Ivy has been trained well.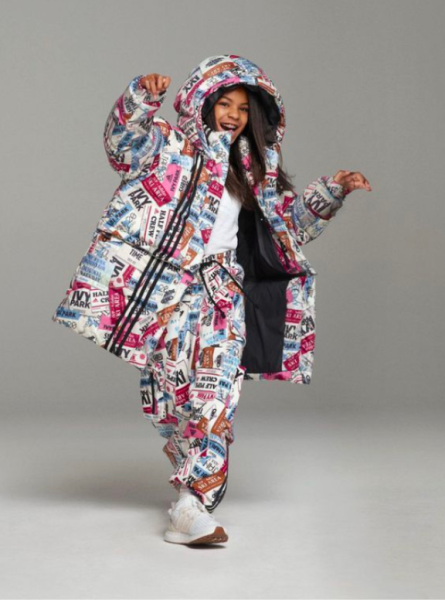 With Blue Ivy soaring to the spotlight for her twinning looks, it's important to look at her own sense of fashion. Above all, Blue Ivy is not confined by her clothing. In many of her personal looks you can find her wearing flowy dresses, pants, or skirts. In a photoshoot for her mothers Ivy Park campaign in 2021, Blue Ivy was dressed in  loose-fitting pants and a jacket covered in a collage of mixed media work promoting the campaign. This look was splashed with bold colors: blue, pink, brown, and beige. While being courtside in 2020 at a Lakers game with her father, Jay-Z, Blue Ivy showed off her own style once again. In the media, Blue Ivy was seen wearing a personalized, oversized denim jacket that had "Blue Is My Name" on the back. She paired this statement piece perfectly with a black and silver flowy crop top, black skinny jeans, and Fendi combat boots. Throughout the years Blue Ivy has been able to express her style with comfy outfits that still have a balance of shine, bold, and neutral colors. Blue Ivy has certainly not failed to bring this certain glow to her tour outfits as well.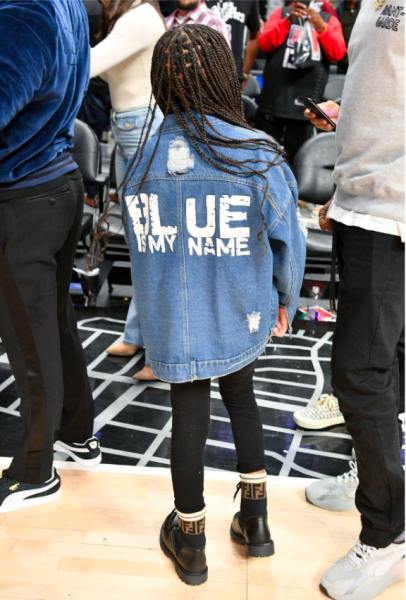 With Blue Ivy finding her own sense of style, Beyoncé has been influenced by her daughter as of late. Beyoncé on her own has a regal and goddess-like fashion sense. Beyoncé often finds herself in very tight fitting and revealing outfits, the exact opposite of the outfits she has been sporting with Blue Ivy. 
In the past, Beyoncé has worn many iconic outfits. Such notable looks include her outfit to The Lion King red carpet premiere in 2019 and her tuxedo dress designed by Alexander McQueen that was covered with dégradé crystals. She further accessorized this look with a large crystal necklace. In 2017 at the 59th annual Grammy Awards, Beyoncé was seen wearing a custom gold mesh gown by Peter Dundas. It was accessorized with a giant, gold headpiece to match. The same night, offstage, she was seen wearing a red sequin dress, iconic for its plunging neckline. It was perfectly paired with a long silver necklace.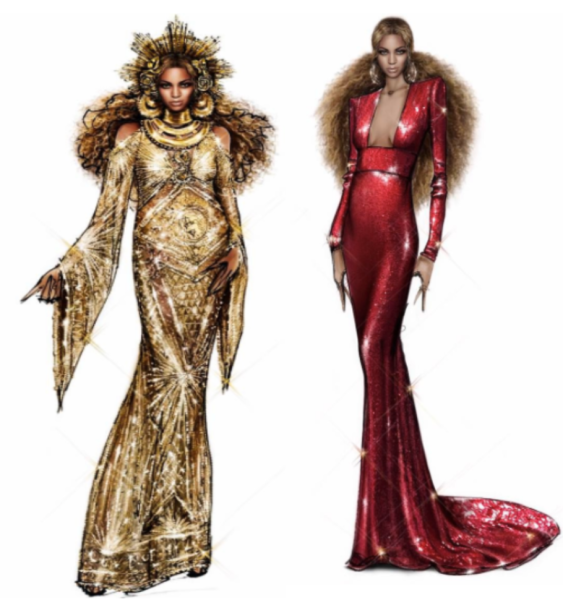 Beyoncé and Blue Ivy now take on more kid-friendly looks when matching with each other. Since Blue Ivy is only 11 years old, Beyoncé has been making an effort to present herself more conservatively on tour. Even though Beyoncé still reveals her figure, she has been opting for pieces that are long sleeved, non-mesh, and with higher necklines.
The articles of clothing themselves are not the only thing that makes this fashion duo's outfits amazing. Their hair, also, plays a major role; both mother and daughter have the same curly, 3B hair. The press has been especially intrigued to see how Blue Ivy's hair changes throughout her looks. While she is often either sporting braids or her natural hair, both Blue Ivy and her mother do like switching it up. At The Lion King red carpet premiere, the pair shared braided hair looks. Blue Ivy had an adorable style with two braided buns, braids in the back with curled ends, and a crown of gems surrounding her buns. Beyoncé sported a similar look with an elegant braided style that swirled around her head.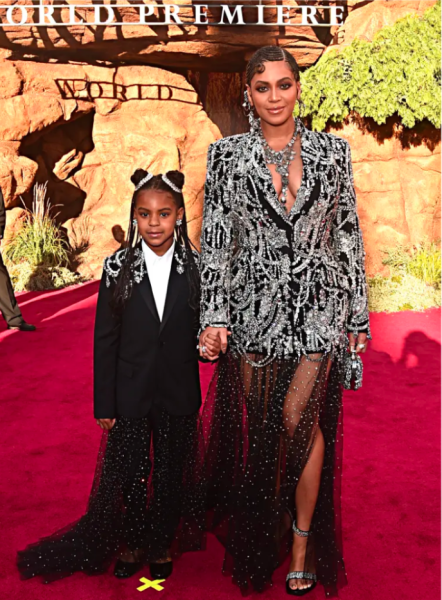 While having fun on stage, you can always count on this mother-daughter duo to come in clutch with these amazing outfits.