The Oscars: Not All Golden Looks
The 94th Academy Awards Outfits That Do Not Deserve A Standing Ovation
The Oscars, otherwise known as the Academy Awards, is a 4-hour window in which millions of viewers across the world celebrate the critically acclaimed cinematic experiences that have hit screens in the past year. Of course, while there is much controversy every year over which film deserved each award or nomination, the Academy Awards beget more contended matters than simply the nominations. From the celebrities to the hosts, the outfits which are photographed up and down the red carpet set the tone for the evening, and allow us – the watchful viewers – to make our first critiques of the night. Over the years, outfits at the Oscars have displayed trends in fashion, prominent social movements, and the general societal tone of the time, and this certainly held true on March 27th at the 94th Academy Awards. However, the Oscars's pristine reputation is not without its fashion fails and controversy. In light of the ubiquitous "best dressed" headlines you are sure to see, I think it is only fair we delve into the celebrities who truly missed the mark on the carpet.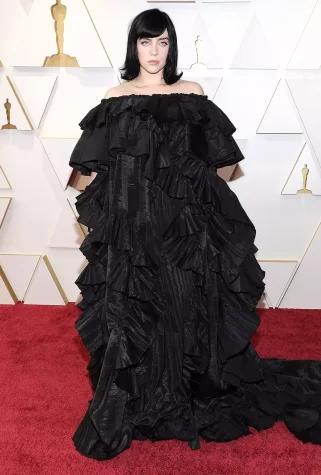 From Bad Guy to unfortunately, bad outfits, Billie Eilish's recent Gucci look did not match her tremendous singing career. In an outfit I can only describe as being similar to a window curtain, Eilish walked the carpet in this voluminous ruffled black gown, which left the singer almost entirely hidden. However, another artist showed us the danger of going in the other direction. Instead of covering up to the point where the celebrity is barely seen, Kristen Stewart marked the event wearing stilettos, an open blazer, and, wait for it –  shorts –  the type one would wear to a casual shopping trip with friends. Although I do appreciate both of these stars' sheer confidence, these shocking looks were definitely not Oscar-worthy. 
Now, please allow me to turn our attention to Renate Reinsve, dressed in Louis Vuitton. Without mincing words, Reinsve's Oscar debut dress looked like something out of a Parisian catacomb or gothic castle. This dress undoubtedly captured our attention, though the type of attention is up to personal preference. Continuing on our theme of garish shapes, Tracee Ellis Ross wore the latest representation of Carolina Herrara chic, and let's just say, it was not all that chic. This highlighter dress took structural fashion to the next level, and looked like a cross between a mermaid silhouette and a ballgown, with a dash of overly-blinding color. Unfortunately, Ross might have to wait for the 95th Academy Awards to redeem herself. It seems that baffling dress shapes were a theme throughout the night. 
This next gown somehow headlined both the best dressed and poorly dressed Oscar outfit lists, and was a fascinating mix between legendary and clownish. Nicole Kidman worked closely with her friend Giorgio on this silver Armani piece, which would have been a timeless dress, many appraised, if not for the ballerina-like tutu skirt poised around her waist. In this case, too much, Armani, too much.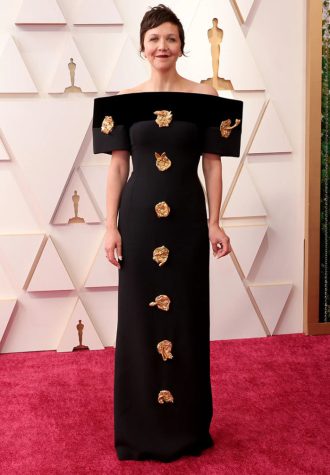 Maggie Gyllenhaal, the sole daughter of her filmmaker parents, stormed the carpet in this Schiaparelli look, a designer who typically begets compliments. Unfortunately, this customary  response met its foe with this "t" dress, casually decorated with 9 gold ornaments. While the general shape of this gown is not unflattering, the true fashion fail is seen in the oddly-chosen decorations, which resemble door knobs or hat hooks.
Our final fashion critique is of Venus Williams. Unfortunately, unlike at Wimbledon, Venus did not secure a grand slam on the carpet with her white-and-silver accented ensemble, merely scoring her a wardrobe malfunction. It is not this outfit's true lack of wearability that I lament, but rather, the garish neckline and white nothingness that drapes down from such a neckline. 
All in all, this piece is not meant to deter you, or the celebrities that I am sure read the Harriton newspaper, from stepping outside of the box. In fact, I praise the celebrities that did so. However, I do advise that when you step outside of the box, keep these strides "fashionable." As always, stay tuned and stay you.