Ram of the Week: Dani Benstock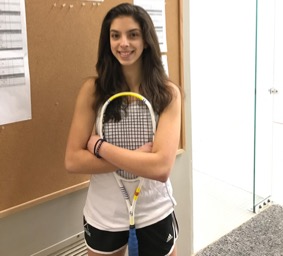 Who runs the world? Girls! This week, The Banner met with the top female player on the HLM Squash team. Her powerful swing and determined spirit has taken her to the top, so today we shine the spotlight on Dani Benstock, a Junior at Harriton High School. Read on for some serious girl power.
Harriton Banner: When did you start playing squash and how did you get into it?
Dani Benstock: I started playing squash when I was 12 years old. Before squash, I was a competitive tennis player.
HB: About how many hours do you practice a week?
DB: On average, I hit and train for around 15 hours a week.
HB: What are the challenges that come along with being the top squash player on the team?
DB: Being the top player and captain of the HLM squash team, I realize that I am a role model for my teammates and underclassmen. I encourage the team and give everybody advice during our pre-match pep talk.
HB: What are your other interests outside of school?
DB: My main interest outside of school is photography. Photography has always been a passion of mine and it was really ignited after taking my first semester Film-Photo course freshmen year. I try to enter photography competitions whenever I can. In fact, one of my greatest photography achievements was when my photo was accepted to be exhibited at Drexel University.
HB: Do you participate in any other clubs?
DB: I am very involved in Zenith, Harriton's art website. For the past two years I have been co-SiteDesigner and am looking forward to being the Editor-In-Chief for the Entertainment category next year. Additionally, I am active In Witness Inspire Act.
HB: What would you say your greatest accomplishment has been so far?
DB: My greatest accomplishment in squash so far has been breaking the top 20 in the country for my age division. It has always been a goal of mine to reach the top 20. Now, my sights are set on being top 15.
HB: What skill differentiates you from the other squash players on court?
DB: There are a few skills that differentiate me from other squash players on court. My favorite would have to be my reaction speed. I can surprise my opponent by moving closer to them and volleying their shot as opposed to letting the ball reach the back court. My volley in this case comes as a surprise to many players as they are unsure where the ball is after the shock of the quick volley.
HB: Lastly, for others following their passion as well, do you have any tips to make it to the top?
DB: If your looking to become a top squash player, or a top athlete in any sport, just know that getting "good" is an ongoing process. Nothing happens overnight. My best example of this would have to be the squash lessons I took last year at 6AM before school. I would then go play in tournaments and get beat up on by players who were my level. I thought to myself: why am I losing to the same girls that always beat me? Are these morning sessions even worth it? Only now, almost a year later, do I see the benefits of those early morning sessions; I have learned many skills and mental discipline from those sessions that I otherwise would have never gotten. So, the main takeaway is that you have to stick with it in order to succeed!