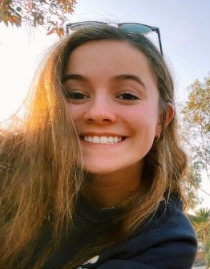 Goldie Beck '21 is thrilled for another year as an Executive Editor of The Harriton Banner. Goldie started writing for The Banner in her Freshman year, focusing on human-interest and spotlight stories. As an Executive since junior year, Goldie now co-leads The Banner, growing the paper's team of staff, article output, and role in Harriton's culture. In her free time, Goldie dances Hip Hop in the mirror and at Bar Mitzvahs as a professional party motivator. From co-leading The Banner to hosting her series
Herd It In The Hall,
Goldie brings the "Ram Pride" and party to the Harriton community.
Goldie Beck, Executive Editor
Sep 22, 2020

Moving Forward: A Letter From The Editors

(Story)

Feb 21, 2020

Harriton's FBLA Team Competes At Regionals

(Story)

Sep 11, 2019

T'was Labor Day Weekend…

(Story)

Apr 03, 2019

Harriton Students Raise Nearly $40K for Cancer Research

(Story)

Feb 27, 2019

Ram of the Week: Sarah Grogan

(Story)

Dec 07, 2018

Ram of the Week: Zach Schulman

(Story)

Dec 05, 2018

Teachers Can Be Musicians, Too!

(Story)

Oct 30, 2018

Ten Horror Films for Halloween

(Story)

Mar 16, 2018

Goals for Success

(Story)

Feb 26, 2018

Spotlight on Mr. Harriton Art

(Story)

Feb 13, 2018

Ram of the Week: Dani Benstock

(Story)

Nov 30, 2017

Black Friday and Gratefulness

(Story)

Nov 14, 2017

Ram of the Week: Allegra Greenawalt

(Story)