T'was Labor Day Weekend…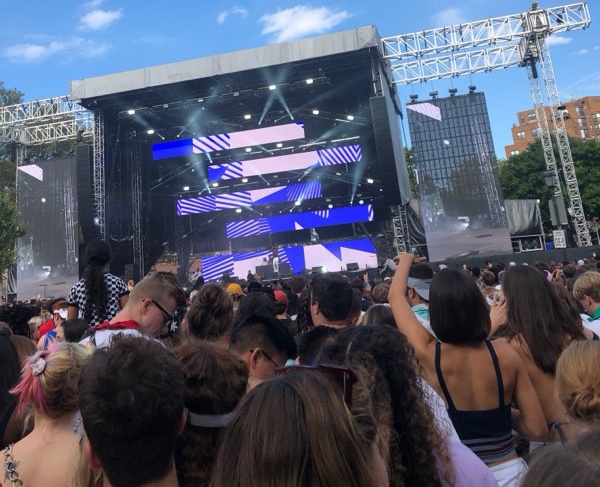 The following piece is a depiction of two students' Labor Day weekends—while exaggerated, these stories are based on real experiences.
SUNDAY MORNING 7:00 AM
Student 1: Sleeping. Why would I wake up earlier than 9:00 on a weekend?
Student 2: The sunlight beams through my bedroom windows, assaulting my eyes. Knowing I will have to get out of bed soon, I check my watch to see how much time I have left, 6:57. 3 minutes left. Fantastic. I will let the 3 minutes past slowly until my personal Jeff Bezos in a cylinder lights up blue and green.
"Alexa, stop." A little louder, "Alexa, stop." Sick of it now, "ALEXA, STOP." Good morning, Mr. Bezos.
I do exactly what I do every Sunday morning: spent a few minutes trying to recall the previous night's dream, successfully fail at doing so, stretch my arms dramatically in the air, and go to my bathroom. After force-feeding myself exactly six spoonfuls of oatmeal, I get in the car and head out for a run.
10:00 AM
Student 1: The default alarm screeches from my phone, and I bury my head under pillows to muffle the sound. After another minute of alarm-ringing torture, I accept defeat and roll out of bed. Today is Made In America, and I don't have an outfit. My sister helps me rip through her closet, and we find a tank top and jean shorts that will hide enough skin so my parents don't yell.
With a fanny pack in one hand and sunglasses in the other, I sprint down the stairs but swivel in my tracks, running back upstairs to grab my phone. I slow my pace when walking back down the stairs to avoid pre-concert sweat.
Student 2: After a nice stroll, I head home. Upon arrival, I quickly shower and plow a cup of chocolate Whey, 4 eggs, and leftover chicken from the night before into my 'growing teenage body'.
After a quick shower, I throw on a pair of khakis and a white blouse to head to work looking like a half-breed adolescent nerd and Soulcycle mom.
11:00 AM
Student 1: "Are you sure you need to go today?" my mom asks.  Today was the second day of Made; I was supposed to stay home the first day and be productive. Instead, I spent my time watching everyone else's Snapchat stories who were at the concert. 
"Yes. I need to go." My mom sighs, as she makes a turn into my friend's driveway. She unlocks the car, and turns to look at me.
"Well be careful, there are some bad people in this world." 
"Yeah, yeah I know. Maybe I'm one of them!" With that, my mom  rolls her eyes, smiles, and drives away. 
Helloooooo freedom!
Student 2: "Where are you going?"
"Work, mom, where else?"
"You're too social nowadays."
"Uh uh."
"Why don't you go visit your brother today?"
"I think he's at Made in America, mom."
"Why don't you go to those kinds of things?"
"Bye, mom."
12:00 PM
Student 1: The train platform is a mess of Baldwin, Shipley, and Harriton kids chatting, hugging, and texting. A girl on one side of the train platform snapchats a boy on the other side. A group of friends come together for a picture but then separate to edit and share the photo on individual social media accounts. Adults waiting for the 1:30 train gawk at us phone-crazed teenagers in amusement.
Each time I meet a new person, I post a selfie of us on Snapchat. Soon, my story is loaded with random people smiling next to me—people must think I'm so popular! Hehe!
Trains pass multiple times without stopping at our platform, so, after watching someone projectile vomit all over the ground, my friends and I give up and call an Uber.
Student 2: I know better than to get on a local train stopping at every Lower Merion station to 30th Street Station. The constant bombardments of Made in America content splattered on every app and corner of my phone is not too appealing.
Between getting to Bryn Mawr Station and leaving 30th, I try to keep my face hidden and out of range of iPhone cameras. Imagine having paparazzi that aren't there for you.
I still have the fear that, somewhere in the gaping hole of Instagram, I am in the background of a girl's "first time on a train!" post.
Riddled with remnants from the previous night, I know I will never forget the stench of that train.
2:00 PM
Student 1: Lines of people flood the entrance of Made In America. At least twenty police officers are milling around. When it's my turn in security, the guard, Sue, pats my neck, then my shoulders, then my chest. I blush. Sue moves her hands to my backside and yanks my phone from my jean short's pocket.
"Young lady, have you ever been to a concert before?" Sue asks.
"Yes. Why?"
"You should know to protect your belongings. You better secure this phone tightly in that bag of yours, or it'll be gone before ya know it."
"Oh my god. I'm an idiot. Thank you, Sue!"
"Good luck," Sue eyes me up and down once more, "you'll need it." And I'm released.
I've finally made it into Made In America… it's time to rage.
Student 2: Oh the exciting world of phenylthiocarbamide! With the office all to myself, I indulge in the simple pleasure of listening to music while running patient analysis'—fully aware that the attempt at multitasking will do me no good. The rush of adrenaline I get whenever I hear a door open, thinking that someone will reveal me in such a raw state, keeps me on my toes throughout the day.
Who could possibly be having a better time than I am?
6:00 PM
Student 1: This party is just getting started. Lizzo, my favorite artist at Made In America, is singing "Truth Hurts," while she and her backup dancers perform choreography. Girls climb light poles to get a better view. Apparently Jay Z and Beyonce are watching from backstage! I shove my phone above the sea of people to record the performance and shriek the lyrics for my Snapchat story. Once the hype parts of each song are over, my friends and I put away our phones and bounce around awkwardly, awaiting another moment to rage and record.
Student 2: As the day starts to wind down, I make my way back to a more empty 30th street, wondering what might be happening on the Ben Franklin Parkway. 
On the train ride home, two girls, who seemed to make the best judgement of leaving the concert early, ask for some of my water. I washed my water bottle for the first time in months that night.
10:00 PM
Student 1: I am separated from most of my group at Lil Uzi Vert's show, and the audience is packed. My friends—the only two familiar faces around me—attract the attention of a couple of blonde boys. Feeling like a fifth wheel, I try to slither out of the crowd to find the seven other girls in my group, but I can't move past the stranger behind me. I attempt to shove him to my right, but the dude still won't move. I stand still for the rest of Uzi's performance, trying to stop the man behind me from moving any closer (if only personal space were possible at a general admission concert).
Student 2: Oh, the sweet feeling of being in the arms of the love of my life: my bed.
11:00 PM
Student 1: Our group, all twelve members, reunites for the final performance. Travis Scott strolls onto the stage. I begin to have fun—lots of fun—when I look down at my silver fanny pack. It's unzipped. I reach inside to grab my phone, but it's not there.  I search my pockets. My phone is not there either. Dread washes over me, and I shudder. I feel for my phone again and scream into my friend's ear, "Do you have it?! Did you take my phone?" She shakes her head. "No, no, no, no, no," I mutter.
I reach around on the ground but feel nothing.  I beg the people around me for help, but they just glance at the ground and return to dancing. My face grows hot. I leave my friends to stumble farther into the crowd, questioning anyone who will listen. People either shake their heads sympathetically or laugh at me. One guy shouts, "you're screwed!" 
He's right. In a crowd as packed and noisy as this one, especially this late at night, I begin to understand that there is no hope for my baby—she's gone.
I breathe in. I breathe out. How will I break the news to my parents, who warned me to be careful today?
But Travis Scott's voice crack during "Sicko Mode" interrupts my train of thought, and I think instead about the thief who will open my phone to see a DISTURBING lock screen picture. 
Travis's voice cracks again, but this time I can't help but throw my head back and laugh. His performance is not giving me "Goosebumps," but I might as well enjoy the last minutes of the show.  
Made In America turned out to be one expensive concert.
Student 2: Hopefully in REM sleep by now.
Final review of Labor Day Sunday?
Student 1:
Ounces of water consumed: 6.5                                              

Number of full meals: 1                                            

Hours of sleep: 6                                                        
Celebrities seen: 7                                                      
Phones lost: 1                                                              
Student 2:
Ounces of water consumed: 80 
Number of full meals: 3.5
Hours of sleep: 10
Celebrities seen: 0
Phones lost: 0