Ram of the Week: Mackenzie Sherman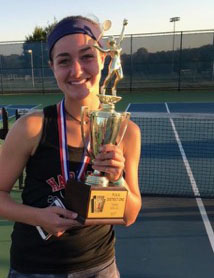 Hang on for a minute...we're trying to find some more stories you might like.
Mackenzie Sherman, a 9th grader playing on the girls' varsity tennis team, has been recognized by students and teachers alike as a star on the courts during these past couple of months. Not only is she one of only two freshmen on the team, but she has also played a key role in their undefeated season. For these reasons, the Banner is shining a spotlight on Mackenzie Sherman. Read on to learn more from Mackenzie herself!
Harriton Banner: When did you first start playing tennis?
MS: My first time picking up a racquet was when I was about 4 years old at Julian Krinsky.
HB: When did you know you could make it big?
MS: I knew that if I wanted to work this hard for something that it was either "go big or go home!" So, I began training more seriously, around fifth grade transitioning into middle school, knowing that this would be my future.
HB: What skills separates you from your opponents?
MS: I have a very strong work ethic and am highly motivated which sets me apart from most of my opponents. I know that I will always give 100% effort until the last point is played.
HB: What would you say some of the setbacks of the sport are?
MS: For me, I love being a part of a team and when everyone is cheering for you, but since I am primarily a singles player in my non-school related tennis matches, it can be very lonely.
HB: What do you do on your off season?
MS:  I don't have an off season, but from school tennis I do. I train all year long to get better and stronger. I play in USTA tournaments to boost my ranking in the off season months.
HB: How does it feel to be one of the only freshman on the varsity team as well as being one of the most skilled?
MS: It has been such an honor to be one of the two freshman a part of this unstoppable team. All the girls have welcomed Saige and me into the community and we have created amazing friendships along the way.
HB: Do you plan to have a career as a tennis player or play in college?
MS: Yes! My goal is to play tennis at the collegiate level, replicating my brothers who play basketball at that intense level. That would be a dream come true.
HB: What are your goals for next season? How do you plan to meet these goals?
MS: My goal is to continue improving my game both physically and mentally and to be a valuable teammate.
Make sure to congratulate Mackenzie and keep an eye on this up and coming Ram.