A Look Into the 2021 SAGE Conference
For most Lower Merion School District students, waking up on 'Asynchronous Fridays' to attend advisory is nothing short of agonizing. However, on Friday, April 9, approximately seventy Harriton and Lower Merion High School students joined a Zoom call at 9 a.m., which is earlier than the typical wake-up time for an advisory meeting.
The reason for this self-inflicted sleep deprivation was the SAGE conference, which spanned from 9 a.m. until 3 p.m., and featured a number of student-led workshops on topics such as tokenism, allyship, reproductive rights, self-care, civil discourse, disability rights, and starting a movement.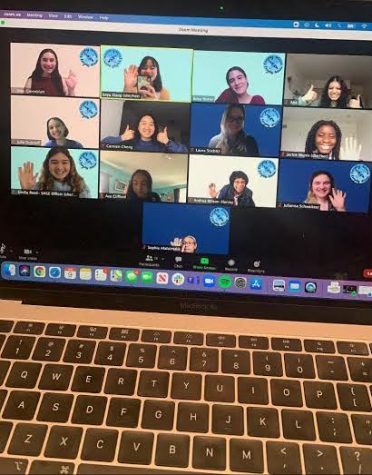 SAGE is an acronym, which signifies "students advocating (for) gender equality," but the club has evolved to cover a much wider range of topics. Both at Harriton and Lower Merion, SAGE is a safe space for students of any race, gender identity, sexual orientation, and religion to come together and discuss their experiences. Naturally, the conference, which held the theme of everyday activism, was an extension of the topics that SAGE members and officers alike discuss at their bi-weekly meetings.
The conference consisted of two workshops, one in the morning and one in the afternoon, which were student-selected during registration. In between these workshops, conference attendees were able to observe webinars, where SAGE club officers were joined by two incredibly inspiring individuals: Judy Heumann, a renowned disability rights activist, and congresswoman Helen Gym, who is the first Asian American woman to serve on the Philadelphia City Council.
The event was spoken extremely highly of by everyone in attendance, but putting together something of such magnitude was no easy task.
Enya Xiang, a Harriton SAGE officer, revealed, "The SAGE conference was a success, especially since there were so many last-minute details that kept getting switched." She also added that "There were many great conversations and people to meet from both schools, and I'm so happy that it turned out amazing!"
The huge success of the conference was not defined by the attendance rate, but rather by the productivity of the conversations held throughout.
As put by Sophia Abdulmalik, a Lower Merion SAGE officer, "The SAGE Conference is a great place for students interested in being part of a space open to discussion and learning. The variety of workshops cater to several different interests a student might have, and personally, these conferences have always allowed me to leave with a new perspective on a topic I might have never even considered before."
If you missed out on this event, there is no need to worry. The SAGE conference is annual, so another opportunity to participate will arise sooner than we know it. If you simply cannot wait for next year's conference to get engaged, you can always visit @sage.club.hhs on Instagram, and message them to learn more about the ways in which you can get involved!