An Insider Look at the Harriton Pep Band
It is a Friday night in September, or maybe October, and you are standing on the bleachers at Harriton High School or any of the surrounding schools in The Central League. If this is you, congratulations, you might have the most school spirit of anyone at Harriton by simply showing out to a game! But you are not alone – if you look down the long stretch of pitifully empty bleachers, you will spot a group of kids in black t-shirts and red-and-white letter jackets. This is the Harriton Pep Band, who, for decades, has been at every Harriton football game, rain or shine, cheering on our team of fighting rams, no matter the score, even if we get mercy rule (when they start running the clock) in the very first quarter. 
Now, some of you might be scratching your heads and wondering, what is the Harriton Pep Band? The Harriton Pep Band is composed of students, not only from band class but also any kids who play instruments and want to join. Every year, after a few days of summer practice, we don our classic jackets, clip our flip folders of sheet music onto our instruments or strap them onto our arms, and head either out to our home field or onto a bus en route to another school. Are we a club? Debatable. What do we do? Well, we bring the pep. We play the National Anthem at home games, a song called "Stand Up" and "Cheer" whenever our football team *gasp* scores a touchdown, as well as a collection of over twenty songs including "Gonna Fly Now" from Rocky, "NFL" on Fox, "Crazy in Love" by Bey
once, "Levitating" by Dua Lipa, "The Final Countdown", "Seven Nation Army", "All Star" by Smash Mouth, and many more. We join the cheerleaders in getting the crowd excited about the game, as well as, hopefully, pepping up our players. But we don't do this alone. The Harriton Pep Band is led by the band, orchestra, and pep band director Mr. Joseph, who I interviewed to learn more about his connection to the Harriton Pep Band. 
The Harriton Banner: What experience have you had with pep bands/marching bands before Harriton?
Mr. Joseph: I was the Band Director at Conestoga High School before coming to Harriton. I was also in Marching Band in high school/college.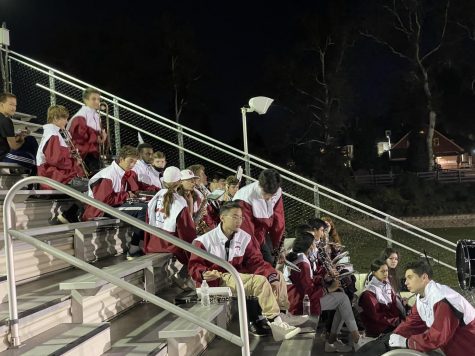 THB: When you first started working at Harriton, what was the pep band like? 
Joseph: 6 kids showed up for 'Band Camp' in August of my first year at Harriton. We were still in the old C building of the original Harriton, and I remember trying to track down students who played instruments in the cafeteria.
THB: What makes the pep band important?
Joseph:  For many of our musicians involved, it's 'something to do' on a Friday night. But I think at its core, the pep band is important because it reinforces the camaraderie among fellow musicians across all grades. For audience members, whether our team wins or loses, the band is a source of positivity and spirit at the games. It's RAM Pride!
THB: Did Harriton ever have a marching band?
Joseph: As far as I know, Harriton did have a Marching Band. If you go back into the old yearbooks, you will see musicians in uniform. I think it was the late 1980's/early '90's when Harriton last had a Marching Band. Today the 'Pep Band' as we know it is an extension of our school's Concert Band, whose members attend games in the Fall. Our Drumline is the 'heartbeat' of the Band and has become a popular 4th-quarter attraction at our
 games.
This 'heartbeat' of the band would not be possible without their own dedicated leader, drumline instructor B.J. Capelli. I interviewed Mr. Capelli as well, to learn more about him and his connection to the Harriton Pep Band and the drumline, "RamChops." 
THB: How did you first get involved with the Harriton pep band? 
B.J. Capelli: Before relocating to Pennsylvania, I was a band director in NJ and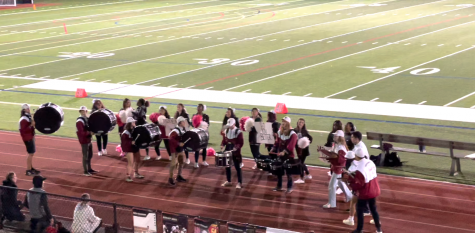 had coached competitive marching bands and drumlines for about 13 years. Since 2008, I've been primarily teaching private drum and percussion lessons, and most of my students live in or around Lower Merion… During the 2015-16 school year, there were a bunch of percussion students at Harriton that were either my current students or whom I had taught in the past, and they wanted to put together a percussion ensemble for the spring concert. They didn't have that type of ensemble experience and needed some help… so I came in to assist. With a talented group of mostly Freshman percussionists who were all interested in marching percussion (which is different from other percussion in a lot of ways), Mr. Joseph and I thought it would be a great time to revamp the program and build "Harriton Drumline 2.0." That summer I rewrote all the existing drumline material, along with some brand new stuff, and threw in a few favorites that I had used over the years. The new and improved drumline – which would eventually come to be known as "RamChops" – debuted in the fall of 2016.
THB: What are some moments that stand out from your years with the pep band?
Joseph: While it is rare, being present at a winning football game is always exciting! Also, former Philadelphia Eagles coach Andy Reid used to watch Harriton football games from the sideline. He was permitted to do so to protect himself from overly zealous fans wanting his autograph or photo. Despite his isolated presence at the games, he would frequently thank me and the Pep Band for attending the game and supporting our football team no matter what. We even got our picture taken with Andy Reid at an LM-Harriton game!
Capelli: The moments that stand out most to me are the ones where the student body's passion and spirit bubble up and shows itself. I remember when the football team came just shy of beating LM a few years back: the students were in a fever pitch, ready to rush the field, but the win fell apart in the final minutes and you could feel the disappointment and deflation in the air. But, the next time those teams met under the lights, Harriton did win, and it was like unfinished business was settled. Everyone finally got to rush the field, and the excitement was championship-caliber! Also, we're fortunate to be in a conference with some other great drumlines who we often "battle" during or after games. It's awesome to share our work with other groups who really understand what we do, and for us to share that appreciation for the performances they put together.
THB: Any funny memories or anecdotes to share? 
Capelli: There are lots of small, funny moments, but I think the thing that everyone wants to know is, why "RamChops??" The origin of the name goes back to that 2015-16 Freshman percussion class. They were the foundation on which the drumline program was built, so when they graduated in 2019, we gave them the honor of naming the group forevermore. After a lot of debate and deliberation, they settled on RamChops, which obviously alludes to the school mascot – the Rams. The less obvious element is the "chops," which is musician slang for advanced musical ability; if someone has chops, they can play fast, difficult stuff, and drummers love to "chop out," showing off their skills. The fact that RamChops is also kind of a pun is probably what put it over the top of the other name options.
THB: What is your favorite part of working with the pep band?  
Joseph: The student musicians that come to the games regularly, the cheerleaders who love dancing to our songs/drumline, and our football team who appreciates us.
Capelli: There are actually two things that I love the most about working with the drumline and Pep Band, and they both relate to goals we set out for the program back in 2016:
The first is that I feel like I get to share with students an experience that has been a huge and wonderful part of my life, and that's the fun and camaraderie of athletic bands. The Pep Band environment is completely unique in the world of music ensembles, and there's an excitement and unity in it – especially within a drumline – that you can't experience anywhere else. While we don't have a marching band at Harriton, we've built a serious marching percussion program that is preparing students for the opportunity to play in a college marching band, drum corps, or competitive indoor percussion groups outside of here…
The second relates to the whole school and Harriton community…. I feel like the drumline could be a centerpiece in reviving that sense of spirit and pride at Harriton, and I might be kidding myself, but I think it's working. It makes me so happy to see attendance at the games going up every year and to hear the crowd get fired up when the drumline comes out for the 4th Quarter Hype.
Anything else to share with the readership of the paper?  
Capelli: Harriton percussion – RamChops and Percussion Ensemble – is always looking for new members! When the fall season ends, we switch from drumline to concert percussion ensemble, and students don't need prior percussion or music experience to join. We'll teach anyone and everyone everything they need to know! We meet every Friday after school in the band room, and anyone who's interested should talk to Mr. Joseph.
The Harriton Pep Band isn't just a group of musicians, but a close-knit and fun community whose members enjoy showing out on Friday nights and making music together. From playing the music to some of the cheerleaders' dances, encouraging the football players, and pumping up the crowd during the drumline's 4th quarter show, the Harriton Pep Band plays an important role at every football game, and in the Harriton community. As aforementioned, talk to Mr. Joseph if you want to join this extremely peppy group and spend time with some amazing people like Mr. Joseph and B.J. Capelli. I promise you won't regret it.