Former Harriton Teacher Dan Jewett Marries Billionaire Mackenzie Scott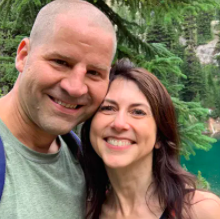 On March 7, 2021, news outlets reported that Mackenzie Scott, the philanthropist and former wife of Amazon CEO Jeff Bezos, married a former Harriton teacher, Dan Jewett.
Mr. Jewett revealed that he was married to Ms. Scott through the website Giving Pledge, created by Bill and Melinda Gates and Warren Buffett to encourage Billionaire philanthropy. Jewett said, "I am married to one of the most generous and kind people I know" and talked about his time as a teacher.
Jewett taught at Harriton for about a decade before moving to Seattle, Washington to teach at the private Lakeside School. At Harriton, Mr. Jewett taught all levels of chemistry (College Prep, Honors, Advanced Placement). He continues to stay in contact with a majority of the Harriton Science Department.
From roughly 2000 to 2010, Mr. Jewett taught alongside science teachers Ms. Lesch, Mr. Gauvin, Mr. Powers, and others. The current Harriton teachers remain friends with Mr. Jewett and have described him as "super nice" and "friendly." Mr. Gauvin noted how "down to Earth" Dan Jewett was as a teacher at Harriton, and Mr. Powers remembers his love for golf.
Harriton High School congratulates Mr. Jewett on his marriage and wishes him the best!