Spotlight on: Girls Tennis x Mackenzie Sherman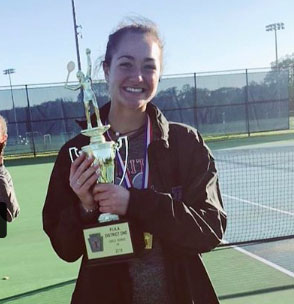 Just a few weeks ago, the Harriton Girls Tennis Team won their State competition. In honor of this win, The Banner spoke with Mackenzie Sherman, a sophomore and a second year varsity player.
HB: When this season started out, what were your goals? Personally and as a team?
Mackenzie Sherman: Personally, this year I wanted to give my best effort in every match because each one is equally important for our overall team record, as well as personal record. As a team, our goals were to take each match one step at a time, and if we kept that mentality in mind, we would eventually get to where we ultimately wanted to end up, which was in the championship finals in Hershey.
HB: Where would you say you've improved the most from last year to now?
MS: Many aspects of my tennis game have improved from last year's season to this season. The main improvement I have made this season was my leadership and sportsmanship skills on and off the court which are crucial when playing on a competitive team like ours.
HB: Were there any specific obstacles or rough spots you had to overcome this season?
MS: [We faced] no true obstacles this year, other than [getting to know] our new head coach. She was great for the team, but different from our previous coach. We immediately connected with her, and she was a great overall leader for our dominating team.
HB: Other than your teammates- who would you say is your greatest cheerleader or supporter?
MS: My teammates are the greatest cheerleaders, but other than them, I would say the parents and administration members who come out to every match and cheer us on! It truly means a lot having spectators come and watch us. It makes playing that much more fun and meaningful.
HB: And Mackenzie, what is one thing you will work on before next year's season starts up, when you're a junior?
MS: The seniors have laid a great foundation for the future of Harriton girls tennis, and I will be sure to continue their leadership skills for the rest of my high school career. We will miss them greatly, but they are my teammates and friends forever!