Ram of the Week: Milan Ramey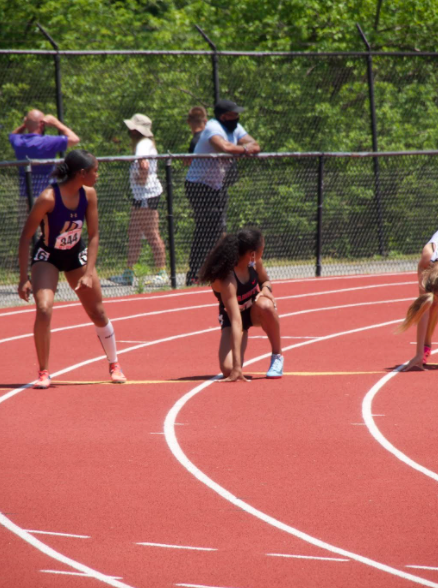 Milan Ramey, a sophomore at Harriton High School, broke the school record at 12.52 seconds for the Girls 100-meter dash. This race took place at Upper Darby High School on April 28, 2021. This interview shares how it felt to beat this record, and also how her life as an athlete has had a profound impact on her.
The meet took place at Upper Darby High School. This was only Milan's second time running the 100m dash during the season, and Milan ran against seven other girls from the league. Milan had run in sixth grade at the St. Margaret School in Narberth, but before spring of her freshman year at Harriton, her main focus had been on gymnastics. Her goal during this particular race was to qualify for districts. The results were tight, with the difference between first (Milan Ramey) and second place (Brianna Foster, Ridley High School) being .05 seconds (see bottom of article for stats). After the race, Milan was unaware of how she placed, other than the fact that she was one of the first to finish. She rushed over to her phone and continued to repeatedly refresh the website in which runners can see their place and time. There it was: first place. She had won, qualified for districts, and celebrated with her dad, coach, and teammates.
Milan did not know that she beat the school record until the following day at school when Harriton Girls Track coach, Nick Cimino, notified her. 
Is it hard for you to run on your own?
I would say that I'm not good at running more than a mile, so running on my own is kind of tough, and I can get in my head a lot.
How do you balance your mental health with your commitments to running?
I don't struggle too much with mental health, but when I do, running helps in that it takes my focus off of it. It distracts me in a good way.
Do you prefer cross country or track?
I actually didn't run cross country during my freshman year, and I was the manager for cross country as a sophomore this year with a friend, and it was so much fun.
How do you prepare for a track meet?
I mean, I truthfully don't. I can't really focus when at school, and get very nervous and talkative. I do try to meditate and work on breathing. I'm very jittery but try my best to relax. I like to remind myself of the quote; 'Let your body do the work.'
How do you manage both academics and athletics?
Track didn't start until 3:30 last season, so I would do homework in between. At school I would take advantage of study halls and portion out my work. When I would get home, I would give myself time to relax before starting my work.
How do you stay disciplined with running?
I need a mental coach and source of support to hold me accountable with running. Meeting with friends to run is good too, because then I don't just flake on them and our running plans.
Do you ever burnout during the season?
I don't burnout physically, more so mentally – especially when I'm doing the same things over and over. I need a change of pace sometimes.
Do you listen to music while running? If so, what's your favorite pump-up song?
Yes, I definitely do listen to music and my favorite pump-up song is 'Power' by Kanye West!
Is running therapeutic or calming for you?
Running is pretty therapeutic for me. I look forward to going to practices because I can run off my emotions sometimes. Also the social aspect of running for Harriton is really nice because the team is so positive here.
How do you motivate your team?
I cheer others on because it creates a very fun and positive environment, and I also love when people cheer me on when I run.
Who are your biggest supporters?
My biggest supporters are Coach Jay and my dad.
Milan's Stats for the Girls 100m Dash
Learning about Milan's perspective on running track was fascinating, and Harriton cannot wait to see what she has prepared for the 2021-22 Harriton Girls Track school year!